Andrew Schmidt was diagnosed with childhood cancer in 1983 and was treated on a clinical trial. Now he's paying it forward by raising money for childhood cancer research. Read on to see how he's using his experience to help others.
My childhood cancer story begins in December 1983 when I was 22 months old.
My mom took me to the doctor because I was sick with a bad cold. When they examined me, they noticed I had developed bruises all over my body, and they weren't going away.
I was diagnosed with B cell acute lymphoblastic leukemia (ALL) on December 13, 1983.
Baby Andrew shoots hoops with his grandmother.
The pediatric oncologist assigned to my case, Dr. Jonathan Finlay, told my parents I'd need a miracle to survive.
Dr. Finlay has dedicated his life to researching cures and developing new treatment protocols for pediatric cancers. He even received a St. Baldrick's research grant in 2007. I was so lucky to have him as my doctor. He told my parents about a protocol that was still in clinical trials at the time.
They agreed to try it.
My treatment team went to work. After 18 months of chemotherapy, blood transfusions, bone marrow transplants, and radiation treatments, I completed therapy in May 1985.
I remember bits and pieces — what with it being over 30 years ago — but as a kid, I never really had a grasp on the gravity of the situation.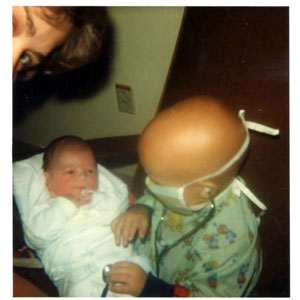 Young Andrew with his baby brother, Nich.
My mom said she remembers when I lost my first bit of hair from the chemo. She immediately shaved the rest of it off so she wouldn't have to watch it go slowly. She worked as a nurse at that time and had seen a lot of kids with leukemia pass away — I can't imagine what she must have felt watching me go through my treatment.
Both of my parents had full-time careers and my mom was pregnant with my brother Nich at the time. I remember my dad working all day and coming to the hospital at night when it was hard for me to sleep. I guess as a parent you do what you have to for your kids.
BLOG: What You Need to Know About Cancer Dads >
Now as an adult, I appreciate all they did for me, and I'm so thankful for the sacrifices and heartache they had to endure.
St. Baldrick's came into the picture many years later because of ASC Madison, a local supporters club of Arsenal FC.
After a game one weekend in 2013, I was talking with Liam, a friend I'd met through the club. He had a friend who was planning to take part in a head-shaving event for childhood cancer research, and he suggested that we participate.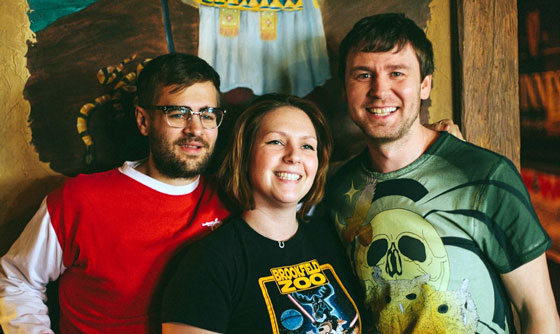 Andrew (left) smiles pre-shave with fellow shavees and co-VEO Liam (right).
I thought, "Hey, I had cancer as a kid. To be able to stand up and support the kids facing it now, at 30 years of age, it's serendipity — and a really cool idea."
We hastily planned an event at the bar where the club watched the games. Even though we only had five shavees℠ and three weeks to prepare, we ended up raising over $5,000.
It's safe to say I was hooked.
When our club started meeting at a different bar, our head-shaving event and fundraising efforts moved with us. St. Baldrick's is and always will be our biggest event and most focused effort.
Before and after Andrew's shave in 2015.
Our 2015 event raised over $30,000, and we plan to beat that this time around.
2016 marks my fourth year participating as a shavee and the second as a VEO. We're working with some local and national vendors to pull off a FIFA tournament, a 71-kilometer bike ride, and our main head-shaving event.
I can't see myself not being involved with St. Baldrick's. I look forward to it every year.
I feel very fortunate to be healthy today, but I worry about how the treatment I underwent will affect my health. This is why it's so important for treatment options to improve — so kids don't have to go through life worrying about their health. So they can enjoy being kids.
Plus, paying it forward just makes sense, and it feels really good.
All kids deserve the chance to grow up and live long and healthy lives. Help fund the childhood research that saves lives every day — sign up to be a shavee.
Be a Shavee
Read more on the St. Baldrick's blog: