Nothing about fighting cancer is easy, and it doesn't help being a lone adult in the pediatric cancer ward. As a 25-year-old diagnosed with pediatric osteosarcoma, Mina Schultz found herself sinking into depression with no end in sight — until she went to a St. Baldrick's event. Mina shares her story.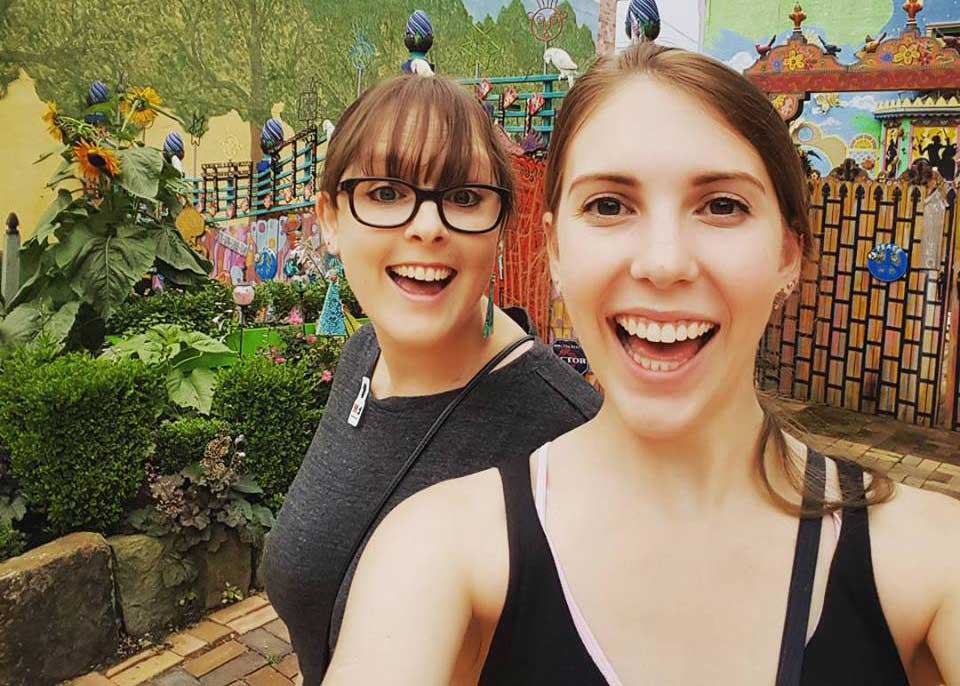 Mina, left, smiles with a friend. She is now four years post-treatment for osteosarcoma.
When I was diagnosed with
osteosarcoma
in June 2011 at age 25, I saw four oncologists before one said, "Sure, we can treat that." What made this fourth doctor different was that she was a pediatric oncologist.
Every week, I checked into the hospital for bloodwork, and then was directed to my room on the pediatrics floor for in-patient chemo.
Every week, I would crutch down the hallway, past new and familiar faces, and settle in for several days of harsh drugs and reality TV.
I did alright for a while. The anticipation of my surgery in September and the newness of the routine kept me relatively alert, if nothing else.
Late Effects of Childhood Cancer Treatment: Amy's Story >
Following surgery, my personal goal was to walk unaided by Christmas (which I did!), and I worked hard on my physical therapy exercises. But as the celebration of walking and the joy of the holidays came to an end, my treatment began taking its toll.
My birthday in the beginning of 2012 was spent in the hospital. I was heavily sedated as my body fought off an infection in my port. I no longer had the energy to even get out of bed, much less make it to physical therapy.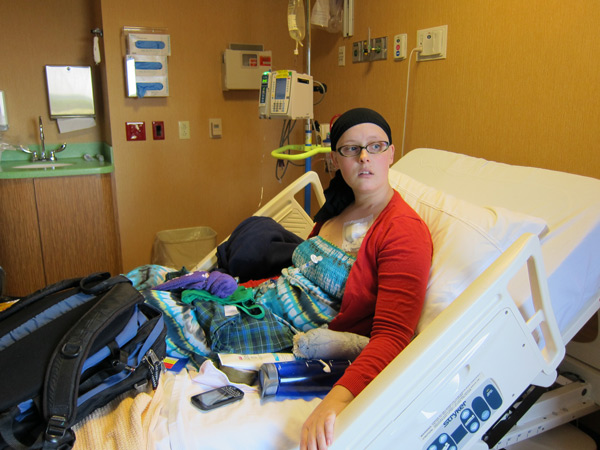 Mina suffered from depression during her childhood cancer treatment.
Social workers began visiting me more, pushing me to make daily goals like brushing my teeth and walking to the kitchen to refill my water bottle, just so I would have a reason to wake up. Friends visited, but it was awkward. I didn't have the energy to socialize much, and they didn't understand anyway.
One morning, my social worker came to my room with a proposal from an organization I'd never heard of: Our local St. Baldrick's head-shaving event was coming up in April, and would I like to be an Honored Kid?
Obviously, I was not a kid, and it took some convincing from my social worker and the event organizer for me to sign up. I didn't want to take the spotlight from the kids, many of whom were facing far greater challenges than myself. Everyone assured me that there would be several kids honored at the event, too, and that my participation would show others that childhood cancer can affect people outside of the 0-18 age range.
So I agreed. I decided I wanted to raise money for the cause, too, so I got to work on my St. Baldrick's fundraising page. Looking back at this page after completing treatment, it was kind of a jumbled mess. The chemo drugs, sedatives, and painkillers had really done a number on my cognitive functioning at that point, but I must have gotten my point across, because I raised a ton of money for cancer research!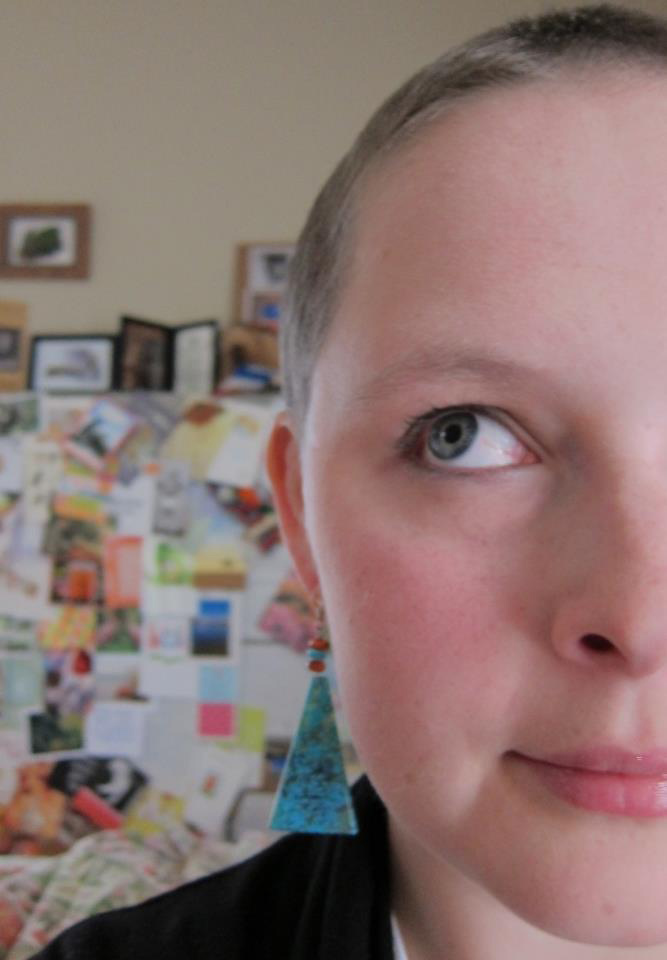 Mina shortly after finishing treatment for osteosarcoma.
The day of the event, I had a reason to get out of bed. I even wore my wig and drew on some eyebrows for the occasion! When I arrived at the venue, I felt energized, despite having had about 23 blasts of chemo and four surgeries over the past 10 months.
One of my hospital floormates was also there being honored, and he decided at the event to shave his head, even though he had just recently managed to grow some hair. Frat boys were shaving their heads. Moms, dads, sisters, nurses, doctors and surgeons were all laughing and dancing and going bald. Music blared, and selfies were taken. I won an award for my fundraising efforts.
Needless to say, I didn't need a sleeping pill that night.
Adjusting to a New Normal: I Survived Childhood Cancer Twice as a Teen >
I won't pretend that St. Baldrick's cured all my woes. Four years post-treatment, I continue to battle depression and anxiety stemming from my illness and treatment.
But my last chemo was scheduled for the end of May 2012, so the event in April — and all the fundraising during the months leading up to it — gave me a sense of purpose at a time when the light at the end of the tunnel seemed so far out of reach that I might never get there. I had to wake up every day to send thank yous for donations, and to do any physical therapy I could to be strong enough to walk at the event.
St. Baldrick's gave me a little push to the finish line, and for that I am grateful.
St. Baldrick's events bring hope to kids and families fighting childhood cancer, and YOU can be the one to make that happen. Start an event in your community today!
Start an Event

Read more on the St. Baldrick's blog: