2012 Ambassador Sarah and her fiancé, Patrick, have been through a lot in their seven years together. Read how they conquered Sarah's childhood cancer together and the love that endured through it all.
Sarah and Patrick smile with their dog, Oswald.
"It was like our eyes locked and the world sort of shifted."
That's how Sarah recalls the day she met her fiancé, Patrick, 10 years ago.
Sarah was at Camp Fantastic, a camp for kids with cancer, when she became fast friends with one of the counselors, Ann, who happened to be Patrick's mom. Ann introduced the two, and their connection was instant.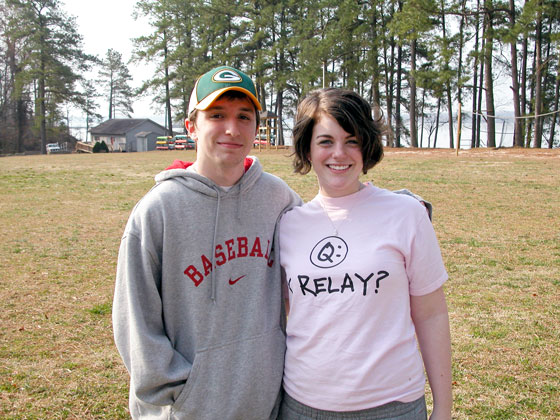 Sarah and Patrick became fast friends the weekend they met at Camp Fantastic.
"We stayed up til four in the morning talking about God knows what," Patrick chuckled, recalling the beginning stages of their relationship.
"It felt like we had known each other," Sarah added. "It wasn't like meeting each other, we were just seeing each other again. It was weird — and really nice."
Read Sarah's childhood cancer story >
A couple years later, the two officially started dating. Patrick went to James Madison University in Virginia while Sarah was at East Carolina University in North Carolina. For five years, they made the long distance relationship work. They spoke every day, Skyped and traveled to see each other on weekends.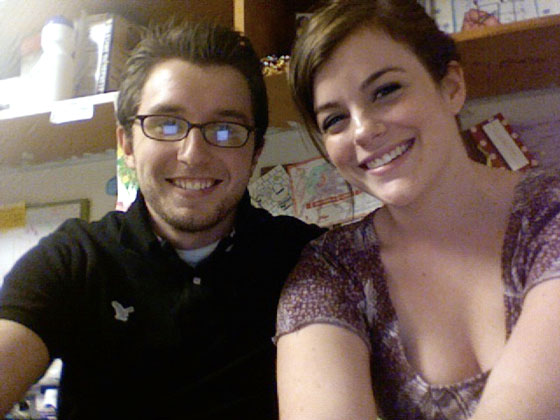 Sarah and Patrick smile as their relationship grows in 2008.
"If it's worth it, then it's worth it" was the couple's motto.
In 2010, Sarah and Patrick were shavees℠ at their local St. Baldrick's event. It was the first time Patrick had seen her bald in person.
He showed nothing less than full support.
"I asked if he would be OK with it," Sarah explained. "And he said, 'Duh, let's do it together!' It meant a lot to me because not a lot of guys would do that. He's a special guy."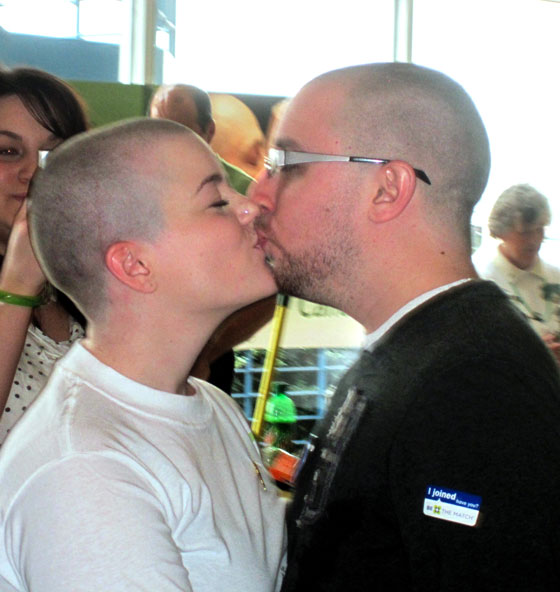 Sarah and Patrick share a kiss after shaving together.
Just one month later, Sarah got some terrible news. Her cancer — biphenotypic leukemia, a rare combination of both acute lymphoblastic leukemia and acute myeloid leukemia — was back.
She Skyped Patrick to tell him the news. Even though he'd just gotten home from visiting her the day before, he said he'd turn right around and come back.
"I said, 'No, but you were just here,'" Sarah recalled. "But he said, 'No. Stop. I'll be down in three hours.' And he was down in three hours. He's always kept his word."
Once Sarah started treatment again, seeing each other became more difficult. Sarah was inpatient at Duke Children's Hospital. Patrick visited her when he could, but it was tough for Sarah to see that Patrick was missing out on his last year of college.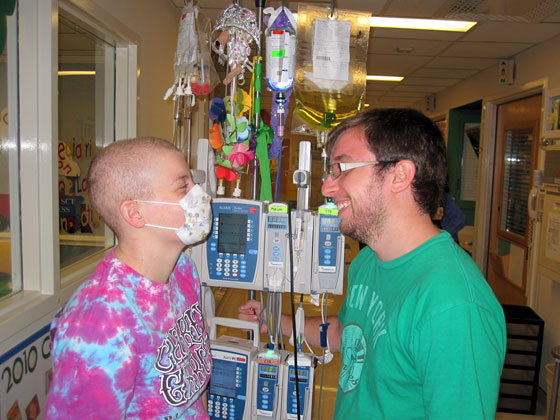 Even during treatment, the two could always make each other laugh.
"He never once said that he was missing out on 'senior stuff,' but of course he was," she said.
But Patrick doesn't see it that way. "I don't think I missed anything."
Read about Sarah's college graduation >
Thankfully, the St. Baldrick's infrastructure grant for Sarah's clinical trial helped her to get the stem cell transplant she needed.
Throughout Sarah's recovery, Patrick stayed by her side and showed her support in the best way: by making her laugh.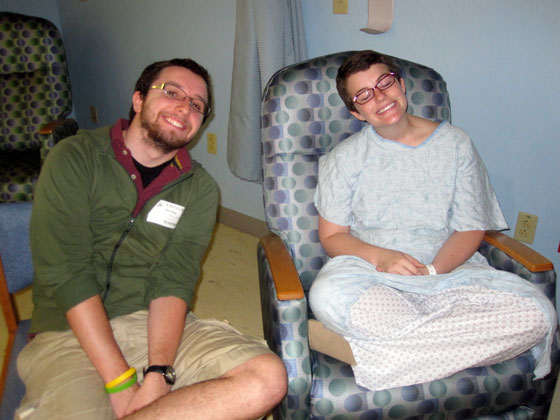 Nothing could stop the couple from enjoying their time together.
"We're goofy," Sarah giggled. "And even in the hardest times in my transplant, as long as we made each other laugh, everything was OK."
Their story came full circle last October. They returned to the camp where they first met for a weekend trip. During the evening camp fire — Patrick's favorite part of camp — the two sang one of their favorite camp songs together in front of everyone.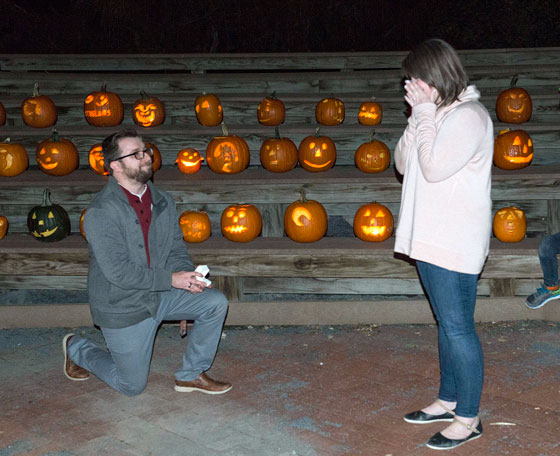 After singing "A Boy and a Girl and a Little Canoe," Patrick surprised Sarah with a proposal. Photo by Bruce Steakley.
And at the finale, Sarah turned to see Patrick on one knee, holding the ring that is now on her finger.
The couple has experienced so much in their years of being together. Over long distances and through the ups and downs of Sarah's childhood cancer journey, their support for one another is unquestionable.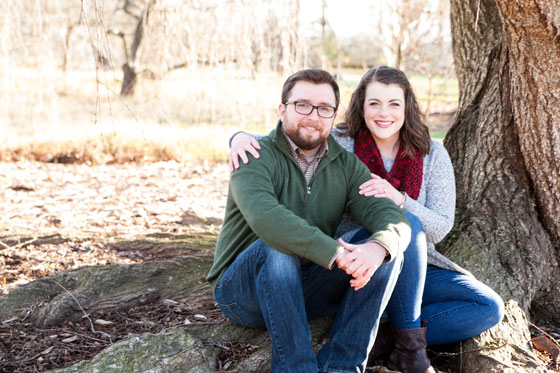 Photo by Chelsie Darling Photography
"To say Patrick has been by my side through thick and thin the last seven years would be an understatement," Sarah said. "He has been by my side through health and sickness, for every triumph and every setback, every celebration and every loss. He has shown me what true love looks like, even in the hardest of times. I just cannot wait to be his wife!"
Help fund the research that helps kids like Sarah grow up, fall in love, and maybe even marry the person of their dreams. Give today.
Give

Read more on the St. Baldrick's blog: