Ever since Joe and Erin Martorano's daughter Sara was diagnosed with childhood cancer, St. Baldrick's has been part of the family. From shaving to organizing events and starting a St. Baldrick's Hero Fund, they've done it all. Read on to find out why.
The Martorano family smiles together during Sara's treatment for cancer. From left to right: Anna, Erin, Mary, Joe and Sara.
Joe Martorano first shaved his head with St. Baldrick's in 2008, alongside his colleagues at the Chicago Police Department. He didn't have a direct connection to childhood cancer at the time. Fundraising for kids' cancer research just seemed like the right thing to do.
Later that year, that would all change.
One night, his wife, Erin, was bathing their 4-year-old daughter, Sara, when she found something odd – a large lump on the side of the little girl's stomach. It wasn't there the week before, when Erin took Sara to the doctor because she'd been feverish off and on. It seemed as if it had grown overnight.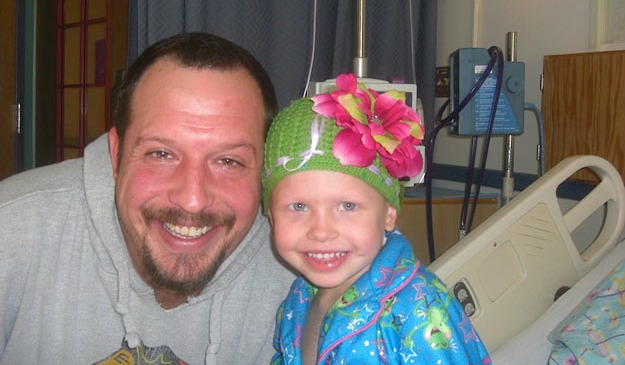 Joe and Sara cuddle for the camera during a hospital stay.
It was cancer, specifically a cancer of the kidneys called Wilms tumor or nephroblastoma. The cancer had spread beyond Sara's kidney into her lungs and liver.
Surgeons removed one of Sara's kidneys and parts of another. The 4-year-old soldiered through 33 rounds of chemotherapy and 15 rounds of radiation to her pelvis.
When the going got tough, the little girl had a saying which has stayed with her family ever since. Erin remembered the first time she heard her precocious daughter say it.
"Sara was going through chemo and she was losing her hair, but you don't lose your hair altogether. There were these crazy wisps left over and we were like, 'Just shave it.' It was just sad to look at. It was all over the house," Erin recalled.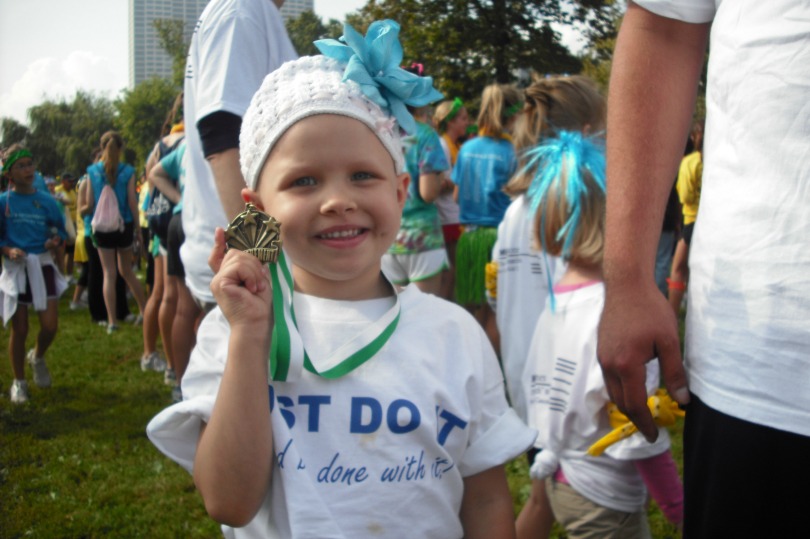 Sara grins triumphantly with a medal after a fundraising run.
In a moment of perfect timing, Joe walked through the door after shaving at a St. Baldrick's event. Sara looked at his bald head and announced her decision – and with it came her signature tagline.
"She said, 'Fine, I'll shave it. Just do it and be done with it,'" Erin continued. "She kept that same thing every time. When she had to get something done that she didn't want to, she'd be like, 'Just do it and be done with it.'"
That's the whole family's approach to childhood cancer – let's be done with it. That's why they've shaved for so many years, led a team and now organize their own events. That's also why they raise funds through a St. Baldrick's Hero Fund, appropriately named the 'Just Do It…and be done with it' Hero Fund.
Since their Fund's start in 2012, the Martorano family has raised half a million dollars for research.
"It's unbelievable," Joe said.
Dr. Panagiotis Ntziachristos (left) with Northwestern University and Dr. Susan Cohn (right) with the University of Chicago.
They've chosen to funnel those funds to their local Chicago-area researchers, including Dr. Susan Cohn with the International Neuroblastoma Risk Group (INRG) Task Force and Dr. Panagiotis Ntziachristos, who works on acute lymphoblastic leukemia.
The Martorano family got a peek behind-the-scenes last year — read about their special trip to Dr. Panos' lab >
Dr. Ntziachristos also attended one of the family's head-shaving events this year and spoke. His presence left an impression on Erin.
"It was awesome to see the kids who had the cancer, the families who felt it and then the researcher that was there," she said. "And then the people that were donating the money to make the whole thing go around and then the people who were shaving their heads – it was pretty cool."
And it's all because of Sara.
Erin and Joe's inspiration is now 12 years old and healthy.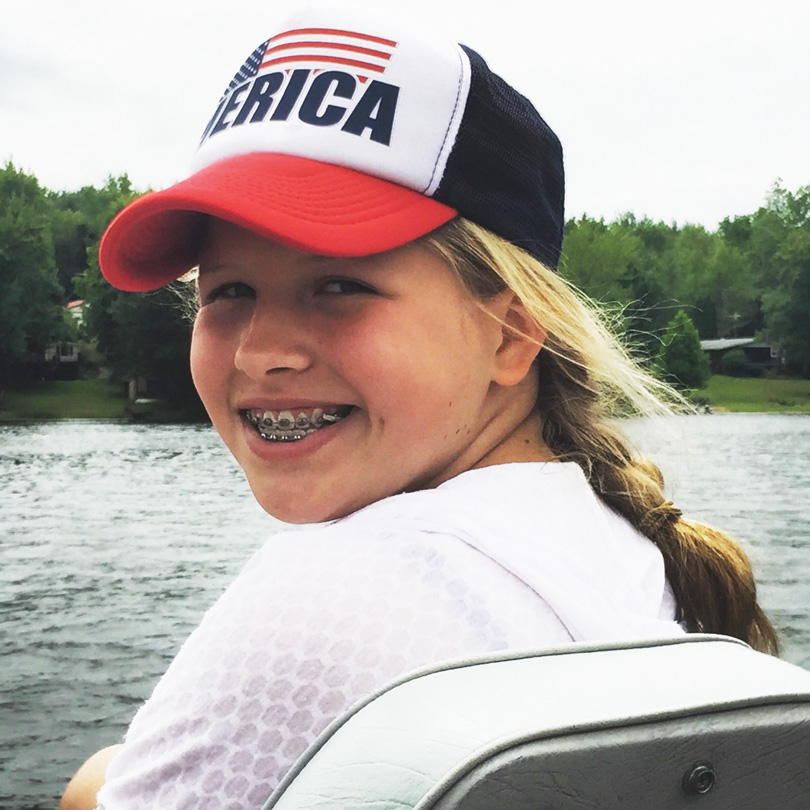 Sara is now in sixth grade and loves to hang out with her friends.
The sixth-grader is a sincere girl with a taste for spicy food and a genuine appreciation for life. She likes hanging out with her friends, like any middle schooler. If necessary, she will remind people about the correct spelling of her name – Sara, no 'h,' she says.
The 2010 St. Baldrick's Ambassador doesn't remember much about her treatment, since she was so young. She does have some reminders, like pain and weakness in her feet – a side effect of chemotherapy called neuropathy – but other than that, it's like nothing ever happened.
"I think that we got very, very lucky that she's healthy," her dad said. "All that was due to research and smart doctors. There are other families that aren't as lucky and this money will help solve some of these problems and heal more kids and find these cures."
Just do it for childhood cancer research. Give to the Martorano family's Hero Fund today.
Donate
Read more on the St. Baldrick's blog: