Miriam's son Holden was diagnosed with Stage IV Wilms tumor in 2010. Now, three years after his death, Miriam thinks of her son whenever she hops into her car. Why? Read on to find out how Miriam has turned something we see every day into a memorial for her son and a unique fundraiser for childhood cancer research.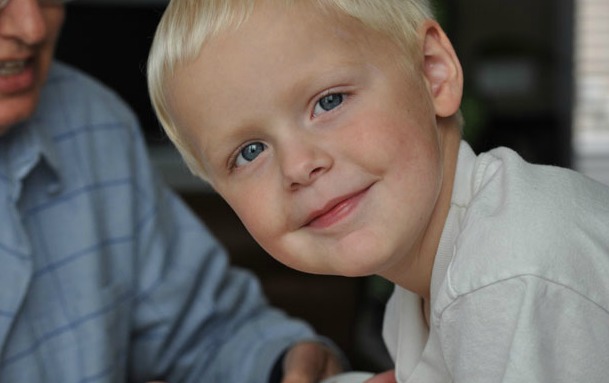 In October 2010, St. Baldrick's 2016 Ambassador Holden was diagnosed with Wilms tumor. He lost his left kidney and endured intense chemo and radiation treatment. Holden showed no evidence of disease for about a year, but then a tumor was found on his other kidney. Before he could receive a kidney transplant, cancer was found in his lung.
In 2012, we celebrated a year of remission for our son Holden with our first head-shaving fundraiser for the St. Baldrick's Foundation.
Several months after that event, Holden was back in treatment for the same cancer on his other kidney. When cancer stole him from us in May 2014, we decided that a Hero Fund with St. Baldrick's was the best way to honor Holden's memory and work to fund research. We have organized head-shaving events and Do What You Want fundraisers since then, and we are always looking to do more.
We are always trying to think outside the box to both spread awareness and raise money. In 2016 we recognized a unique opportunity to accomplish both goals.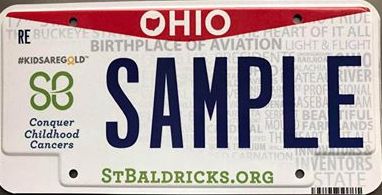 The St. Baldrick's-themed Ohio license plate is available for customization and purchase on the BMV website.
We realized that while drivers in the state of Ohio can select from more than 100 specialty license plates for causes, schools and organizations, there was not a plate for pediatric cancer awareness.
That is when we began the process to create a St. Baldrick's-branded license plate. The Ohio Bureau of Motor Vehicles or BMV makes the process to create a specialty plate in support of an organization relatively simple compared to some other states. The guidelines require a petition with at least 150 original signatures from people who intend to purchase the new plate and the passage of a bill by a state legislator. Once the bill passes, the BMV accepts a completed application package for review.
We are fortunate that we have a community that has walked this journey with us and that everyone who had the pleasure to know Holden loved him. With the help of a few friends collecting signatures, we completed the petitions in record time and I am thankful for every single signature that was made in loving memory of Holden.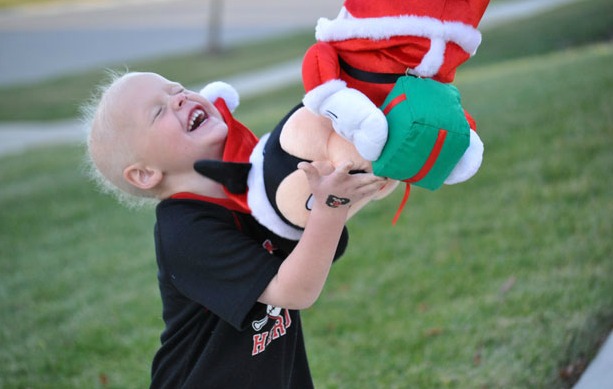 Holden lived life with joy and loved just being a kid — playing baseball, riding the bus and making his family laugh through to the end.
We contacted our local representative, then-Senator Shannon Jones, and asked for her support. We are grateful that she took our request to make this happen seriously and stood as a champion for this cause. The team at St. Baldrick's helped with the design and logistics, and I hope that the template that we created can be applied in other states.
In April 2017, about a year after we started the process, the Ohio BMV introduced the "Conquer Childhood Cancers" license plates, which benefit St. Baldrick's. The more plates are sold, the more drivers will see and become aware of St. Baldrick's and its mission to Conquer Childhood Cancers. The BMV charges an annual fee of $35 for these plates and of that, $25 per plate goes to St. Baldrick's.
So, in addition to being a mobile billboard for awareness, each purchased plate is a mini fundraiser. As for me, I look forward to seeing these plates around town, because they remind me of Holden and his joyful exuberance.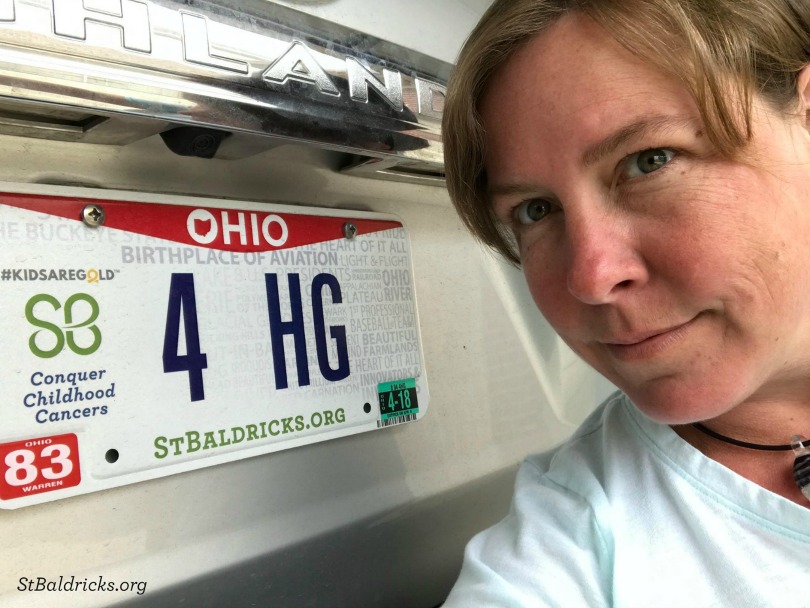 Miriam poses with her new license plate, customized in honor of her son.
Our family is passionate about supporting childhood cancer research and we are proud to show our support for all kids fighting this horrible disease. So, when I was finally able to order my own license plate, I debated the best way to personalize it. I considered "GOGOLD," "BLDRCK," "CONQUR," and many, many more combinations of letters and numbers that would show my support for the cause.
But ultimately, I chose the very simple "4 HG" – for Holden G. We made the license plates happen because of his experience with childhood cancer and to honor his memory.
We did this for Holden.
Whether you drive a car, ride a bike or walk on your own two feet, you can honor Holden too. Give to his Hero Fund today.
Give to the Invictus Fund
Read more on the St. Baldrick's blog: