Honored Kid Aurora was diagnosed with Stage III Wilms Tumor when she was just 15 months old. Her mom, Kelly, explains how cancer took away Aurora's chance at a normal childhood — and all the ways Kelly and her family are fighting to take it back.
Upon receiving my daughter's diagnosis, I immediately began to grieve the loss of her childhood, one that was supposed to be beautiful and normal.
Aurora's battle began at just 15 months old. She was ripped apart from her twin brother, Parker, for days — sometimes weeks — as she endured surgery to remove her right kidney, six rounds of radiation, and 25 weeks of chemotherapy.
Fifteen months old is such a crucial time in a child's life for development. They should be growing, learning, and thriving. A 15-month-old should be socializing with other children.
BLOG: Why Do Kids Get Cancer? >
Instead of doing these things, my baby was fighting for her life.
We were confined to our house or the hospital much of the time due to Aurora's weakened immune system. There weren't any play dates or birthday parties for my children. Poor Parker did not understand why his twin and his mom were often not around.
Aurora and her twin brother, Parker, getting giggly during a family photo shoot.
Before long, Aurora began associating the car with the hospital. She would cry at the mere sight of my car. Eventually, Aurora lost trust in people. When she would hear someone enter our house, she would cling to me for dear life, fearful of being taken or hurt.
For six days in a row we had to arrive at the hospital early in the morning for radiation. Imagine having to wake a sleeping child just to bring her to a cold and scary hospital. I'd sit on the gurney with her while they administered her anesthesia, as the nurse played cartoons on her cell phone to help ease Aurora's fear.
Every day, for six days straight, I cried. Because she was so young, I was unable to explain to Aurora why we had to do what we were doing.
Instead of holding my child in a rocking chair, reading her books, and singing her sweet lullabies, I spent countless hours cradling her fragile, little body while poison was pumped through her body.
But childhood cancer didn't stop there.
Aurora playing with her older sister Belle, her friend Honored Kid Tessa, and her brother Parker.
It robbed Aurora's older sister, Belle, of her innocence. It took away the carefree childhood that she deserved. This devastating news meant that my 6-year-old daughter now had to deal with an "adult" concern.
"Will my sister die?" is not something anyone wants their child to be worried about. Belle is still affected by her sister's diagnosis to this day. She has many anxiety issues, which I believe stem from having to process our reality.
BLOG: The Truth About Parenting a Cancer Sibling >
This is NOT the childhood my children deserve — and I couldn't just sit back and let us wallow in the grief of our reality.
St. Baldrick's has given me back some of the power that I had lost with Aurora's diagnosis. They have given me a platform to raise awareness and funds for pediatric cancer research, so that kids can get back to being kids and more children can have the normal, beautiful childhood they deserve.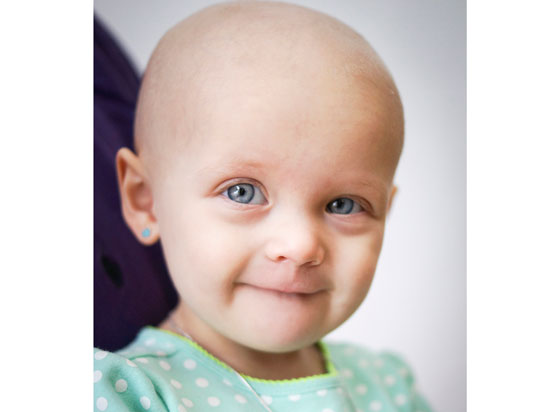 A happy Aurora posing for the camera.
Many people have asked me why I continue to stay involved — after all, childhood cancer is depressing.
But the answer is simple. What has been seen cannot be unseen. What has been learned cannot be unlearned.
Each and every child and family that I have met along this journey has become part of my family. They all have a special place in my heart.
And I will not give up until cancer leaves our babies alone.
Join Kelly in the fight to take childhood back from cancer. Get involved to help fund lifesaving research today.

Get Involved
Read more on the St. Baldrick's blog: