Honored Kid Georgia knows what it's like to be bald. After being told she would lose her hair during chemotherapy, she shaved her head and never looked back. Now, Georgia is 17 years old, five years cancer free, and about to go bald again — but this time, by choice. Read on to find out why Georgia is willing to lose her locks one more time.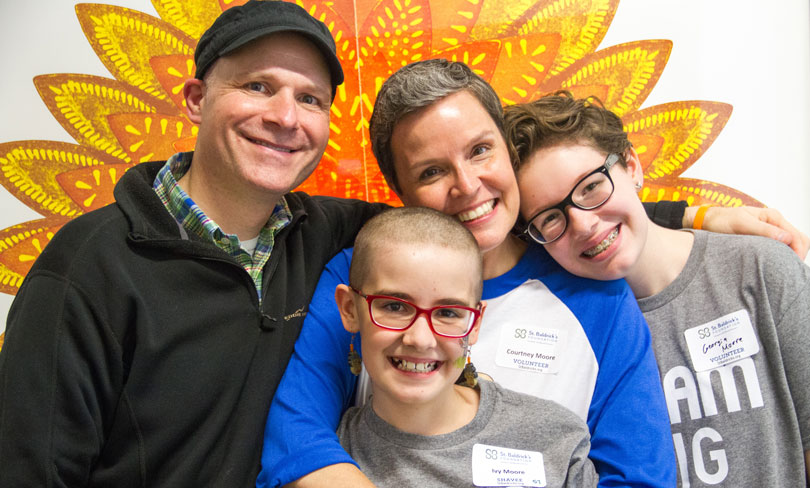 Georgia with her dad, Trevor, her mom, Courtney, and her sister, Ivy.
I'm never going to forget my 10th birthday — mostly because I spent it in the hospital.
It was my first visit to a hospital since birth, and I really didn't know what to expect.
There were some pleasant surprises. They wheeled me around everywhere, even though I could walk just fine, and the Child Life Specialist made a birthday sign for my door.
I had a direct line to room service at all hours — milkshakes at midnight! The nurses were really nice, and most of them wore Silly Bands on their wrists (all the rage in 2009).
Help Georgia reach her goal of raising $10,000 for kids' cancer research! Donate towards her shave today >
But not every surprise was a good one.
The day after my birthday, I was diagnosed with acute lymphoblastic leukemia (ALL).
It was New Year's Eve, and my parents' anniversary. I had to start treatment the next day, and my mom and I ate my birthday cake while the nurses did a countdown at midnight right outside my door.
Georgia rocks a mohawk during her treatment.
"Cancer" is a big scary word — even to a kid like me, who'd read every book she could get her hands on since age two.
"Chemotherapy" — another big one, but less scary because chemo meant medicine, and it was about getting better. I could deal with a word like that.
But "bald"? That's the word that really bothered me.
Looking back, I don't know why I got upset when the nurse told me I would lose my hair. Maybe because it was the most physical reminder of what was happening inside of me.
Whatever the reason, my dad shaved my head a few weeks after my diagnosis, and I never looked back. Once I went bald, I never wore a wig, and I didn't hide my peach-fuzz even when I returned to school.
My parents both shaved their heads in March 2010 at the St. Baldrick's event at Dell Children's Medical Center, where I was treated. My sister, at age 11, shaved her head in 2015 at the same event.
Georgia's sister Ivy shaved in honor of Georgia two years ago — and raised over $3,000 for childhood cancer research. Read about Ivy's first head-shaving experience >
I've never gone bald again. I guess I thought I'd had enough bald to last me a while.
But here I am, five years post-treatment for ALL, preparing to shave my head in April — and no one is more surprised about it than me.
I was in treatment for 28 months and have happily moved on with my life, grateful for my health and focusing on the opportunities I have ahead of me.
It's no secret that I had cancer, but it's been a part of my life I shy away from talking about, preferring to leave my physical and emotional trauma in the past.
So why go back to bald?
A few months ago, my mom (who has shaved a total of seven times) asked me if I ever thought about shaving for St. Baldrick's. We were on a plane, and I was looking out over rolling green hills.
All of sudden, I just thought, "why not?"
Shaved heads are cool. Shaved heads are empowering. Shaved heads are good luck.
LEFT: Georgia proudly displays her Letterman jacket RIGHT: The t-shirt design Georgia created as a fundraiser for her shave.
I'm shaving my head because I beat cancer. I'm going bald because this time, I have a say in the matter, and I can make a difference for kids who don't have that say.
If someone told me tomorrow that I would be completely bald forever, I'd say "Bring it on."
The word "bald" doesn't scare me like it once did.
Now, it holds a much more precious meaning — to me, bald means love.
And, even though I hesitate to advertise my personal experience with cancer, I cannot wait to show up at my first prom the week after I shave — completely, proudly, beautifully BALD.
Help Georgia be beautifully bald for kids with cancer. Click the button and boost her fundraising today.
Donate to Georgia's Shave
Read more about Georgia, Ivy, and their family on the St. Baldrick's blog: