In her very first shave, 11-year-old Ivy Moore went bald this past month in honor of her beloved sister, Georgia, and raised more than $3,000 for childhood cancer research in the process. Ivy reflects on her big sister's cancer journey and why she decided to brave the shave.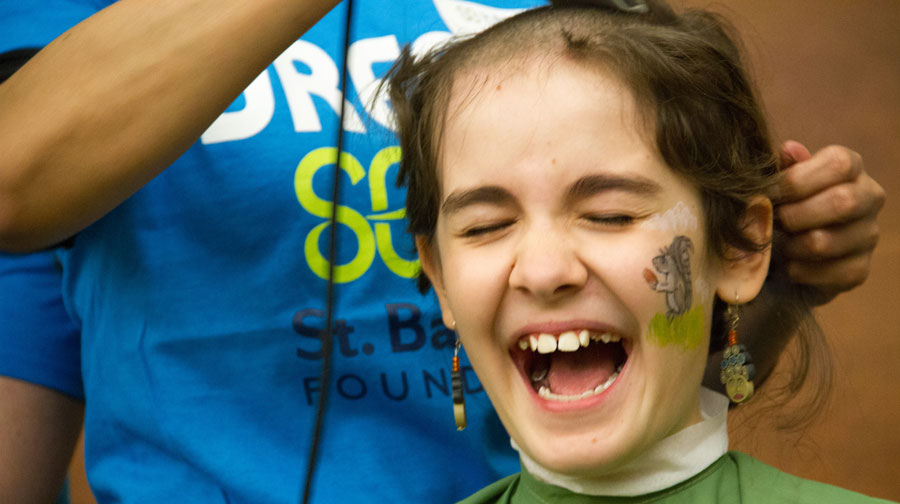 Ivy Moore shaves for her sister, Georgia, who had acute lymphoblastic leukemia.
I was 6 years old when my sister, Georgia, was diagnosed with cancer the day after she turned 10.
I remember thinking it was silly that she had to go to the doctor on her birthday, but the next thing I knew, we were all at the hospital.
My grandmother took me into Georgia's room, and we gave her birthday presents. I knew she was sick, but I didn't understand how sick she was. The big words everyone was using didn't mean anything to me, and I thought she looked pretty OK.
Georgia was in the hospital for a week, and then we got to take her home. My mom explained to me that Georgia had a sickness called childhood cancer and that the kind of cancer she had was called leukemia. I sort of understood, but all I really knew for sure was that Georgia was not going back to school and that she would be going to the doctor and the hospital a lot.
Ivy wrote a gorgeous letter to her sister on the anniversary of her final day of treatment  — read it and see Georgia's response >
She had to take what seemed like a gazillion pills and many days, she felt terrible, even though I couldn't tell. Her hair started falling out, and then my dad shaved the rest of it off for her, except for a mohawk that we dyed pink!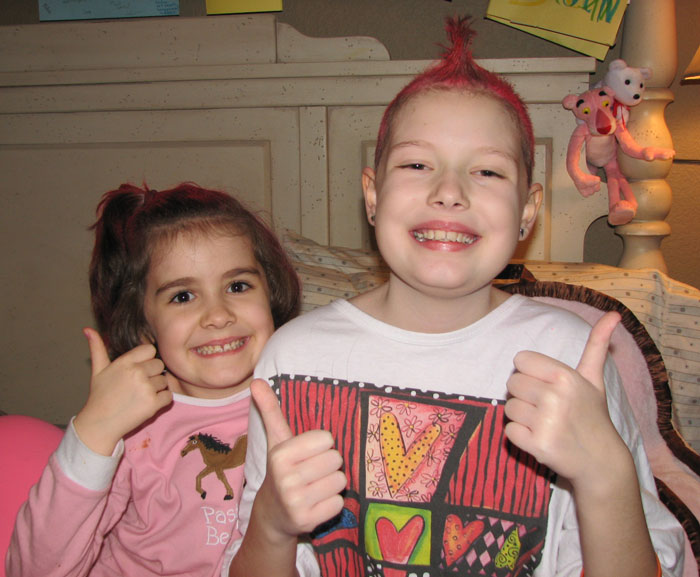 Ivy and Georgia pose together with Georgia's famous pink mohawk.
That eventually fell out too, and then my mom, dad, and grandfather shaved their heads for the St. Baldrick's event at the hospital. I was the only one in the family who wasn't bald! I remember thinking that it was cool and that I'd like to shave sometime, too.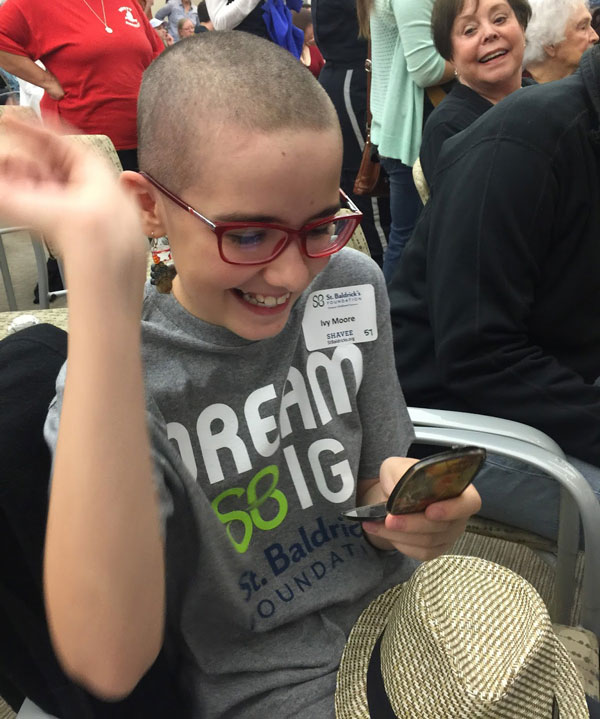 Ivy gets a first look at her bald, beautiful self.
At our school, everyone sent home cards and presents for me to give to Georgia, and sometimes, they even sent things for me. It was nice, and I know it made Georgia feel better.
She was out of school for a whole semester, plus the summer. When we went back in the fall, she still had regular appointments and was on chemo for another year and a half. When she finally finished treatment, we had a big party, and we've celebrated on the 29th of every month since then.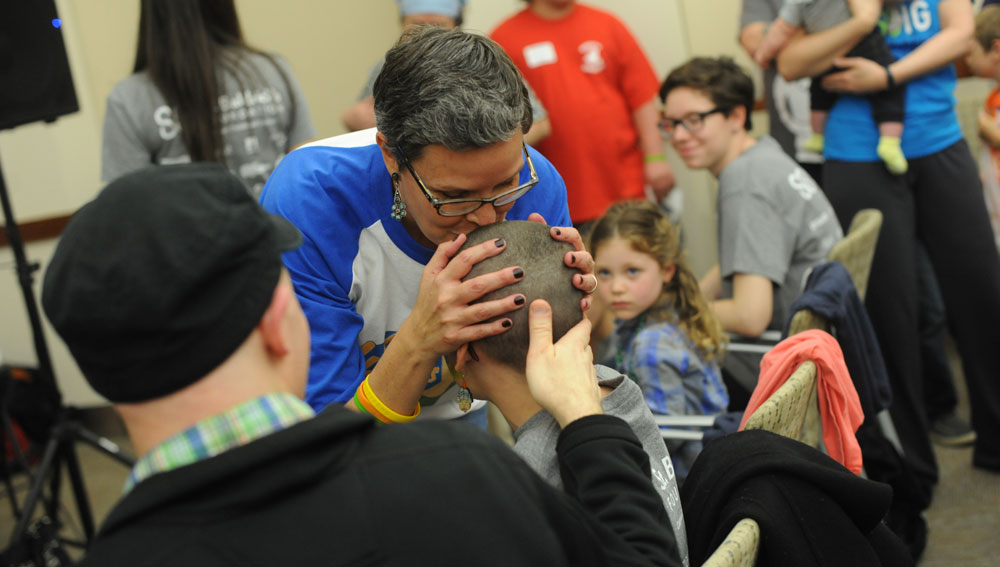 The sisters' mom, Courtney, kisses Ivy's newly shorn head.
In 2012, my mom went to Los Angeles to shave her head with the 46 Mommas. She met some people there who had lost their children to cancer, and that's when it hit me.
If my sister had not had the treatment she did, or a different type of cancer, I could have lost her. I realized that there were other kids out there who had lost their siblings to cancer, and I couldn't imagine what that would be like. I don't want any kid, anywhere, to have to go through that, so I shaved my head to help conquer this disease.
The day of the shave, Georgia took the first swipe at my head. I was a little nervous, but pretty soon, I was laughing and enjoying myself. My grandfather was shaving right next to me, and now we're bald buddies!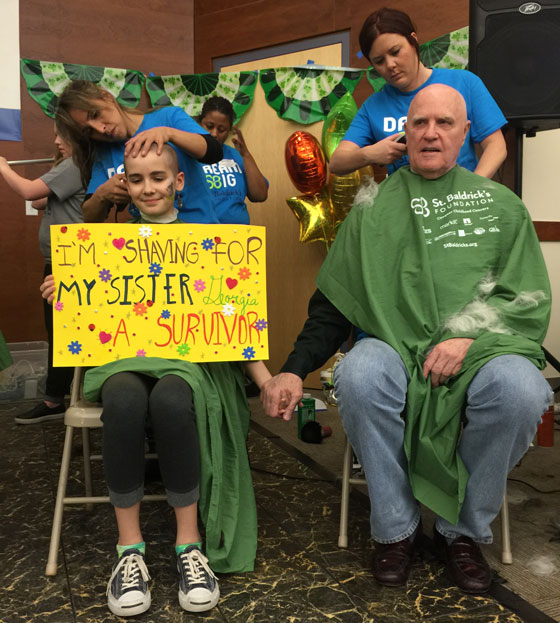 Ivy and her grandfather hold hands as they shave together.
It feels really good that even though I'm only 11, I can still do something to raise awareness of childhood cancer and to raise funds for research. Finally getting to shave my head was worth the five-year wait, and I'm sure I'll do it again some day.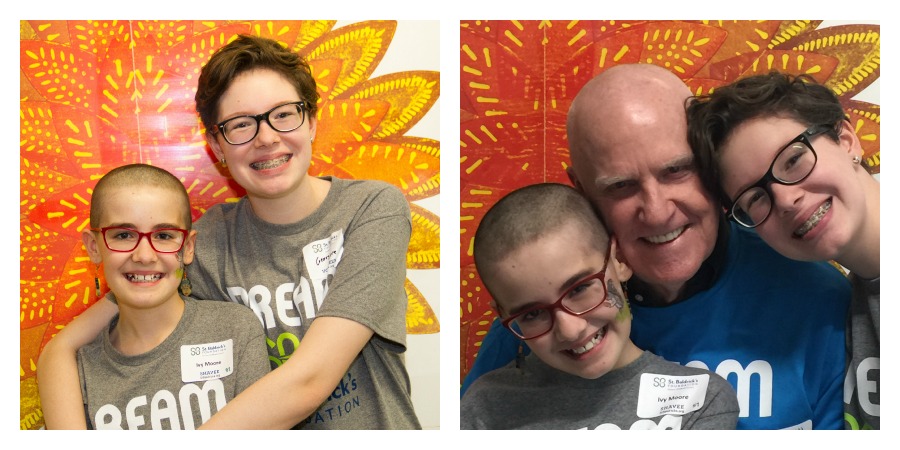 Ivy, Georgia and their grandfather are all smiles after the shave.
I'm so proud of Georgia and very grateful that she is healthy. Now I want every kid fighting cancer and their siblings to have the same happy ending that we have.
Make that happy ending a reality for all kids with cancer. Invest in lifesaving childhood cancer research — donate on Ivy's shavee page.
Donate
Read more about Ivy, Georgia and their family on the St. Baldrick's blog: