It's been five years since Honored Kid Georgia's childhood cancer diagnosis and more than two years since her last dose of chemo. But those aren't the only milestones we're celebrating today — we're happy to announce the launch of the Georgia and the Peachy Keens Hero Fund! Read on for more from Georgia's mom, Courtney, about her daughter's cancer journey and the family's big plans for 2015.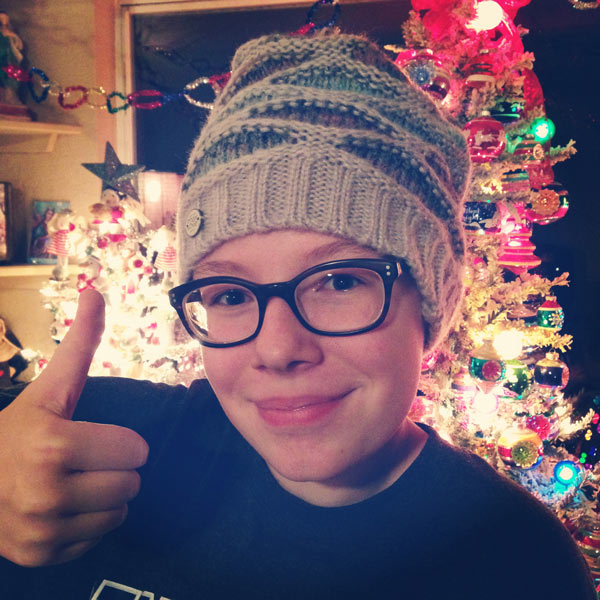 Georgia, a St. Baldrick's Honored Kid, is now five years past her diagnosis date and will be celebrating her 15th birthday in 2015.
On December 30, 1999, I was in a hospital room, surrounded by some of the people I love most in the world, heralding the arrival of my first baby girl, Georgia Lee. Ten years to the day later, I was in another hospital room, with many of the same people, trying to reason, pray, and will away a potential cancer diagnosis for that same baby girl, which was confirmed the next day. In those moments, my world changed forever. But 15 years ago, five years ago, and today, I am grateful for them both.
We had been sent to the hospital on Georgia's 10th birthday after her pediatrician reviewed her "abnormal" blood work and wanted to rule out "something like leukemia." Of the handful of things they thought it could be, I was sure it was anything but cancer, because it would be absurd for my healthy child to have cancer. But the next morning's bone marrow biopsy confirmed acute lymphoblastic leukemia (ALL), and she started treatment on New Year's Day in 2010.
Despite the darkness of the moment, there was still a bit of light. After all, the doctor told us, "It's cancer. But it's curable." We chose to focus on that light and watched our girl fight to move closer and closer to it every day for the next 28 months. She was an absolute champion.
Georgia in the hospital on her 10th birthday after being diagnosed with acute lymphoblastic leukemia.
Georgia has now been off treatment for over two and a half years, and a lot has changed since the day she took her last dose of chemo and claimed her victory over leukemia.
Gone are the puffy cheeks from steroids and the joint pains from vincristine. In their place are a determined jaw and ever-stronger swimmer's legs set on kicking harder and faster each day. The timid sixth-grader is now a confident ninth-grader looking forward to college and beyond. And the concerns and considerations of treatment that used to rule every decision, every plan we made are almost a distant memory.
Almost.
Comparing our life before and after cancer, I am struck by how much everything feels exactly the same and yet completely different. We are firmly back in the routine of school, work, and family time, but we are living a new normal with a perspective that colors everything we see.
We know what life looks like when your child has cancer. We know the sobering statistics and the shameful funding percentages. So while we are grateful that Georgia is healthy, we are mindful that many children are still fighting cancer, and without action, many more will be diagnosed.
Georgia and her sister sell lemonade every year as a fundraiser for St. Baldrick's.
We became involved with the St. Baldrick's Foundation two months after Georgia was diagnosed and have continued to fundraise and volunteer with the organization ever since. My husband and I have shaved our heads, we've hosted art shows and a comedy night, and Georgia and her sister, Ivy, have set up their "world famous" lemonade stand every spring. I've also been a part of the leadership team for the 46 Mommas and look forward to shaving with them for the fourth time this summer.
In addition to our regular support, we decided to do something different, something special this year to celebrate Georgia's 5th year past diagnosis. Today, we're launching the Georgia and the Peachy Keens Hero Fund.
Our goal, and our motto, for the year is "15 for 15 in '15" — we plan to raise $15,000 (or more!) for her 15th birthday in 2015.
Help Georgia and her family reach their $15,000 goal! Donate to the Hero Fund today.
We want to help St. Baldrick's fund the world's most promising research into safer, less-toxic treatments and, ultimately, cures for all kids with cancer. We are thankful for Georgia's success, and we are determined to ensure similar outcomes for other families, too.
We are privileged to watch Georgia living her wonderful life, shining her beautiful light, and we are proud beyond measure of the young woman she is becoming. She has risen to her fullest, best self, and she is ready to put an end to childhood cancer. We all are. No more getting cancer for your birthday.
Five years after the worst day of our lives, Georgia is great. She is the same as before cancer, but different. We all are. And we are honored to be able to continue this journey together.
Check out Georgia's new Hero Fund page. Give to the Georgia and the Peachy Keens Hero Fund!
Give
Read more about Georgia on the St. Baldrick's blog: