Our social media coordinator, Alison Sutton, spent a day with St. Baldrick's Honored Kid Aubrey Castro, who's currently in treatment for childhood cancer. (You might remember Aubrey as the young artist who raised over $20,000 for childhood cancer research.) Here's a glimpse into a day in the life of Aubrey, as seen through Alison's eyes.
"I want people to know that I'm beautiful and help people when they are down and I do nice things."
That's what 4-year-old Aubrey wants you to know about her.
One thing she didn't mention? She's currently in maintenance treatment for acute lymphoblastic leukemia (ALL), a childhood cancer she's been fighting since she was 2 ½.
To gain a little insight into what it's like to be a kid with cancer, I spent a day with Aubrey. This was our day together.
---
I showed up to her house and was greeted by a shy girl. Little did I know her true outgoing colors would come out about 15 minutes later when we started talking about her dolls.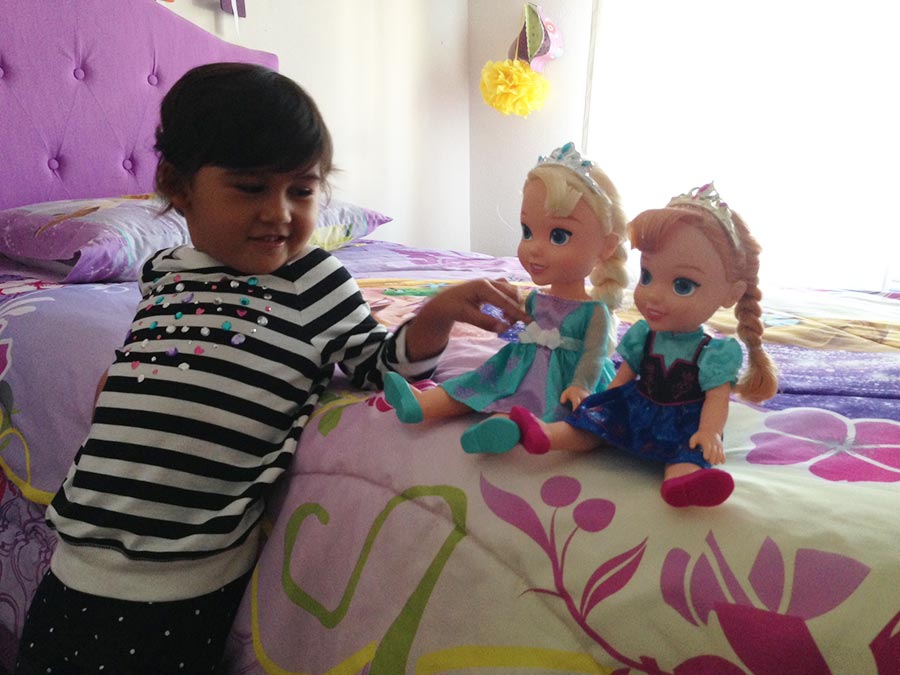 Get involved to help kids like Aubrey.
"Do you want a picture with your dolls?"
"Why? They're not real."
She got me there. Then she talked about loving the Disney movie "Frozen" and wanting to become a ninja.
Fun fact: The first step to becoming a ninja is enrolling in karate. That's just one of the few things she's starting this year. Add art class, dance class, and preschool, and you have Aubrey's weekly schedule.
Less than a year ago, none of those classes were even a possibility for Aubrey. She was in the middle of her intensive treatment, spending nights in the hospital and suffering the side effects of high-dose chemo.
She's in maintenance therapy now, meaning she's in remission but she has to continue treatment to make sure she stays there. She takes two steroid pills in the morning, nine and a half chemo pills mid-day, and two more steroid pills before bed. That is her normal, daily routine.
It was 8:30 a.m. and time to head to the hospital. With a 30-minute car ride, Aubrey passed the time by drawing me a picture of flowers.
We arrived at the hospital and she was eager to run through the doors and press the elevator buttons. She didn't seem nervous at all. I'm pretty sure I was more nervous than she was. While she was getting her blood pressure taken, I said, "Aubrey, you're one tough cookie!"
"Do you know what a cookie looks like? It's round. I'm not round!"
She got me again and even gave me a "you're so silly" face.
But all of that was soon forgotten when she was told she would be in the princess room. Without hesitating, she ran down the hall and jumped on the table. While her doctor discussed her chemo doses, Aubrey challenged me to arm wrestle. I soon found out that she is one strong 4-year-old!
As we were playing, her mom, Vanessa, was talking with the doctor about Aubrey's treatment. I heard Vanessa begin to cry. It was easy to get lost in the moment playing with an energetic little girl, but then I realized — I'm only standing in this hospital because Aubrey needs this treatment to save her life.
After her doctor decided to up her dosage of chemo, the next step was waiting for her treatment to be ready.
That's when she became Dr. Aubrey.
But really, wants to be a "ninja, artist, dancer and mommy" when she grows up.
She decided that I needed a checkup and after listening to my heart beat and checking out my ears, she told me my counts were low.
"What does that mean, Aubrey?"
"It means you can't do anything! You have to stay home all day."
She was speaking from experience. Just last month, Aubrey got the flu, which brought her blood counts down.
Because of her low counts, her doctor had to reduce her chemo, which her parents struggled with. Vanessa explained that when the chemo is reduced, there is a chance she's not getting enough to keep her cancer in remission.
Her chemo was ready and again, she hopped on the seat without hesitation and was ready for the nurse to start.
Since I've never seen treatment being administered before, I didn't know what to expect. I definitely was not ready for Aubrey to be the one to do it!
With almost two years of this routine under her belt, Aubrey knew how to fill her own vials for blood samples and push down on the syringes to flush her line.
Then came the most important part: choosing a Band-Aid.
After she found the perfect one, it was time for lunch.
One treatment side effect she normally experiences is a tummy ache. Today was no different and she was a little off before we got to lunch.
But after lunch, we headed home and Aubrey got ready for her first dance class. She showed off her outfit and her favorite ballet pose. Then she had to teach me how it's done. Not only did I learn how to do ballet, I learned that Aubrey does not let childhood cancer define who she is.
She's not Aubrey, the little girl with cancer.
She's Aubrey, the girl who loves Barbies but wants to be a ninja. The girl who wants to be known for the good she does for others. And the girl who would rather be at school than inside a hospital.
But right now, she's dealing with the childhood cancer life. And after spending the day with her and her family, I've only seen a small portion of what that actually means.
This is why research is so important — so this process does not become a normal day for any child.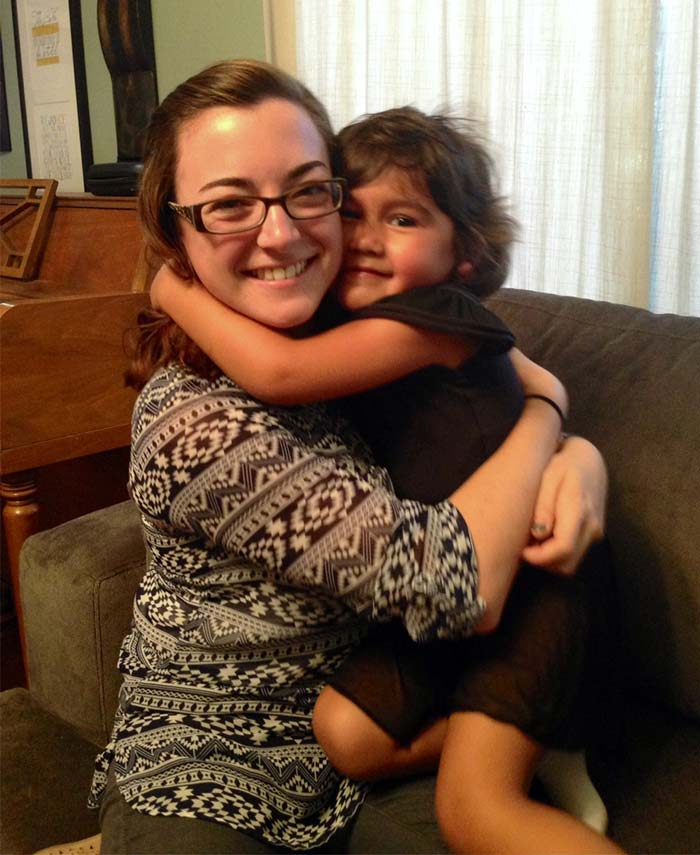 Thank you to Aubrey, Vanessa, Ivan, and Aiden for letting me spend the day with you and for showing me the importance of what St. Baldrick's is doing to Conquer Childhood Cancers.
Help fund childhood cancer research so all kids can live normal, hospital-free lives.

Read more kids' cancer stories:
All hospital photos taken by Aubrey's mom, Vanessa.