February 4 is World Cancer Day AND the 6th birthday of St. Baldrick's Ambassador Kellan! Born with cancer, this kid started life beating the odds and defying limits, and that's been his MO ever since. In honor of World Cancer Day and Kellan's birthday, help us take childhood back from cancer.
Ambassador Kellan received his first wheelchair when he was 17 months old. He now has dreams of competing in the Paralympic Winter Games, a massive sporting event similar to the Olympic Winter Games, where athletes with a range of physical disabilities compete in everything from alpine skiing to ice hockey to snowboarding.
Elizabeth was driving her son Kellan back from his first skiing lesson when the boy lowered his voice to an excited whisper. 'Mom,' he said, 'I have to tell you something.'
"And he's like, 'I went on the double black diamond.' And I'm like 'What?'," she recalled with a shriek.
Kellan was only 4 years old at the time and is paralyzed from the waist down. He's used a wheelchair since the age of 17 months.
Before he was born, childhood cancer took away Kellan's ability to walk, run, ride a bike and ski like other kids. But it hasn't stopped him.
To Kellan and his family, there are no limits. There is only adaptation.
Here are 4 ways you can help kids like Kellan on World Cancer Day >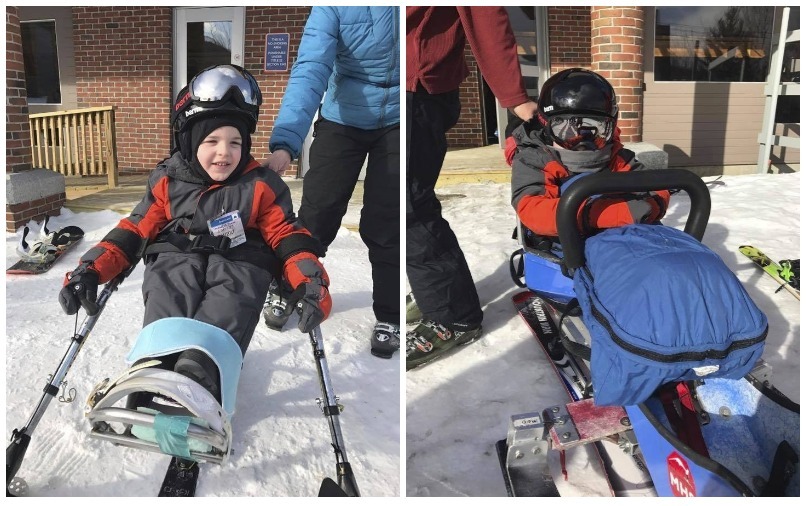 Kellan gets ready to hit the powder on his adapted ski equipment. He's now been skiing since he was 4 years old with Maine Adaptive Sports & Recreation and will celebrate his 6th birthday with a ski party.
A birthday and a diagnosis
Elizabeth sensed something wrong about 20 weeks into her pregnancy with Kellan. He had stopped kicking.
"I kept telling the midwives, 'I don't remember my other babies being this quiet,'" Elizabeth said.
At that time, neuroblastoma – a pediatric cancer that originates in nerves outside the central nervous system – had grown to damage the nerves in Kellan's lower spine. Eventually, the tumor tissue snaked into the baby's abdomen.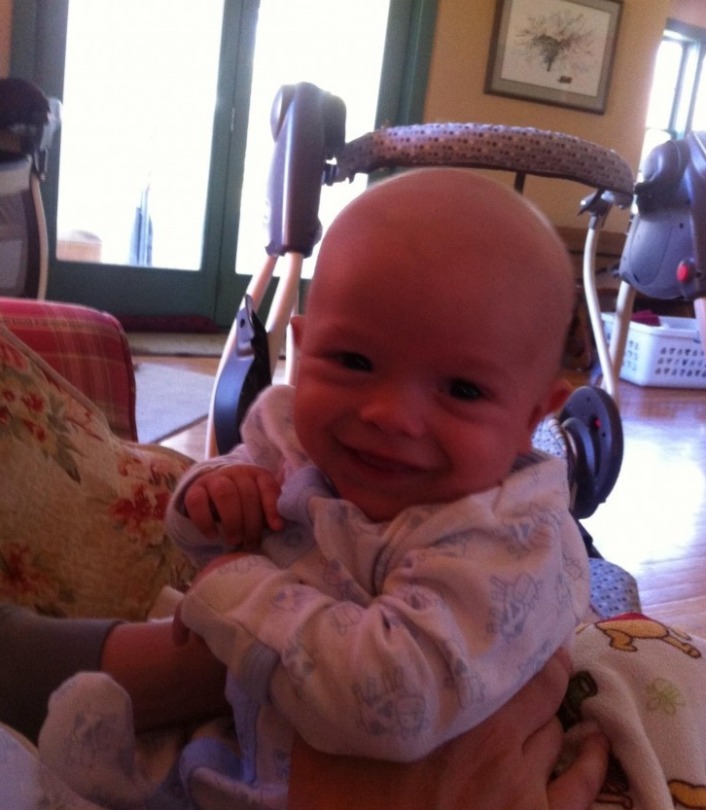 Baby Kellan cracks a toothless grin before the family heads to Boston for his surgery.
At about 4 a.m. on February 4 – World Cancer Day – Elizabeth gave birth at home, with her husband and their children by her side. Elizabeth was no stranger to attending births and giving birth. She had been a labor and delivery nurse for two years and was a mom.
So, she knew something was wrong when she lifted seven-pound Kellan into her arms. Kellan was squirming – as new babies do – but his legs remained still.
"And he was just beautiful. You looked at him and he was perfectly formed," she said. "Just this beautiful baby and to know that cancer had just ravaged his body before he had a chance to even breathe on the outside world …"
Yes, babies do get cancer. Read this Q&A from an expert to learn more >
Suddenly, just hours after giving birth, Elizabeth was on a tiny, cold plane with their newborn, flying from central Maine to Boston with a medical flight crew. Her husband, Dan, raced to the hospital on the highways below.
Baby Kellan sleeps the day after receiving his first chemotherapy infusion.
By midnight, they had the answer.
"They did the initial MRI and they brought us into a little room and said that he had a mass on his spine," Elizabeth said. "I turned to Dan and I said, 'It's cancer.' The next day it was confirmed that it was neuroblastoma."
Surgeons removed as much of the tumor as they could, carefully scraping it from his vertebrae and removing the mass that was pressing on his organs. Then Kellan endured four rounds of chemotherapy to kill any cancer that remained.
It was brutal. But he made it.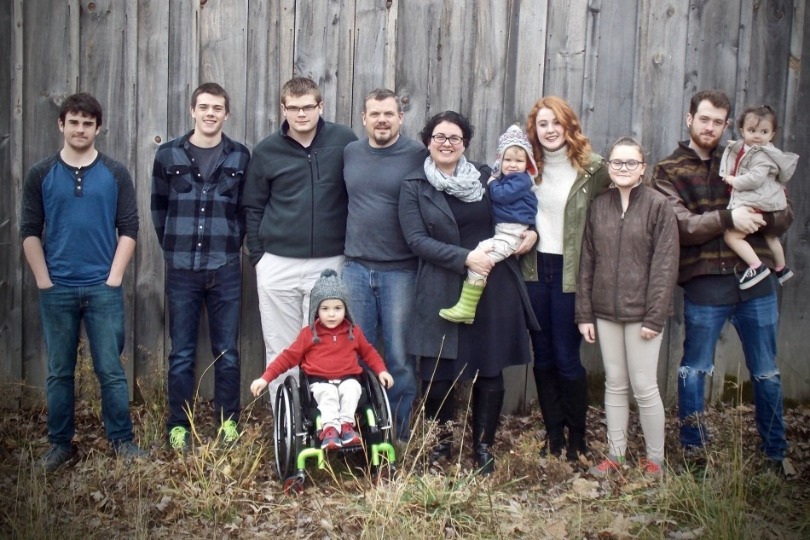 Kellan and his family at their home in a small town in central Maine. When Elizabeth and Dan married, they each were parents to three children, before having Kellan and his little brother, Owen. They blended to create a big, beautiful family of 10. From left to right: Tucker, Nate, Sam, Dan, Kellan, Elizabeth, Owen, Mollie, Allie, Quinn, and Charlotte.
Survivorship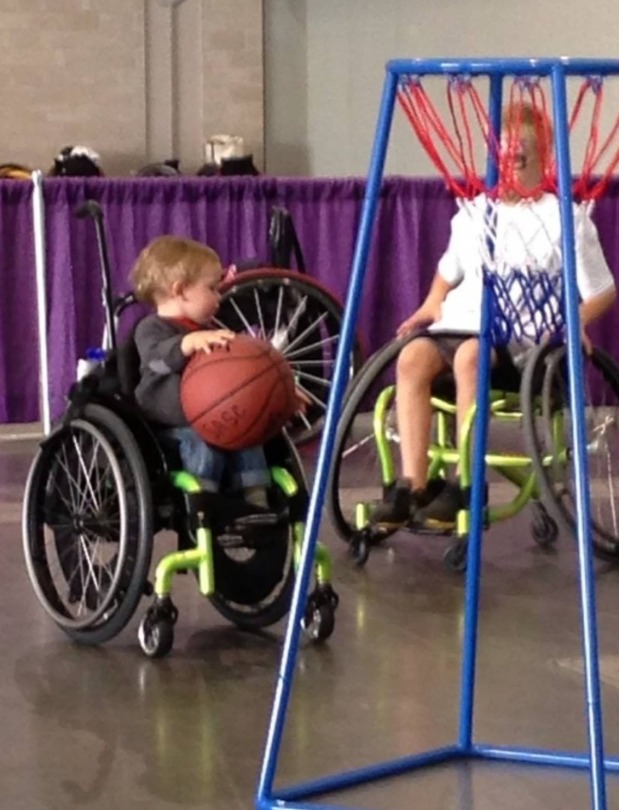 Kellan plays wheelchair basketball during an adaptive sports expo in Boston.
In the summer of 2017, Kellan hit the momentous five-year mark. He was officially a childhood cancer survivor at only 5 years old.
Despite this status, cancer is still very much a reality for Kellan and his family. Bowel and bladder issues have cropped up and it's unclear whether he'll able to have kids of his own when he grows up. He struggles with hearing loss, which is a side effect of his treatment, and chronic pain.
But he doesn't wallow in his pain. He doesn't often ask, 'Why me?' He bounces right back into living life.
"I'm always astounded by this. It's not often that he'll break down and say, 'It's not fair.' It happens a few times a year. 'Why did I have to get cancer? Why did it have to ruin my spine?' Because he knows kids with cancer that are able-bodied now," Elizabeth said. "But it's so short-lived, because he's just so full of life and just so focused on the next adventure that he doesn't dwell a long time in the 'it's not fair.'"
That's who Kellan is. With his family's support and a little creativity, whatever this kid wants to do, he can do it.
Kellan, his mom and little brother, Owen, reel in a fish on the pontoon boat the family purchased so Kellan could fish easily from his chair.
The boy has advocated for childhood cancer research on Capitol Hill and charmed senators with knock-knock jokes. He skis on adapted equipment and rock climbs using special harness and rope systems. He loves to fish from his wheelchair and wants to be a fisherman when he grows up. He keeps up with the active family of 10, which is thick with football players, lacrosse players, dancers, hockey players and runners.
He's even started target shooting with a BB gun – preparation for future competition in the biathlon at the Paralympic Winter Games. (It turns out that he's a natural.)
"There is going to be so much in this world that he can do," Elizabeth said. "We just have to make sure that he gets there."
Together we can take childhood back from cancer. Fund lifesaving research today.
Donate
Read more on the St. Baldrick's blog: