Honored Kid David was bright, charming and totally dedicated to embracing life. He also had childhood cancer. David asked his family to fight for a cure — a cure that didn't come soon enough for him. Read on to learn more about this spectacular 10-year-old, his childhood cancer journey and why his mom, Susan, is passionate about research.
David hugs his mom, Susan, at a fundraising event.
Who would David be if he had grown up?
His mom can't help but wonder. If he'd lived, he'd be a teenager now.
Would he still have that obsession with colorful skinny jeans? Would that cello he insisted upon getting still be gathering dust? Would he still be that bubbly, charismatic kid she remembers?
What if childhood cancer research hadn't failed him?
That's what Susan Heard wonders.
Her son, David, was diagnosed with neuroblastoma when he was just 8 years old.
The signs started in September 2008 at a weekly summer get-together with the neighbors. Susan was grabbing snacks for the party when one of their friends popped into the kitchen to tell her that David had thrown up.
What fantastic timing, she thought to herself. So, she put him to bed. Checking on him, Susan thought he looked fine.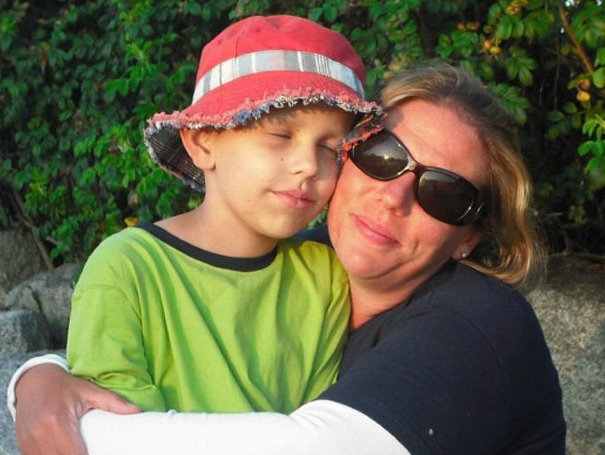 David and his mom Susan share a cuddle during his treatment for childhood cancer.
But the vomiting continued. The first week of school, the 8-year-old threw up twice – and he was a kid who hated throwing up. The doctor said it was a stomach virus.
But Susan knew it was something more. She went back and forth to the pediatrician, who continued to repeat that David had nothing more than a stomach bug.
Then, one day Susan put her feet on David's stomach to lift him up for an 'airplane ride' – a move that usually made him giggle. Instead, he screamed in pain.
Susan marched into the doctor's office and insisted on getting imaging done on her son.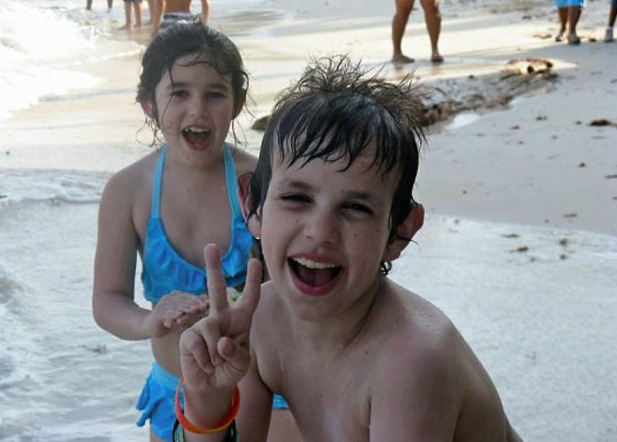 David with his sister Daisy at the beach, which was one of his favorite places.
The moment the technician touched the wand to David's belly, Susan's world turned upside down.
"She put the wand on his belly, literally put it down, said, 'I'll be right back,' and left the room. In that moment I knew something was horribly wrong. I still hadn't gotten to cancer, that never entered my mind, actually."
But it was cancer, specifically neuroblastoma, a type of cancer that develops in nerve cells and generally starts in the adrenal gland on top of the kidney. The ultrasound revealed the tentacles of a tumor wrapped around David's kidney, the delicate tissues of his aorta and the vena cava, which is a large vein that carries unoxygenated blood to the heart.
Read about another amazing Honored Kid — Hazel — who has survived neuroblastoma twice thanks to advances in research >
"They talked about frontline therapy – all these words, you're like, 'I don't know what these words are. I'm just a mom. I don't work in a medical profession.' It was a completely disconcerting time," she said. "All I remember is being mostly confused. I'm a talker, probably an over-talker, and I remember sitting next to him in a rocking chair and I couldn't speak."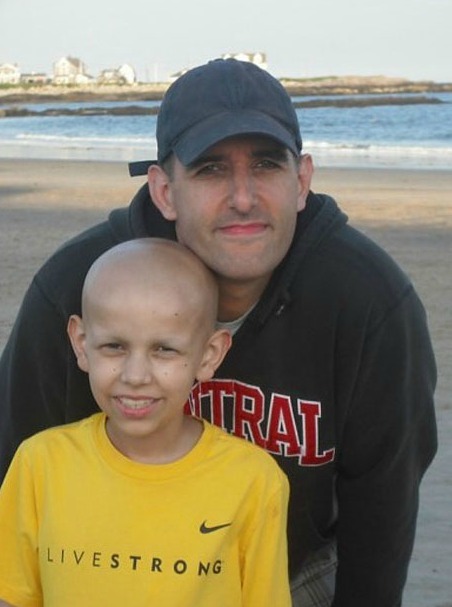 David with his dad Tom.
Chemotherapy caused David to lose all his hair. His eyelashes fell out and his eyebrows disappeared. The nausea was debilitating.
"It was truly horrific," she said. "When people say things like chemo makes you feel nauseous, that word is not enough to describe the level of nausea. He wouldn't speak. He would sit as still as possible. He would tell me, 'I just go inside my head so I can try to control it."
David was passionate about St. Baldrick's and funding the most promising kids' cancer research. Honor David by giving to his family's St. Baldrick's Hero Fund — David's Warriors Hero Fund >
David dreamed of getting strong enough to ride his bike again and desperately wanted to go to school, but often he only had enough energy to attend for an hour or two.
"He was completely weak. Even walking around the block, walking slowly, he'd be leaning on me," she recalled.
He had surgery to remove most of the tumor, radiation and an antibody therapy called Ch14.18, which was an early precursor to a recent, promising drug for kids with neuroblastoma called unituxin.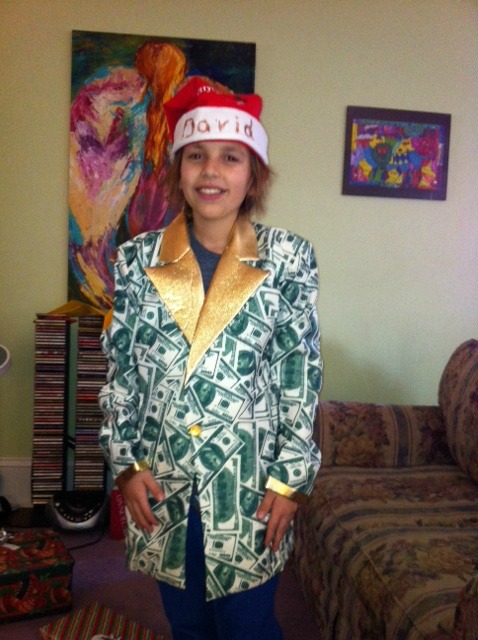 David looking like a million bucks in his famous money jacket. David loved fashion and had a unique sense of style.
"It was frustrating because he couldn't do all the things that he wanted to do, but he adapted to what he could do," she said. "I think that's the beauty of kids in general. I think their resilience is tremendous. Adults tend to just get in this 'poor me' and he never did that – until he relapsed."
In the spring of 2010, David finished treatment and his first scans came back clean. He and his family were ecstatic. David looked healthy. He felt fantastic.
Then, he went in for his second round of scans in June.
It wasn't good news.
He had relapsed and there are no known cures and no protocol to follow for relapsed neuroblastoma.
"He knew from the get-go if you relapse with neuroblastoma, you don't live," Susan said.
David encouraged Susan to participate in St. Baldrick's events and shave her head to raise funds for kids' cancer research. Susan has shaved with the St. Baldrick's team, the 46 Mommas, ridden her bike to fundraise in her son's honor, and is now the Senior Director of Distinguished Giving at the Foundation.
To David and his family, it felt like a death sentence. The 10-year-old was angry. He was sad. But he was also determined to pack a lot of living into whatever amount of time he had left.
David underwent a special type of radiation treatment called MIBG therapy after seeing Dr. Stephan Grupp, a member of the Stand Up to Cancer – St. Baldrick's Pediatric Dream Team*. MIBG therapy helped tremendously, giving David better quality of life for the final months and helping him hold on long enough to go on the trip of a lifetime.
Always a fan of fashion, David wanted to visit Beverly Hills in California. So, with help from a non-profit, plus friends and family, David did. He shopped alongside the rich and famous on Rodeo Drive, making quick friends with everyone. He went to a basketball game and met comedian Will Ferrell.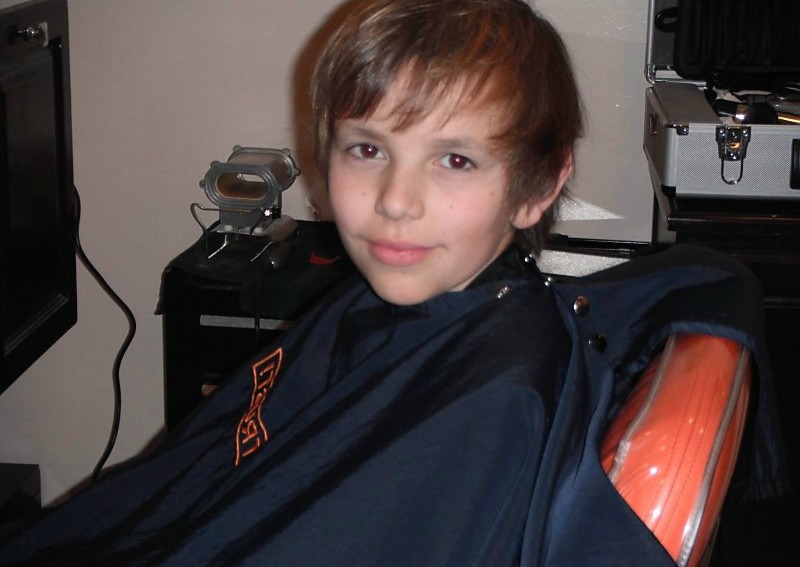 David rocks a new do after getting his hair styled at a Hollywood salon during his trip to Los Angeles.
When the family returned from their epic vacation in January, David laid down on the living room couch to rest. He didn't get up.
"There were certain things that he wanted to do and I think he used his mental will to make all that happen," Susan said. "Then I think it was like, 'OK, I'm done now.'"
On February 10, David died.
The house was filled with close friends and family. A family friend was sitting with David. Susan was in the kitchen, laughing at something.
That's when it happened.
"And it always strikes me as fantastic, really, that he died when I was laughing," she said. "He wanted me to be happy."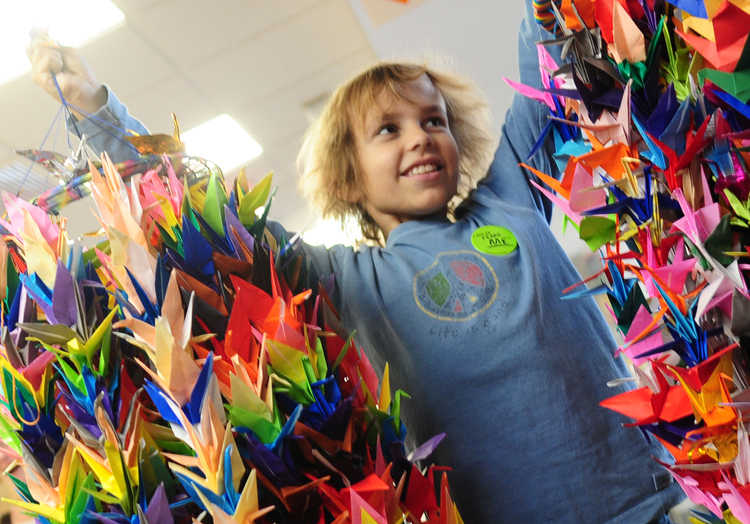 David holds a mobile strung with 1,000 colorful origami cranes. He was first given one of these mobiles as a gift and was then determined to send 1,000 origami cranes to every children's hospital in the country to inspire hope in kids like him. After his death, his family and community took on the challenge in David's memory.
Right about now, David would be looking at colleges. Susan would be tagging along on tours and helping him with applications.
David was curious and passionate and bright. He had the heart of an artist and the brain of a scientist. Susan can imagine him on stage as a performer, or designing the latest women's fashions with a pencil and paper in his hands, or in a lab discovering something new.
"It's the never knowing that really gets to you as a parent. You feel cheated. There's no way to fix that, unless we figure out how to fix the disease," Susan said. "That's what you have to fix, so other families don't have to have that – the 'what if?' 'I wish I knew.' I wonder . . .'"
Like other parents who've lost kids to cancer, Susan will be wrestling with those unanswerable questions for the rest of her life.
But there is one thing that she knows with absolute certainty.
"The universe missed out, that's for sure," she said. "He really was spectacular."
It's Childhood Cancer Awareness Month and there's no better time to honor David's spectacular spirit. Fund kids' cancer research today.
Donate
*Formerly known as the St. Baldrick's – Stand Up to Cancer Pediatric Cancer Dream Team, this team is now the St. Baldrick's EPICC Team (Empowering Pediatric Immunotherapies for Childhood Cancer).
Read more about David on the St. Baldrick's blog: