When Honored Kid Hazel H. relapsed, there was no clear path forward. There was no tried-and-true roadmap to survival. There was no cure. But now, spunky, precocious little Hazel is cancer free for the second time. How? Three words that bring kids with cancer and their families hope – childhood cancer research.
Diagnosed with neuroblastoma in 2013, Hazel relapsed after two and a half years cancer free. Now, in a turn of events rare for kids with relapsed neuroblastoma, she's cancer free once again.
It was the summer of 2016 when Hazel and her family went on vacation to Yosemite National Park. For once, they were all together – Lauren and Aaron, plus the five kids: Micah, Elizabeth, Hazel, Jonah and Zoe. It felt normal. Like a regular family vacation.
For some families that might sound typical, like something every family does every summer. But to this family – which had spent the past few years in and out of hospitals, making life-or-death decisions – typical was wonderful. It was a strange, unfamiliar kind of bliss.
"It was, I think, the first time that things felt normal and we both felt happy, which was something we had been struggling with, just after all this stuff happened," said Hazel's dad, Aaron.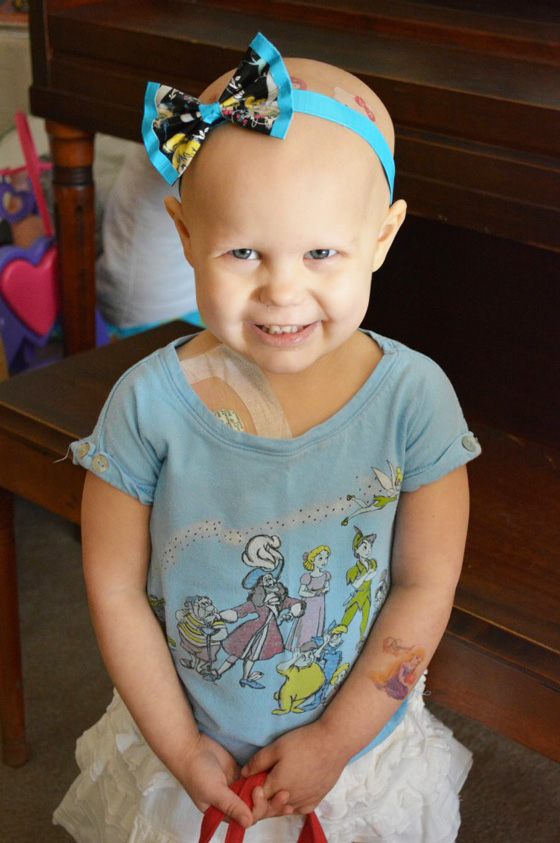 Hazel sports a big, beautiful bow on her bald head during treatment after her first diagnosis of neuroblastoma in 2013.
Then it was time for another hallmark of family normalcy – the start of school.
"The kids were about to start school and we were making all these exciting plans. Hazel was about to start kindergarten," Lauren said, when Aaron piped in.
"Then, actually just before she started, we found out. Just a couple days before."
When Hazel went in for routine scans before school, the doctors found something. But they weren't sure what they found.
Lauren and Aaron were terrified, but they wanted their 6-year-old to enjoy just being a kid for once. So, they sent their happy 'Hazelnut' off to her first day of kindergarten with their hearts in their throats.
"She started school on a Wednesday and that Friday we found out that her cancer had returned," Lauren said. "For us it was difficult. It was really hard to find hope. I read this quote somewhere and I think it's so true. 'When you feel hopeless, you feel helpless.' I felt that so much over this last year. So much despair and fear and anxiety. The realities are so much more grim and so much more stark, that it's much more difficult to cope after relapse."
Back when she was 2 years old, Hazel was diagnosed for the first time with stage 3 neuroblastoma, after a tumor the size of a small melon was found in her belly.
Read about another amazing Honored Kid — David — who was diagnosed with neuroblastoma >
Over 18 grueling months, Hazel endured chemotherapy and radiation, underwent a major surgery, nearly died after a difficult bone marrow transplant and received six months of a certain immunotherapy treatment, called unituxin, which was funded in part by St. Baldrick's.
This was the protocol that experts had crafted to beat her neuroblastoma. The protocol worked. After finishing treatment and thanks to research, Hazel showed no evidence of disease. The sweet girl with a love for tea parties stayed that way for two and a half years.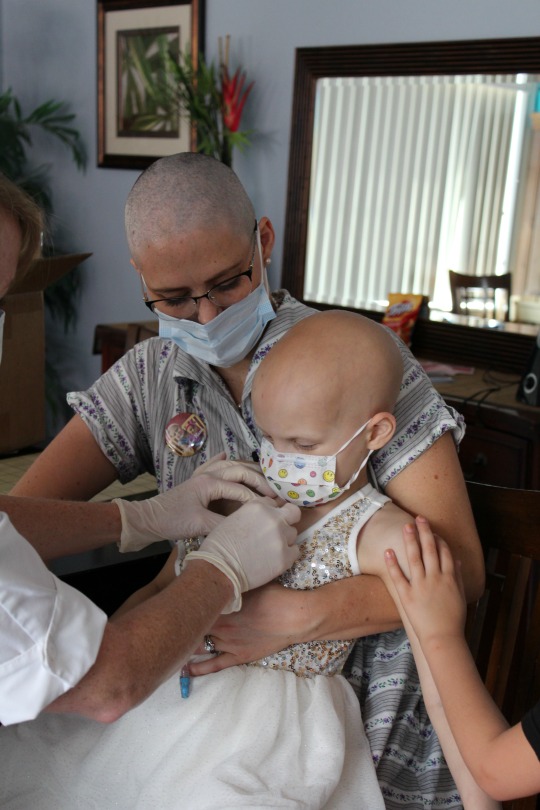 Lauren holds Hazel to comfort her as a nurse inserts a needle into Hazel's port to give her chemotherapy.
"There was a protocol and there was a lot we could cling to and then the thing we had been told even by doctors was, 'Let's hope she doesn't relapse. Let's hope that we've got it and we never have to see this again,'" Aaron said. "And then hearing that she did relapse, it just shattered the trajectory of our life at that point. It really shifted it."
Hazel greeted the news with a lot of questions and some anxiety – she's never been a fan of getting needle pokes, which happens a lot when you're a kid with cancer – but more than that, she was excited. She loved the hospital, with its playroom and friendly people. For this little girl, the hospital was home.
And that's the first place they went.
"We got in with the doctor and the discussion that was had was basically that we will throw anything and everything we have at it until we find something that works," Lauren said. "Something the doctor had said was, she's got a specific lock that we've got to find the right key for and we have a huge bag of keys."
So, the doctors started turning keys – with a little help from Hazel's own genes. Lauren had asked for genetic testing to be done on her daughter. That testing allowed the doctors to discard therapies they knew wouldn't work and opt for more promising options.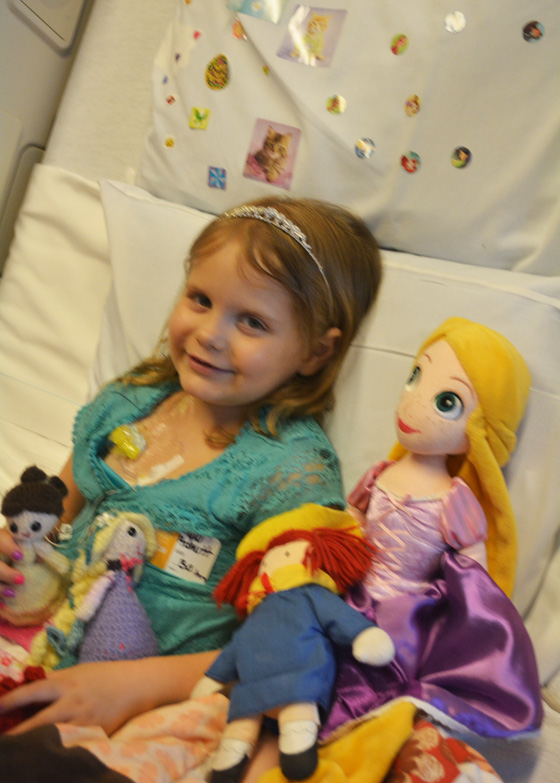 Wearing a tiara and surrounded by toys, Hazel rests in the hospital during treatment for relapsed neuroblastoma.
One of those options was a targeted therapy developed by childhood cancer researchers that specifically worked on a mutation in Hazel's tumor called an ALK mutation.
"She took a medication called an ALK inhibitor that targeted that mutation, along with chemotherapy every couple of weeks," Lauren said. "That seemed to do the trick, because her tumors started shrinking and it did so well that it got her to be where she's at today, which is completely clear of cancer as far as we know."
Thanks again to childhood cancer research, Hazel beat the odds. She is cancer free for the second time. When the 6-year-old heard the news, she screamed with joy.
"She's actually very resilient and definitely has been really strong," Aaron said. "It's been encouraging for us to see that she's never disheartened. She doesn't give up. She's been amazing and I think she's handled this better than we did. She's been doing great."
Spend a day with Hazel and see what childhood cancer is really like for kids and their families >
Soon, she can go back to school. Soon, her hair will grow back – along with her mom's.
(Her whole family shaved their heads when she lost her hair and Lauren has continued to shave, because of how happy it made Hazel.)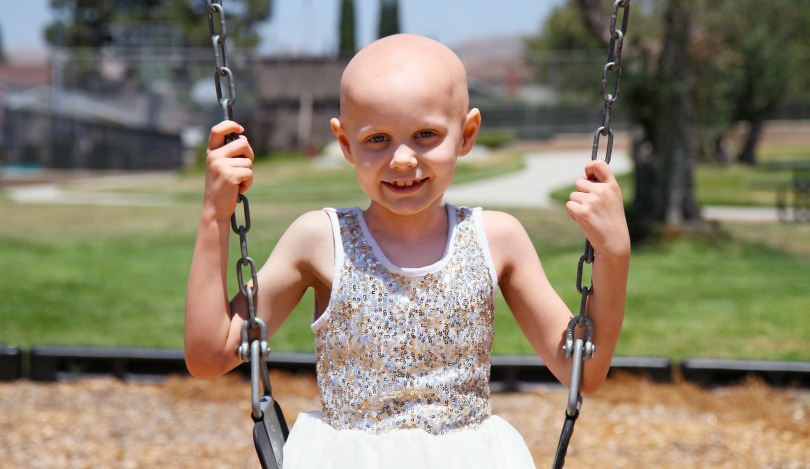 Hazel plays on the swings at the park. Sometimes treatment was really hard and made her sick, but her parents say she always bounced back. "As tired and as fatigued and as sick as she was, she would still find time to be a kid," Lauren said.
Hazel will stay on the targeted therapy indefinitely and happily stop her chemotherapy. But her port will stay, just in case.
That's because with childhood cancer, the journey is never over. But the hope is that one day soon, those childhood cancer researchers who helped Hazel survive will find a true cure, so Hazel and kids like her can leave childhood cancer behind for good.
But right now, Hazel's family is taking a page out of her book. They're trying to stay in the moment and embrace life. That's why this September, they are saying 'aloha' to the hospital and heading to Hawaii together.
"It was so funny, the other day I was in the hospital with her and we were sitting next to the window and planning out our trip to Hawaii," Aaron said. "We're planning out this trip and finding beaches and restaurants and she says, 'You know, Dad, I also want to go to Paris.' Maybe that's next too."
Lauren laughed.
"Yeah, that's Hazel."
It's Childhood Cancer Awareness Month and there's no better time to honor Hazel. Fund kids' cancer research today.
Donate
Read more about Hazel on the St. Baldrick's blog: