Families
---
From the moment he was born, Ambassador Kellan has been fighting childhood cancer and its devastating effects. But he doesn't fight alone. His dad, Dan, is right there with him — and Dan wouldn't have it any other way. In honor of Father's Day, Dan wrote this letter to Kellan to share how blessed he feels to be his dad.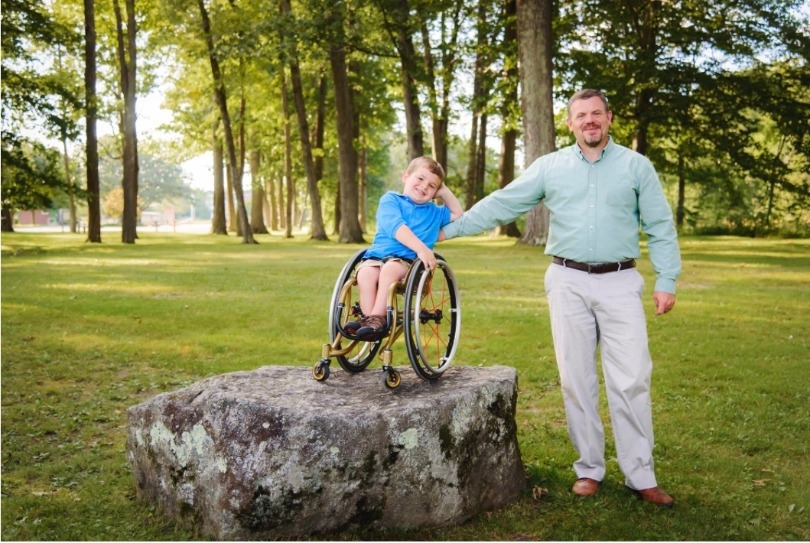 Ambassador Kellan and his dad, Dan.
Dear Kellan,
As I sit here writing this letter, you are in the operating room at Boston Children's Hospital. This is a familiar place to you, your Mom and me. As we walked down the halls yesterday to check in, waves of emotion came over me as I reflected on the past six years. We have spent many days and weeks here since your birth.
They've told us that your operation will be approximately nine hours, but I know it'll feel like a lifetime before I see you again. So, here I wait and try to put into words what it means to be your Dad. I don't know that it's possible to say exactly what it means to me. Although your smile and thumbs up prior to today's surgery tells part of it.
Since day one of your life, you have been an inspiration. We watched your battle with cancer begin on the day of your birth. Chemotherapy started on day three. Your tumor resection surgery was month three. Hundreds of visits to the doctor, scans and appointments followed. At 17 months, you got your wheelchair and started to run, Kellan style. At year five we celebrated no evidence of disease — cancer free! Although you are free from cancer, you are paralyzed. Cancer left its mark, but it doesn't define you or your remarkable life. This year, you were named an Ambassador for St Baldrick's, an honor I know you don't take lightly. Your willingness and ability to advocate for all children and families impacted by childhood cancer humbles me. You speak about it from the heart and I am filled with pride when you and your Mother work so hard for others.
---
Families
---
February 4 is World Cancer Day AND the 6th birthday of St. Baldrick's Ambassador Kellan! Born with cancer, this kid started life beating the odds and defying limits, and that's been his MO ever since. In honor of World Cancer Day and Kellan's birthday, help us take childhood back from cancer.
Ambassador Kellan received his first wheelchair when he was 17 months old. He now has dreams of competing in the Paralympic Winter Games, a massive sporting event similar to the Olympic Winter Games, where athletes with a range of physical disabilities compete in everything from alpine skiing to ice hockey to snowboarding.
Elizabeth was driving her son Kellan back from his first skiing lesson when the boy lowered his voice to an excited whisper. 'Mom,' he said, 'I have to tell you something.'
---
Families
---
With an irresistible laugh and the face of a cherub, 5-year-old Kellan wins the hearts of everyone he meets. No one even notices his wheelchair.
---
&nbsp