As a cancer survivor, Karen knows that having cancer is a terrifying experience for an adult. She doesn't want kids to go through what she did — that's why she's shaved eight times and raised thousands of dollars for kids' cancer research! But how does she raise the big bucks year after year? Read on for 8 tips from the veteran shavee℠ herself …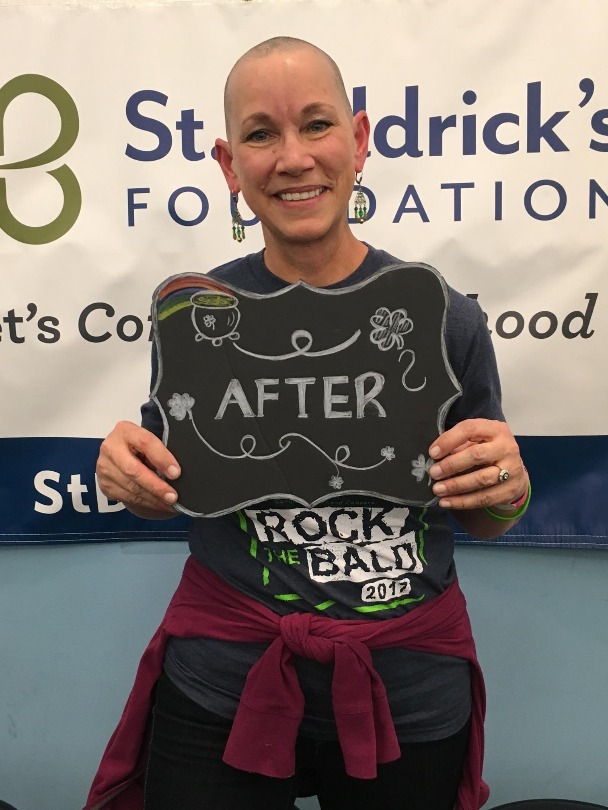 A mom and cancer survivor, Karen has shaved for St. Baldrick's for 12 years.
*This blog was originally shared in 2018, but everything still holds true and Karen still continues to be a rock star shavee! 
1. Make it easy for people to donate: When I send out emails, I always include the link to my St. Baldrick's participant page. I also make fliers and mail out over 200 of them — and every single one includes a self-addressed, stamped envelope, so no one has to look for an envelope and stamp to send a check back to me.
2. Make fliers and carry them everywhere with you: Find the cheapest place to make color copies and put the fliers in your purse, backpack, car, wallet — wherever you can have them handy. Then you have a paper to hand someone if St. Baldrick's comes up in conversation! Tip: Staple a self-addressed, stamped envelope to the flier to encourage spur-of-the-moment giving!
3. Ask EVERYONE you know to donate: The clerk at the bank, the guy at the post office, your barista, your kids' teachers, your neighbors — step out of your comfort zone and ASK! If you are a professional, like a doctor or lawyer, you can send fliers to people listed in the professional directory, even if you don't know them personally. (I once sent a flier to a business associate who I had just met. Surprise! A check for $1,000 appeared in my mailbox. He later told me that his granddaughter had been diagnosed with cancer. I certainly did not know that when I sent him that flier.)
4. Keep fundraising after your shave: You are going to be walking around bald anyway, so rock your St. Baldrick's shirt, wear your 'Ask Me Why I'm Bald' pin and strut your stuff. Since your registration stays active for a year, people who are inspired by your baldness can still donate after your shave.
Here are 5 ways to work your bald head >
5.  Don't give up on people: Never get donations from certain people? Just keep asking. Be courteous, but relentless. It works! I have sent fliers to people for years, with no response. Then, all of a sudden, a check finally appears! Childhood cancer is relentless and we have to be equally relentless to beat it.
6. Get personal: Explain WHY you shave for St. Baldrick's. Let them see and feel your passion for this cause! Everyone you know has probably lost someone to cancer, just imagine if that person were your child .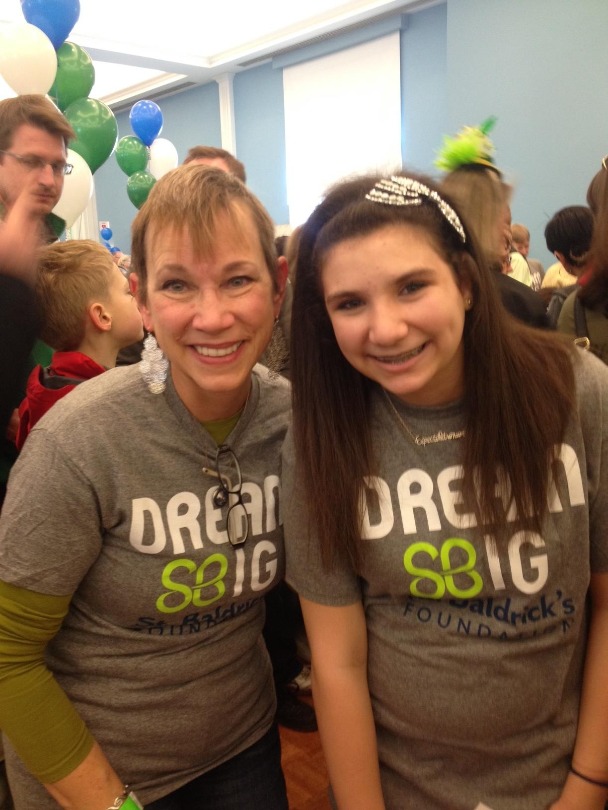 Karen smiles with Honored Kid Molly, whose pediatric cancer story inspired her to shave.
7. Donate to the superstar shavees at your event: Since your fellow shavees are just as passionate about this cause as you are and the money goes to the same place, there's a good chance that they will turn around and support YOUR fundraising efforts! So, speak from the heart and tell them how impressed you are with their fundraising. Spread the love! What goes around, comes around, as they say.
8. Your mom's advice was right — always send thank you notes: Buy small cards and write just one simple statement. It doesn't have to be anything long or complicated. Believe me, a physical card makes an impact and the next time you fundraise, donors will remember that you thanked them. Tip: The Dollar Store is a great place to get cheap blank cards.
Want to thank your donors differently?  This 9-year-old is here to help >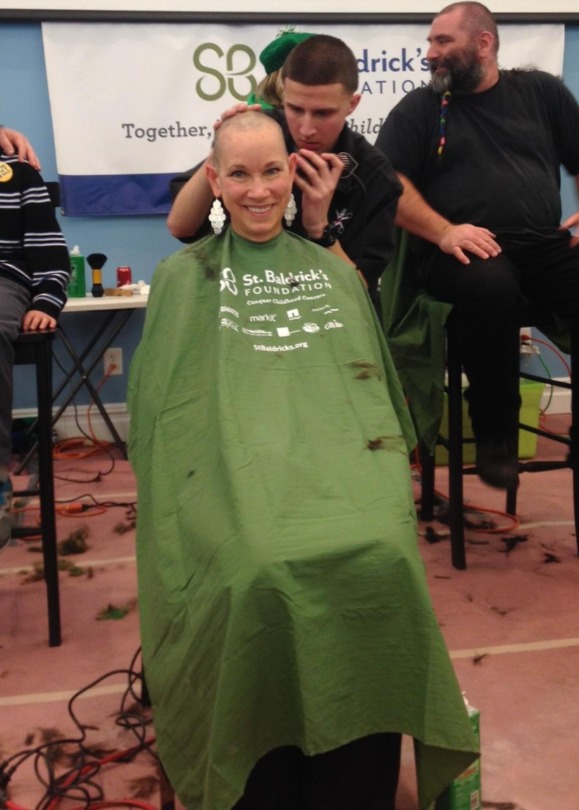 Karen dons the barber's cape once again and rocks the bald for kids' cancer research.
Ready? Set? Let's Conquer Kids' Cancer!
Get involved
Read more on the St. Baldrick's blog: