Need some inspiration? Meet 10-year-old Mason. The baseball player with the big heart is a St. Baldrick's team captain and three-time shavee℠. What keeps this special kid shaving and fundraising for kids' cancer research? Read on to find out.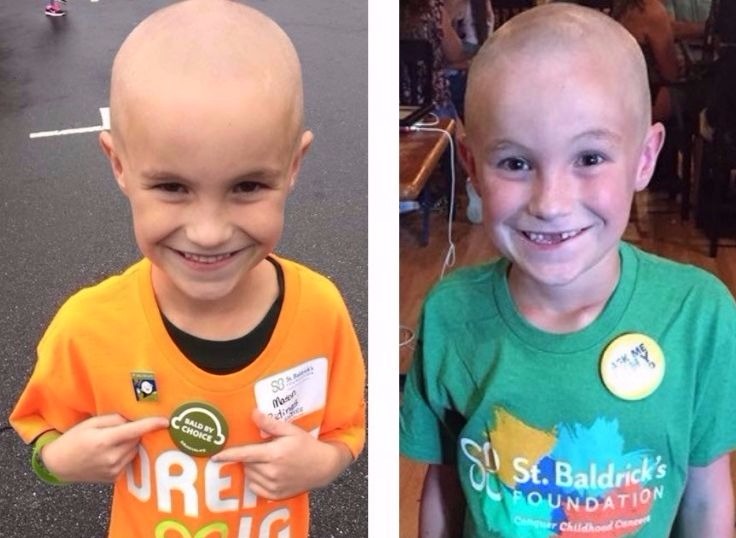 Mason is all smiles after his first shave with St. Baldrick's in 2015 (left) and his second shave in 2016.
No one has ever won the Forsyth County school district's "Spirit of Rachel" award twice – until Mason.
Created in memory of Rachel Scott, the first victim of the Columbine shootings, the award remembers her legacy of compassion and kindness to others. It recognizes an elementary school student in the North Carolina school district who exemplifies this character.
Nominated by his teachers, Mason was its first two-time recipient. Ever.
"He's always been very kind hearted, always looking to be friends with everyone, especially the person who may need a friend the most," said his mom, Kim.
So, it came as no surprise that Mason wanted to shave his head after seeing Kim's friend Amie rock the bald at the Finnigan's Wake event in 2014. He talked about it for days and sure enough, the 8-year-old was in the barber's chair the next year.
"I felt happy because I was helping others," Mason said.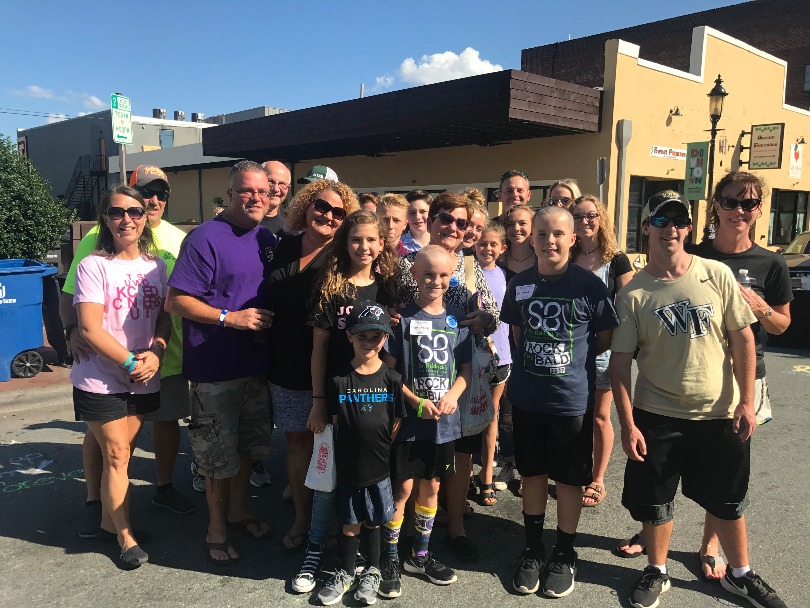 Mason (center) smiles with his first head-shaving team — Mason's Slick Sluggers — during this year's head-shaving event.
He had no hesitation or fear. He was all in, raising over $700 with his first shave!
Bald and smiling, he went to school and told his very surprised friends that he shaved his head for kids with cancer and raised money for cancer research.
"We've taught our children to give back and find the good in bad situations," Kim said.
Six months after the St. Baldrick's event, the family got devastating news.
After months of medical tests, Mason's older sisters, Sydney and Caroline, were diagnosed with a lifelong illness that affects the connective tissues of the body, such as skin and joints. Called Ehlers Danlos, it is complicated by a secondary condition called POTS, which affects the part of the nervous system responsible for essential functions, like breathing and regulating the heartbeat.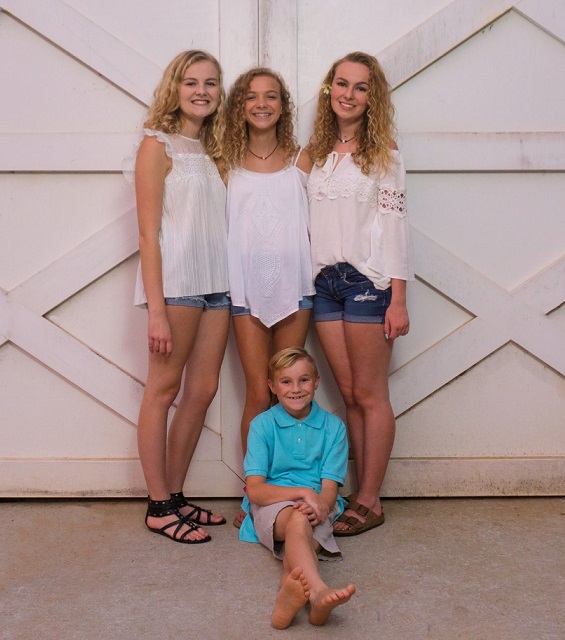 Mason (center) with his sisters.
The family is making the best of having two sick kids diagnosed with Ehlers Danlos, as the girls are courageously learning to live with the disease.
While not cancer related, this only motivated Mason to continue to raise more money for St. Baldrick's, because he has seen firsthand what it's like to have a sick child in the family.
"We are so proud to be able to help other families like us that don't live a normal day-to-day life and we are proud that Mason has found a special way to do that," his mom said.
This year, Mason earned his place in the League of Legendary Heroes as a Squire of Hope by shaving for the third time at the Finnigan's Wake event. He has always raised more money than his fundraising goal and this year was no different. Once again, he surpassed his goal of $3,000, raising nearly $4,000.
But for the very first time, Mason did something different this year. He created his own team, Mason's Slick Sluggers, and his best friend, Will, joined in. Together the team is closing in on their fundraising goal!
They're almost there! Help the Slick Sluggers meet their $5,000 goal — give on Mason and Will's bald heads today >

When Mason isn't helping others, he's playing baseball on an elite travel team as a second baseman. His teammates eagerly support him after each shave, including a ritual of rubbing his head for good luck before the games.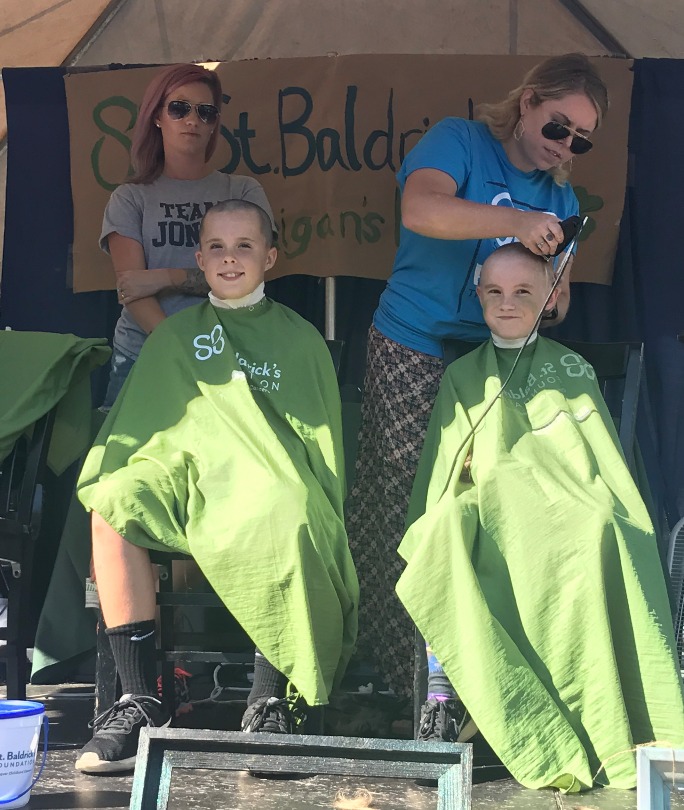 Mason (right) shaves with his best friend, Will, during the 11th Annual St. Baldrick's Day at Finnigan's Wake.
Mason enjoys school, loves his teachers and his favorite subject is math.  He dreams of being a major league ball player when he grows up.
Pretty typical 10-year-old boy "stuff."  Mason takes it all in stride, but there's something special about him.
Maybe it's the obvious joy and dedication he exudes caring for others. Maybe it's the compassion he has and the belief he can make a difference. Or maybe it's all of it – whatever it is, Mason is one special shavee.
"I keep shaving to help find a cure for cancer," Mason said. "And it makes me happy when I know I can make a change by doing this."
Together we can take childhood back from cancer. Give on Mason's bald head today and fund lifesaving kids' cancer research.
Donate
Read more on the St. Baldrick's blog: