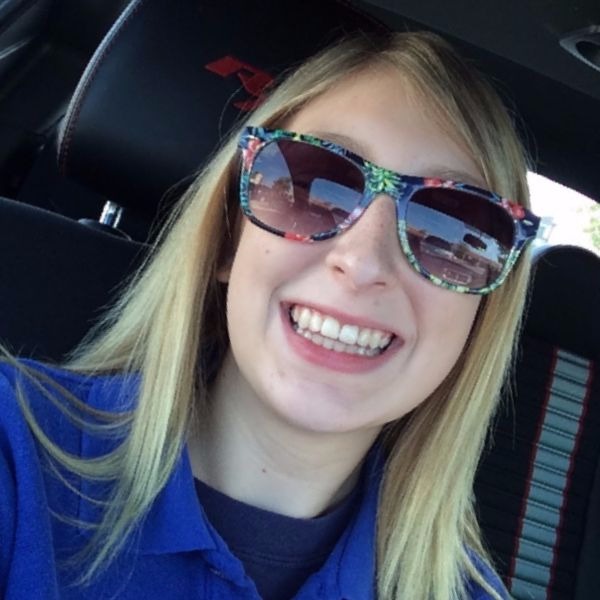 Alyssa takes a selfie before shaving her head for childhood cancer research.
When Honored Kid Alyssa Greenwell says she's a medical mystery, she's not kidding.
"I really am a medical mystery," she said. "My legs are in a medical journal."
Why?
Because 18-year-old Alyssa has been diagnosed with three different diseases within the past two years.
What is causing these health problems? No one can say for sure. Alyssa just keeps working on getting better, dreaming big and giving back as much as she can.
"You have to keep a balance between being positive and knowing you can get through it," she said.
The Beginning of a Long Journey
It all started on a family road trip to Florida in the summer of 2015.
During the drive from St. Louis, Alyssa wasn't feeling good.
"I felt really nauseous the whole drive there and I had lost a substantial amount of weight," she recalled.
Eventually, at the beginning of her junior year of high school, she was admitted to the hospital for a week-long stay – the first of many more hospital visits. Doctors did a biopsy of a strange hard spot on her leg. That's when they settled on her first diagnosis, sarcoidosis.
"That was the first thing that kicked off this whole journey so far," she said.
Sarcoidosis is a disease where pockets of inflammatory cells, called granulomas, develop in the skin, lungs and other organs, sometimes affecting how well those organs work.
"I wasn't sure what was going to happen from there," she remembered. "Would I be able to be back to normal? Be the way I was? Would it get better? It was hard, but I just kind of accepted it and started treatment for it."
Alyssa immediately started an intense regimen of steroids and methotrexate, a kind of chemotherapy which suppresses the immune system.
And during all of this, when Alyssa could have just been focusing on herself, she decided to give back.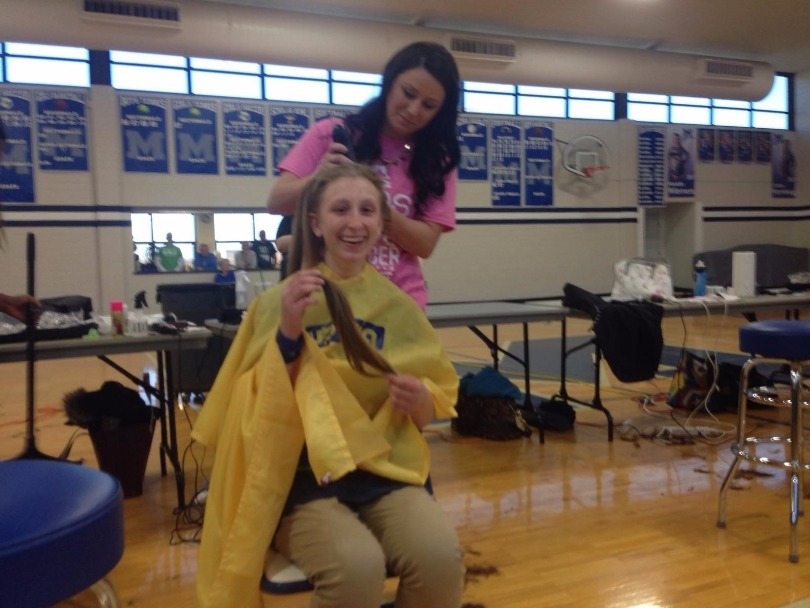 Alyssa shaves with St. Baldrick's at the Marquette Catholic High School event.
Alyssa Rocks the Bald
Alyssa shaved her head for kids' cancer research – something she'd dreamed of doing every year that she sat in the audience watching her high school's St. Baldrick's head-shaving event.
"My grandma died of esophageal cancer and I was like, this is something that I really want to do. My mom's like, 'Don't do it,' and I was like, 'I'm doing it,'" she said, laughing. "And it was one of the coolest experiences, I think, that I've ever had."
Want to thank Alyssa for shaving and cheer her on during her fight? Donate on her St. Baldrick's participant page >
She fundraised for St. Baldrick's because she knows that research is the way to find better treatments for these kids.
Alyssa volunteered at St. Louis Children's Hospital, where she was treated. She got to see what kids with cancer go through first-hand and undergo some of the same treatments that they get for their cancer.
"It just physically degrades your body so much going through it. I have definitely felt that and I'm a teenager," she said. "I can't imagine being a little kid going through it. It's so rough for them."
Unfortunately, Alyssa's own journey was far from over.
After shaving for St. Baldrick's in February, she started feeling unwell again.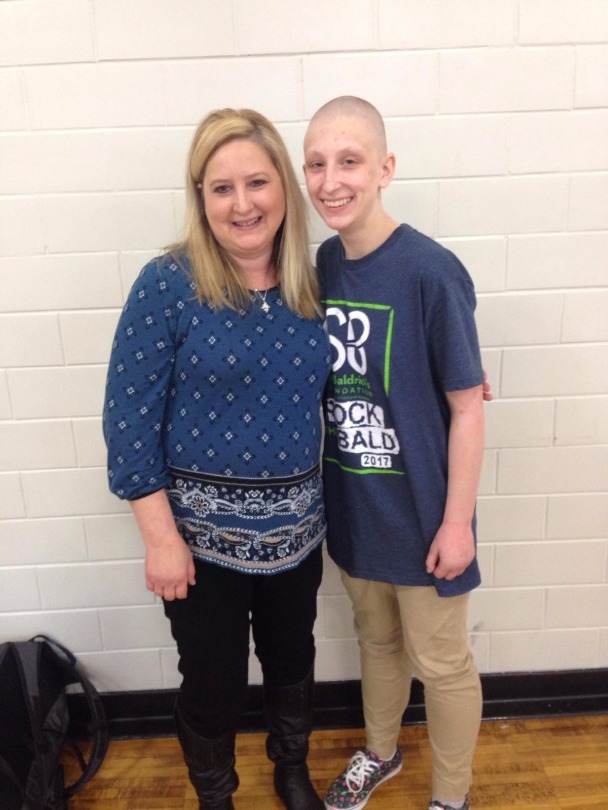 Alyssa smiles with her mom after taking the plunge and shaving her head for kids' cancer research.
A Medical Mystery
In March of her senior year of high school, doctors diagnosed Alyssa with a disease called juvenile xanthogranuloma, after surgically removing masses of inflammation that were crowding her spinal cord.
Just like her previous diagnosis, the doctors were in the dark.
"They don't know what causes this either," she said.
Despite the energy-sapping treatment, the disruptive hospital stays and the roller coaster of emotions, Alyssa graduated high school. She was making her college plans when she started getting high fevers – like 104 degrees and climbing.
To the hospital she went, only to receive mind boggling news.
She had cancer.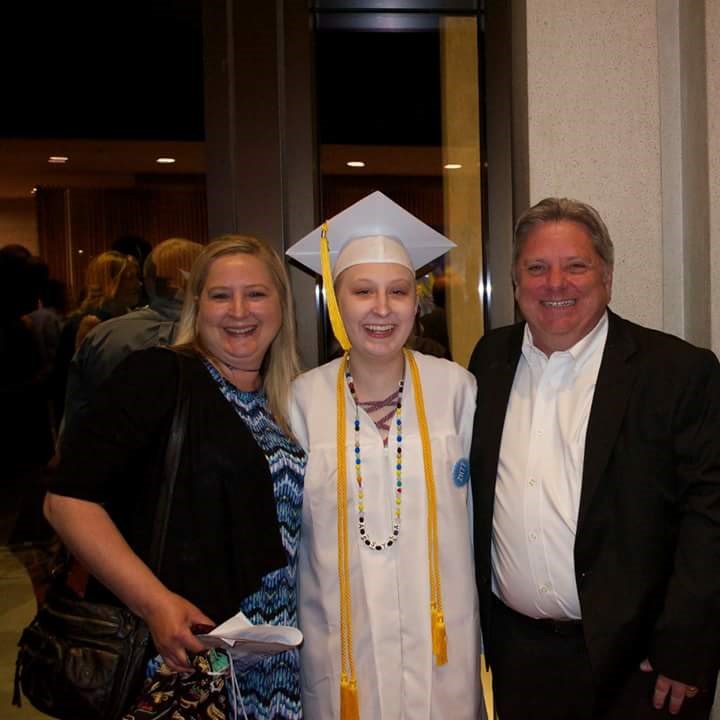 Alyssa poses with her mom and dad after graduating from high school.
While in the ICU, Alyssa had found an enlarged lymph node in her groin. She knew it wasn't normal. The doctors did a biopsy and couldn't determine exactly what it was, so they sent the sample to the National Institutes of Health in Washington, DC.
It was a rare type of non-Hodgkin lymphoma called anaplastic large cell lymphoma.
Silver Linings
Since her newest diagnosis, it's been a rocky few months. She has to wear a special vest that contains a defibrillator, because she coded in her hospital bed due to an electrolyte imbalance. It's not the most fashionable contraption, but it's better than waking up in the ICU. Treatment was so exhausting that she slept through her 18th birthday.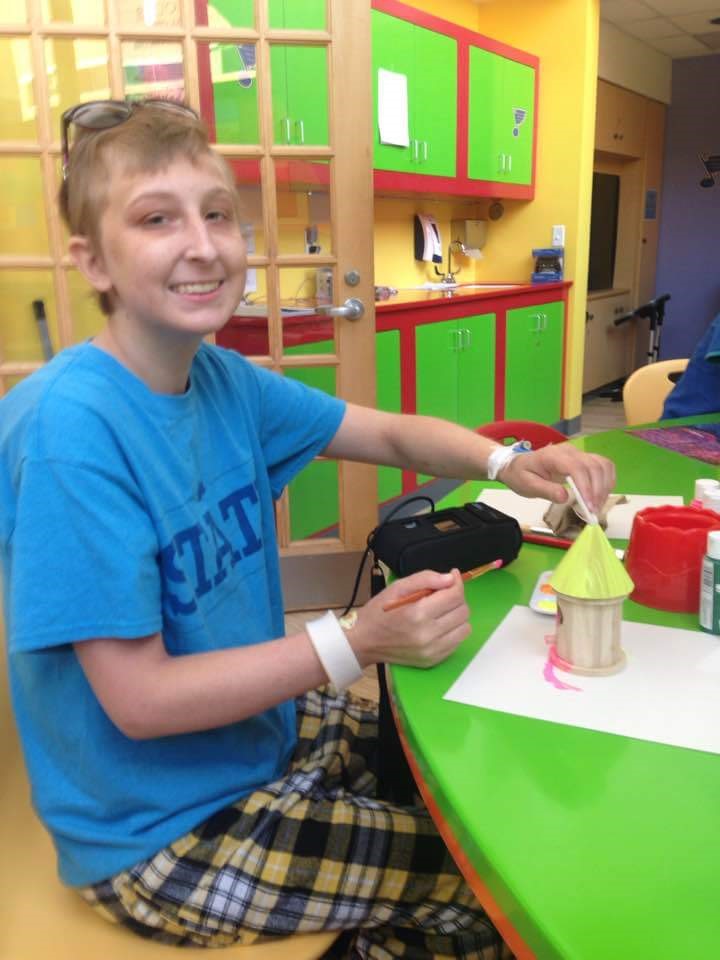 Alyssa works on an art project in the hospital. To keep her spirits up, she tries to stay as active and involved as she can.
Sometimes Alyssa wants to scream for it all to stop. But she's also grateful for the experience, as difficult as it is.
"It's kind of become a part of me," she said of her health history. "It's influenced what I want to do in college. I would never have known what I wanted to do if it wasn't for all this."
She was recently accepted into a physician assistant program and wants to eventually work at St. Louis Children's Hospital in their Hematology-Oncology wing. She's hoping to start school in the spring, if all goes well.
And so far, things are going well. Alyssa is halfway through treatment and she just saw her scans.
"It looked crazy different and clear," she said. "Crazy different in a good way."
Kids with cancer like Alyssa deserve to hear good news. Fund lifesaving research today and give these kids hope.
Donate
Read more on the St. Baldrick's blog: