The cape comes off, the broom comes out and there's a chill around your dome that wasn't there a few minutes ago. You're bald … now what? Continue fundraising for kids' cancer research, that's what!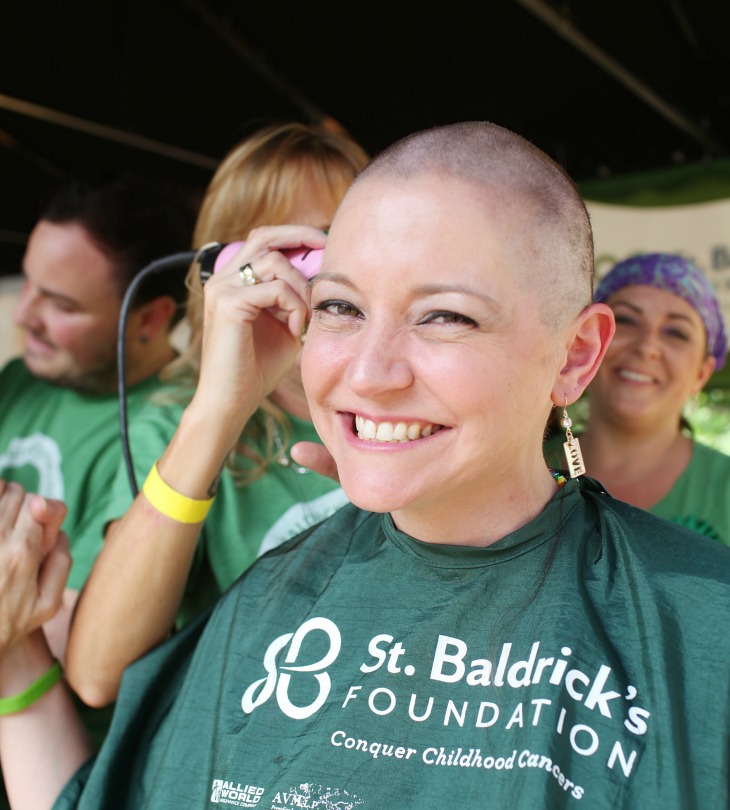 Photo by Casie Shimansky
Here are 5 easy ways you can work your bald head to raise funds for lifesaving children's cancer research:
(Pssst…your participant page link stays active until the end of the year!)
1) Share your bald head with your network
A picture is worth a thousand words, so when you reach out to your network, whether it's by email or through social media, share a photo of you rocking the bald!
Pull people in further by telling your unique event story. Did you meet an Honored Kid? Hear from a St. Baldrick's researcher? Or think deep thoughts while sitting in the barber's chair? Inspire others by telling it all!
And don't forget to include a link to your participant page — you never know who might be inspired to donate!
2) Collect on those promised donations
Don't be afraid to hit up those almost-donors who promised to give on your head! Sometimes people just need a gentle reminder and a friendly nudge.
You could say something like, "I remember you saying that you wanted to support my fundraiser for kids' cancer research. Don't worry! I may be bald, but isn't too late to donate!"
3) Be a bold and bald conversation starter
Your bald head is a walking billboard. If someone asks about your new do, tell them why you shaved and why you are passionate about the cause.
Most importantly, don't be afraid to ask if they'd be interested in giving!
Need some help caring for your new do? Check out these tips from the pros >
4) Passively fundraise
Keep a 'tip' jar at your desk at work, in your employer's reception area if that's allowed, or at your favorite coffee shop.
Tape your before-and-after photos and an explanation of your fundraiser to the jar and watch the donations flow in — while you're seated comfortably and sipping your morning latte, of course.
5) Matching gifts, matching gifts, matching gifts
Matching gifts! This is an easy way to boost your fundraising and increase the impact on kids' cancer research, without lifting a finger.
Have questions about matching gifts? Read our handy Q&A >
Simply ask your donors to see whether their employer participates with matching gifts, which means that their company would match — and double — their own donation!
They can ask their employer directly or search for their company on the St. Baldrick's matching gifts page.
Ready to join other shavees and work your bald head? Sign up to be a shavee today!
Shave it Forward
Read more on the St. Baldrick's blog: