Families
---
When Amy Bucher, St. Baldrick's board member and mom to Honored Kid Arden, first saw our new brand awareness campaign celebrating happy, healthy childhoods, she wasn't a fan. But now, two weeks before her second shave with St. Baldrick's, she shares how she came to embrace it — and why supporting childhood cancer research is more important now than ever.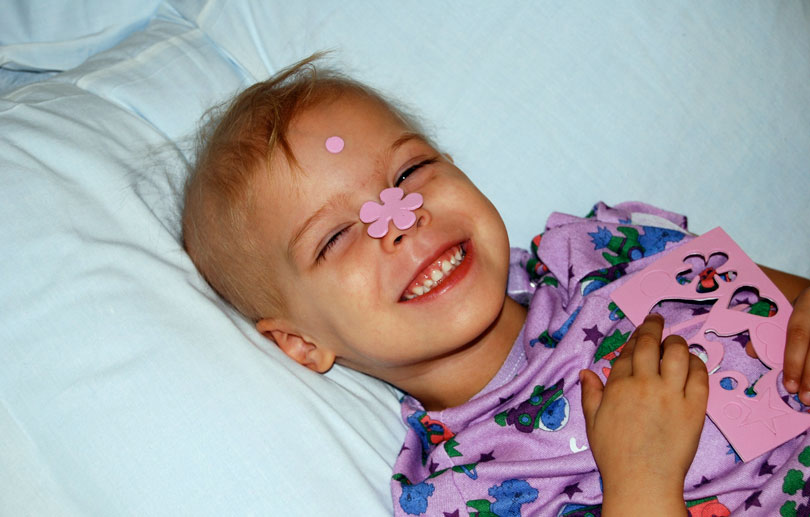 Arden acting silly during her chemo treatment in 2007.
"Um… Can I be completely honest with you?"
I had a strong emotional reaction to the St. Baldrick's Foundation's new brand awareness campaign when I first saw it at our June board meeting last year.
---
Advocacy
---
Amy Bucher with her daughter, Arden. Amy writes about the impact the government shutdown is having on kids with cancer and their families. "My heart aches for any parent in that situation today," says Amy. Photo: Flashes of Hope
I remember the day my 2-year-old daughter was diagnosed with
stage IV high-risk neuroblastoma
as clearly as if it happened yesterday. In fact, as of October 11, it will be six years since that diagnosis.
In the emergency room, my husband and I feared it was appendicitis. Please, don't let her require surgery, was my prayer for a while that day. We were immediately taken to a room in the back after triage, which indicated that the emergency staff was also concerned. Then the prodding, the palpating of Arden's abdomen, and the repetition of our story of her symptoms began.
---
&nbsp