Honored Kid Ava struggled with eczema and severe, life threatening allergies for most of her life. Then, at 5 years old, Ava was diagnosed with biphenotypic leukemia, a rare form of childhood cancer. After tough treatment and relapse, Ava passed away in January 2017, when she was 8 years old. Her mom, Esther, shares a post from 2016 that shows what it's like to face the impossible choices that are all too typical for families dealing with childhood cancer – choices that no parent should have to make.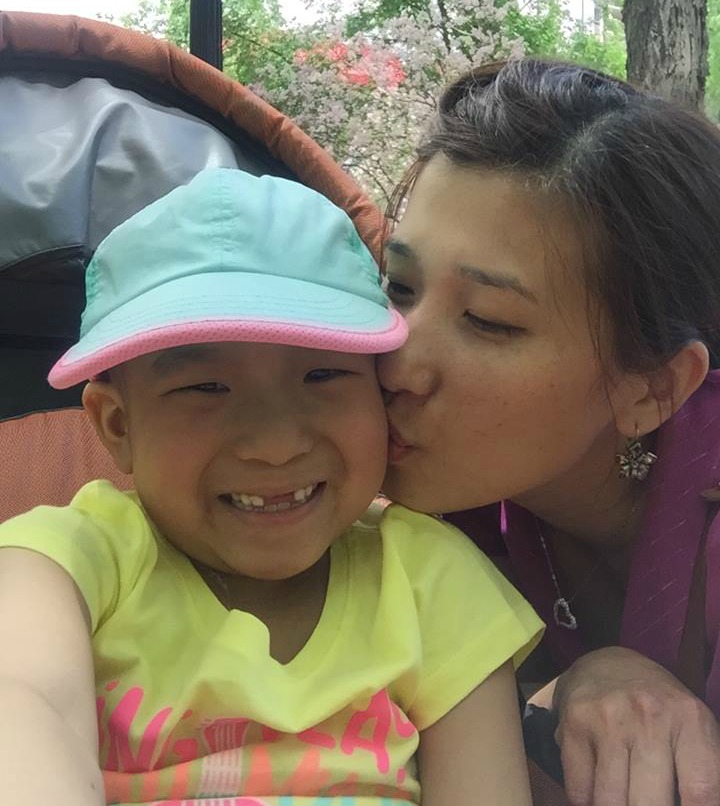 In a moment of joy between mother and daughter, Esther and Ava smile for the camera in front of blooming lilacs.
July 30, 2016
Because Ava's cancer is so rare, she's never really fit into standard protocols. Doctors have scrambled to keep her alive these past two and a half years using different regimens. They've even moved to newer drugs when conventional medicine failed.
And now that we are up against the wall, Mike and I have been invited into the conversation.
We are asked questions like: "What is your end goal?"
"What intensity chemos are you comfortable with?"
"Are you looking to prolong life or are you looking for a cure?"
With every question comes an answer that changes the course of treatment.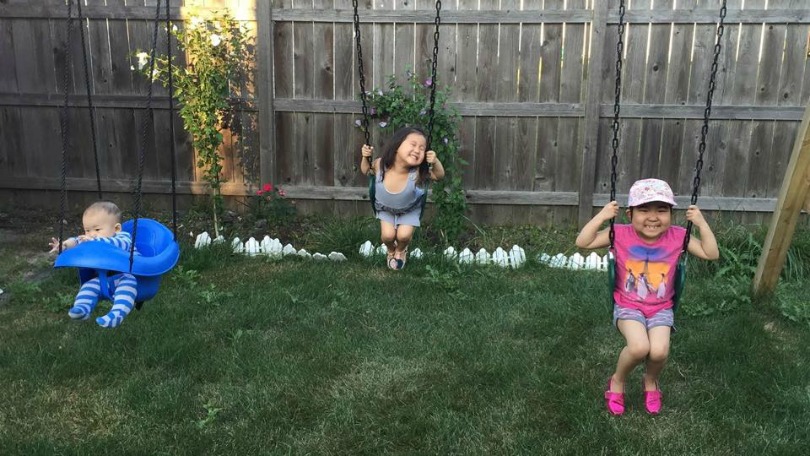 Ava (far right) grins while swinging with her sister, Gwen, and her baby brother, Jude.
There is so much at stake in every decision. There is so much cost to cancer. So, we carefully consider our options.
But the reality is that these choices really suck.
It is too much for a parent to have to choose. We are asked to decide the circumstances surrounding how we want our child to live and how we want our child to die. We have oncologists, social workers, the palliative team – so many people offering their expertise, but it boils down to this: This is my girl.
How could you choose, if this child was yours?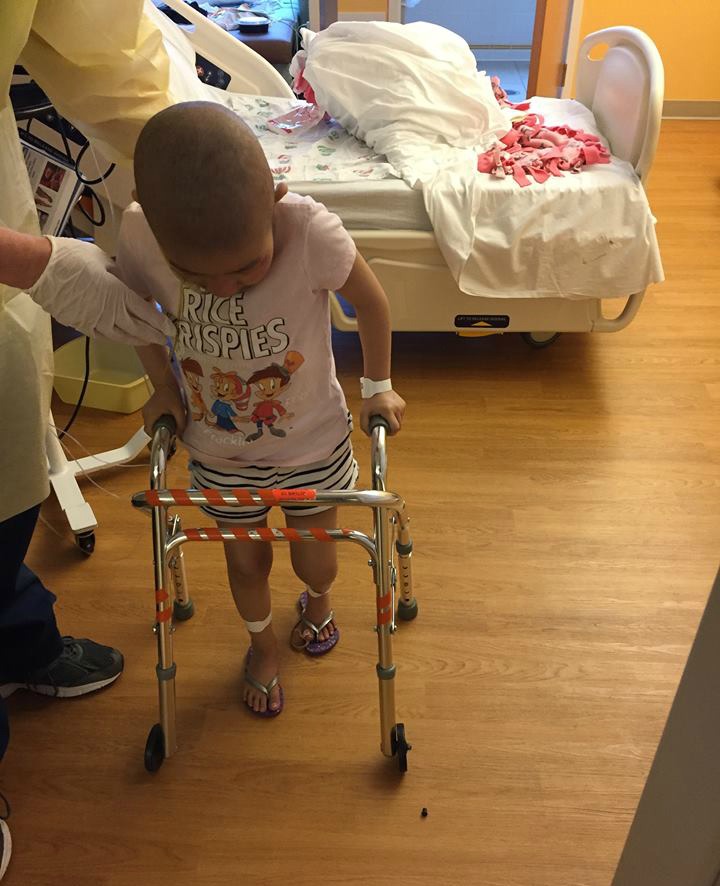 With guidance from helpful hands, Ava uses a walker to cross the floor of her hospital room.
We sat with Ava's oncologist last Tuesday and he gave us our options. We could choose high-dose chemotherapy at five times the dose she's received in the past, plus another round of a targeted therapy called Mylotarg. There is a 60% chance of infection and a possibility of death from those infections. She would be in-patient at the hospital for four to six weeks or until her counts recover.
Then, we would move quickly to her second transplant. The doctors would use more intense chemo to wipe out her marrow and bring her to the brink of death. Then, we would slowly infuse her with cord blood in hopes that this time it will work.
Yet, after all this, there is still less than a 20% chance she will live.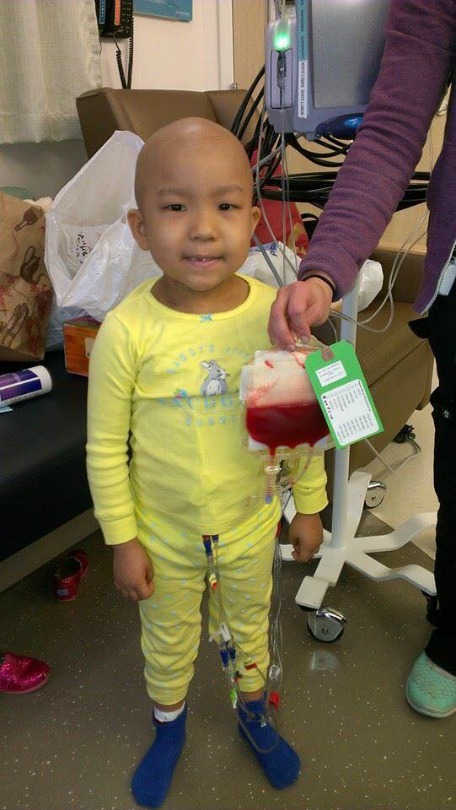 Ava stays strong and smiles during a transplant in 2014.
Back in October, when Ava's beloved transplant doctor explained the risks of a second transplant, she cried. There would be damage, she said. We would not walk away unscathed.
Or the other option is to try another targeted drug called Venetoclax. This would keep Ava out of the hospital. It would offer better quality of life. She could celebrate her birthday in three weeks. There is theoretical evidence that it could work, but there is no data.
It's an investigational drug and she would only be the second child ever to have received it. The dosing would be, at best, an educated guess. If her disease progresses, despite the drug, and spreads to her skin and spinal cord, she would be disqualified from transplant.
At that point, we might try to pursue immunotherapies, but there are no pediatric trials yet. We would be looking at more experimental therapies.
Ava and her family take a walk around the hospital grounds.
I brought a G-rated version of these options to Ava to allow her some power in the process. She answered with, "Oh Mama, I can't choose. I don't want to go to the hospital anymore, but I don't want to have cancer either. So, I will do whatever you say."
The decision will not be made lightly. For us, already there have been many sleepless nights, pillows wet from tears and hours of dialogue.
We have brought these options before our family, our closest friends, our spiritual advisors – the answer remains the same.
It is beyond human ability to make these kinds of choices.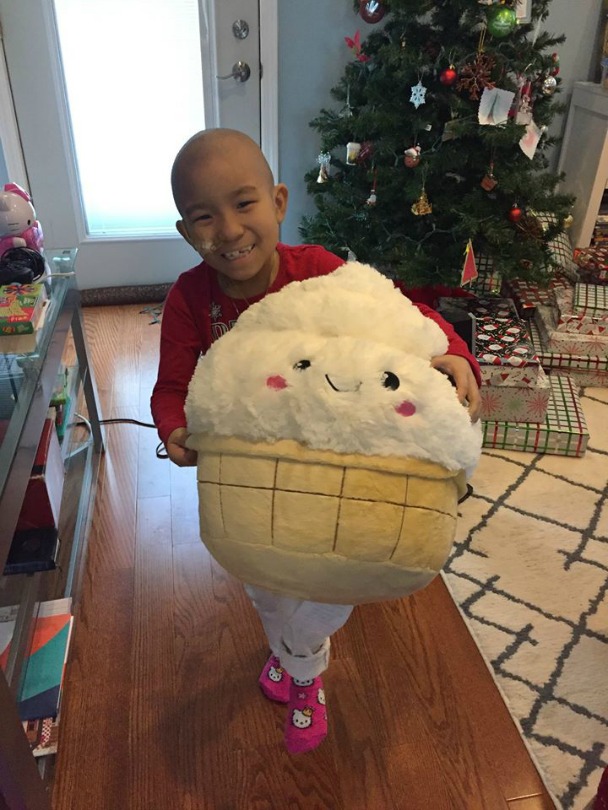 Ava shines with happiness after receiving a kid-sized cupcake plushie for Christmas.
We've experienced the unimaginable outcome of underfunded research, since a cure was not found in time to save Ava. She will be forever 8 years old. For the rest of our lives, we will share Ava's story with the hope that it will inspire greater funding for childhood cancer research and prevent other families from encountering this deep pain and loss. We hope you'll join us on this mission.
It's Childhood Cancer Awareness Month and there's no better time to honor Ava and her family. Fund childhood cancer research today.
Donate
Read more on the St. Baldrick's blog: