Ambassador Grace's oncologist was so important to their family that when they learned he was moving 1,800 miles away, they thought about moving with him. Grace's mom, Rebekah, explains what this change means for them.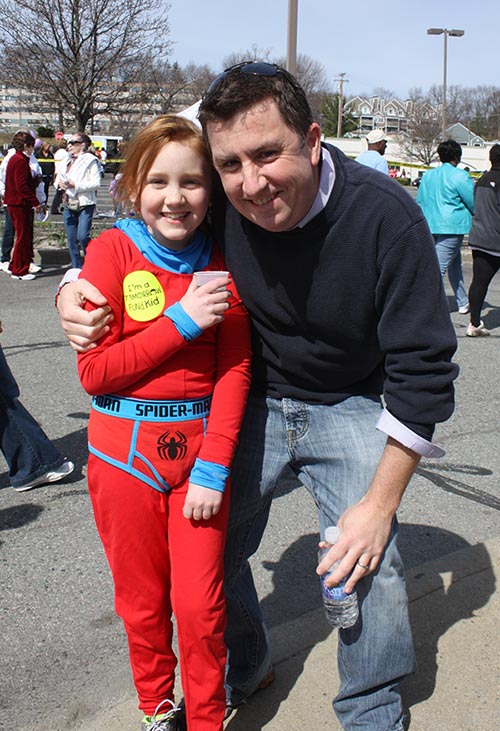 Grace and her pediatric oncologist, Dr. Doug Harrison.
Grace
loves her oncologist.
She has declared repeatedly that her relationship with Dr. Doug Harrison is one of the few benefits of having been diagnosed with childhood cancer. He is kind and funny and supportive, and he talks directly to her. For my husband, Russell, and me, he is responsive and knowledgeable and willing to work as part of a team to offer her the very best care.
We met him on her first night in the hospital in September 2007. Our trip that morning to the neurologist to discuss Grace's headaches had fast-tracked us to the ER for a CAT scan, a brain tumor diagnosis, and then upstairs to the ICU for steroids. Doug arrived with social worker Stephanie to introduce himself. I was eager for anyone to tell me what was going on and how to explain it to Grace.
Because Doug is younger than we are, I was somewhat apprehensive that he could be the expert we were looking for, but my doubts were unfounded. He was a perfect fit.
He listened to our concerns when we had to decide on a radiation plan, and then he supported our choice. After each MRI, Doug was in touch quickly to let us know a preliminary reading.
Bedside visits and clinic appointments were anticipated, not dreaded. He sat with
Grace's 10-year-old sister, Fiona
, while she asked questions and made a video of Grace's inpatient experience to show her class at school.
He patiently responded to my regular so-what-is-her-survival-rate-now questions with a reminder that Grace is not a statistic, and that each child is different.
In 2013, Doug spoke at my Providence head-shaving event about his relationship with Grace and the importance of childhood cancer research. He declared her a survivor this past year and transferred her to the survivorship program at Hasbro Children's Hospital.
Grace was Doug's highest priority. At least it felt that way. I imagine that is true for each of his patients, because I know we are not alone in our appreciation for him.
Grace and her oncologist while Grace was in treatment for childhood cancer.
When I heard that Doug was moving to Texas for an opportunity at MD Anderson, I think I stopped breathing momentarily. Our immediate response to the news was to consider moving with him. Russell did a quick search of job listings, and I delayed telling Grace about Doug.
When you find an exceptional doctor who cares for your child, you want to hold on tight. Perhaps we've put Doug on a bit of a pedestal, but how could we not? He's the oncologist, and our child's life was on the line.
Grace is now seven years post-diagnosis.
The how-will-we-manage-without-him panic subsided when we reminded ourselves that Grace is moving forward, too. We do not feel quite as vulnerable as when she had just stopped treatment. She hasn't had monthly visits to clinic for years.
Doug's departure is not a ripping off of the Band-Aid, but maybe a progression as it should be.
And we repeat to ourselves, exceptional caregivers remain in Rhode Island and Massachusetts. Grace has lots of support and lots of people to "pedestalize." Best of all, she is learning to self-advocate.
And here's the bigger picture: Doug's new position will allow him to work with kids and to research brain tumors. MD Anderson has received numerous grants from St. Baldrick's, with funding totaling more than $1.5 million since 2005. Perhaps the research he participates in will give our community better treatments, greater opportunities to thrive, and cures.
Grace says that she is happy that Dr. Harrison has a good job, but she's going to miss him.
So we'll delay our move to Texas … at least for a little while.
Rebekah is still raising money for childhood cancer research. Donate on her 46 Mommas shavee page and make more research possible.
Read more about Grace: