Honored Kid Leon is one tough cookie. He's fought childhood cancer not just once, but twice, and this time, Leon and his family hope it's gone for good — thanks to an immunotherapy trial run by Leon's buddy Dr. Daniel Lee, an investigator with the Stand Up to Cancer – St. Baldrick's Dream Team*.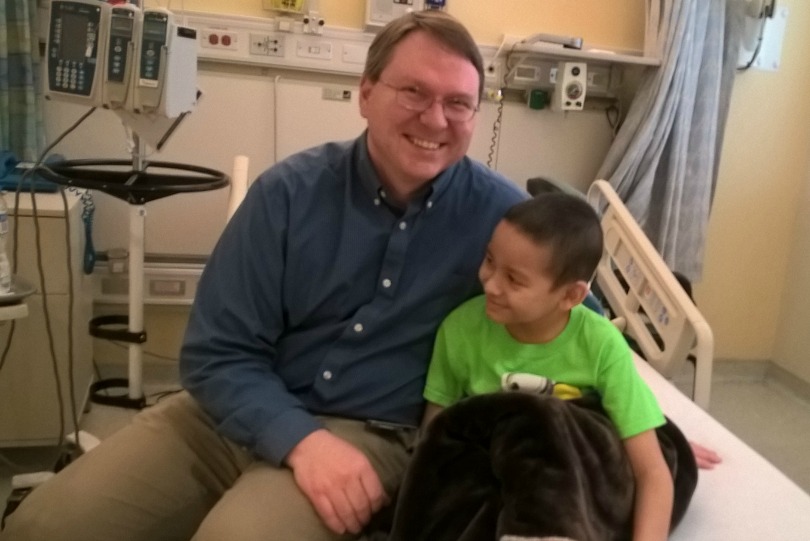 Leon and St. Baldrick's researcher Dr. Daniel Lee share some smiles.
Everything changed one hot summer day in Colorado. Leon was spraying his cousins with a water gun and playing with the hose. Then the 9-year-old slipped on the slick deck and fell hard.
It was a badly bruised hip, said the doctors in the emergency room. It will heal. But it didn't. Leon's grandmother, Lisa, watched her normally active grandson walk gingerly and even resort to crutches.
Then she watched Leon get tired more quickly than a kid should. And then she watched him sleep. He slept and slept.
"And I knew then," Lisa said. "I was like, 'I think he's sick again.'"
Leon in May 2008 before his first diagnosis.
Four Years Earlier
Leon was just a toddler when he was first diagnosed with childhood cancer. He'd been running fevers on and off for a while and then had a small seizure. That's when he was diagnosed with acute lymphoblastic leukemia, or ALL.
When Lisa saw him in the hospital for the first time, the little boy she'd known from birth had IVs running into his tiny arms. It was devastating.
"I just remember having to leave the room and I would cry outside. Then I would stop and come back, as if everything was OK," she recalled.
Leon was put on chemotherapy within hours of his diagnosis. He tolerated it well. In fact, Lisa found herself chasing the kid around while dragging his IV pole behind her. He could even still dance while watching Elmo — one of his favorite things to do.
Leon was an easy going kid and a tough cookie, all at the same time.
"He was just so good," Lisa said.
The treatment worked. Leon went into remission and stayed there for nearly five years, until that summer in 2016 when Lisa noticed her grandson wasn't acting like himself.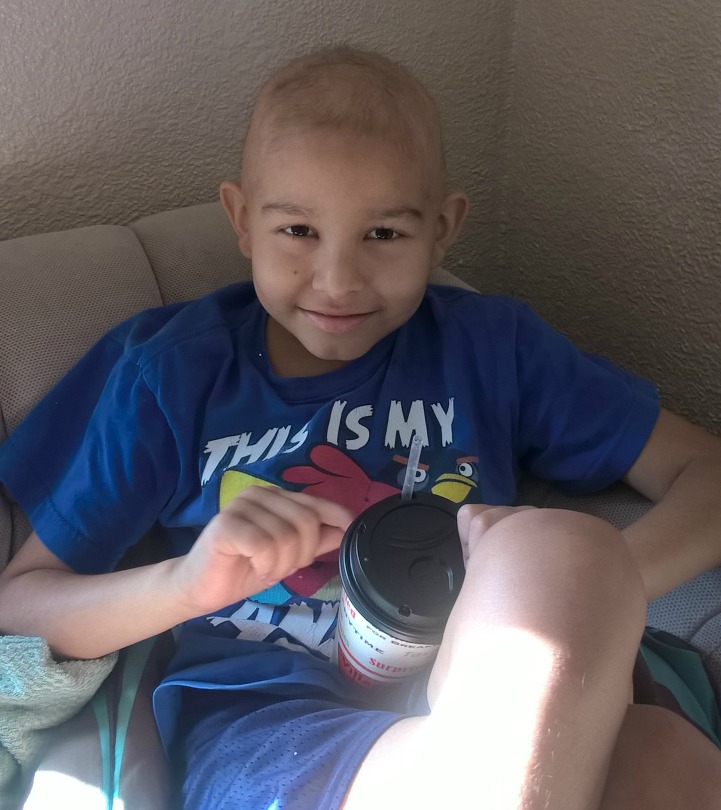 Leon enjoys a rare visit home after his second diagnosis.
Relapse
Lisa's instincts were spot on. Leon was sick again.
And this time, the doctors just couldn't get the 9-year-old back into remission. It looked like his only option was a bone marrow transplant, with less than stellar chances of success.
Hope arrived in the form of an immunotherapy clinical trial run by Dr. Daniel Lee, an investigator with the Stand Up to Cancer – St. Baldrick's Dream Team* and a St. Baldrick's researcher.
The decision was a quick one for the 9-year-old, who guessed that it was his best chance for a cure.
Let's do it.
Just a couple days later, Lisa and Leon took an early morning flight to the National Institutes of Health (NIH) in Maryland.
That's where a special machine extracted some of his cells, while Leon pretended he was a cat. (He's a big fan of felines.) By the end of the process — they were at the clinic for a few hours —  the nurses and even the elderly patient in a neighboring bed were meowing along with Leon.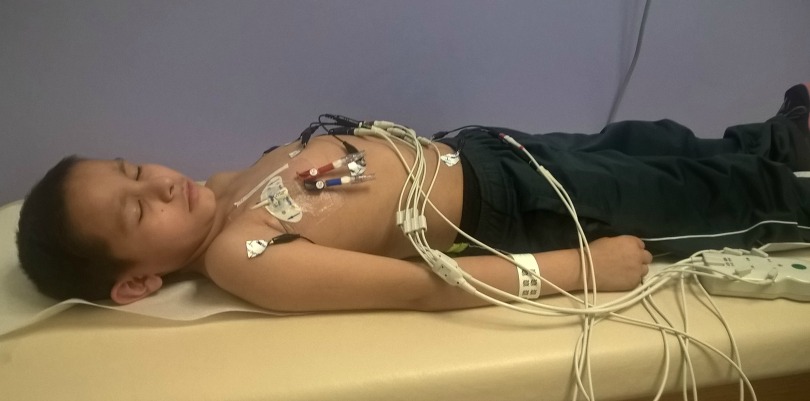 Leon lies still while undergoing one of many tests.
The special cells the machine extracted are called T cells, which are part of your body's natural defenses. They kill things that your immune system recognizes as a threat. Unfortunately, cancer has figured out how to fly under the immune system's radar and evade T cells.
But after researchers altered Leon's T cells, they would be different than regular ones. They would be able to recognize cancer cells and attack them.
The Transfusion
About a month later, Leon went back to have his modified T cells infused into his body. They brought in a big syringe filled with the cells and hooked it up to one of the lines running into Leon's bloodstream.
Dr. Lee told Leon that it was like the stuff that made Wolverine a superhero — that it would kill the bad cells and make him strong.
"He actually pushed in the last part of them on his own," Lisa said of her grandson.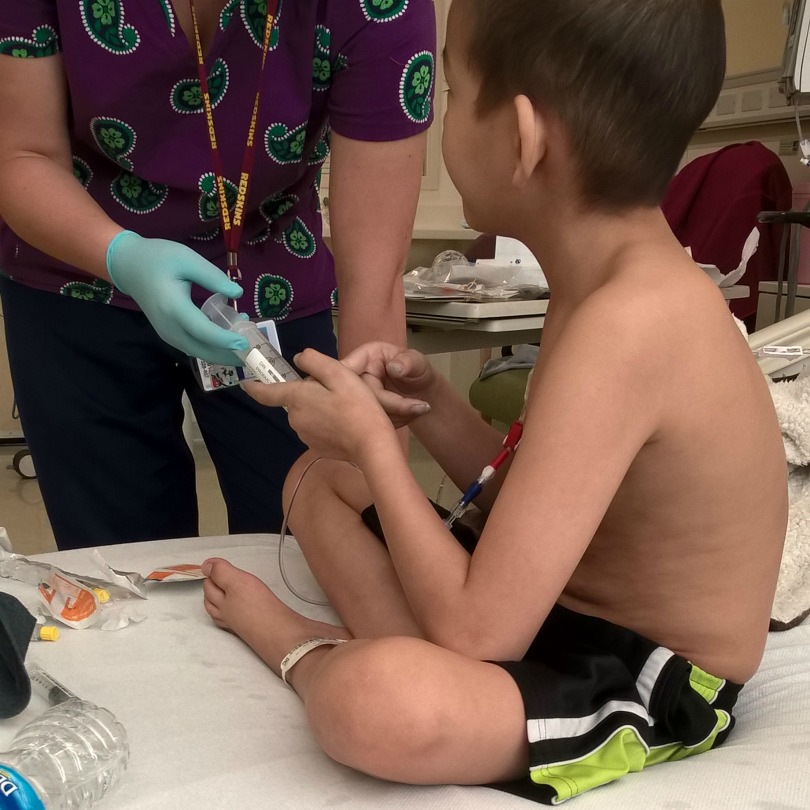 Leon holds the syringe containing his T cells and finishes pushing them into his body.
For a period of time after this procedure, kids usually get really sick. But that is actually a good sign, because it means the therapy is working.
Leon didn't get sick until the sixth day, when he developed a fever of 107 degrees Fahrenheit. It didn't seem to faze him though. He remained awake and talking through the whole 36-hour ordeal.
Once the risk had passed, he was discharged.
BLOG + VIDEO: How Immunotherapy Saved Phineas >
The kid was expected to be in the hospital for three weeks or more after the immunotherapy treatment. He was there for only 10 days.
"For him to be out — everybody, even myself, was just like, 'Wow, he's doing great,'" Lisa said.
Leon is still doing great. After the immunotherapy treatment, he received a bone marrow transplant to give him the best chance possible to remain in remission.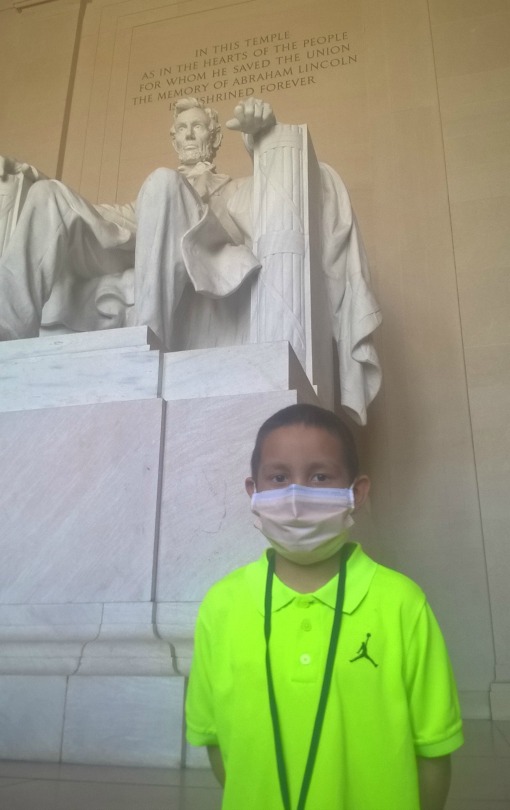 Leon is a history buff and Abraham Lincoln is his favorite president. Visiting the Lincoln Memorial was a highlight of his trip to the NIH.
The Birthday Boy
Now a few months after treatment, Leon is healthy and growing, just as boys his age should. In the past year, he's sprouted like a weed and, thanks to a love of grandma's enchiladas and lasagna, he's even gained back a bit of the weight he lost during treatment.
He also hit another milestone — double digits. In January, Leon turned 10 years old.
The two-time cancer fighter was eager to enjoy one of his favorite foods — strawberry cake.
Strawberries are not allowed after transplant, because of possible bacterial contamination. But the forbidden fruit happens to be Leon's favorite.
"After doing this transplant, that's the one thing he has been waiting for," Lisa said.
Thanks to Dr. Lee and the Dream Team*, Leon's future is looking bright, strawberry cake included. For the longest time, Lisa didn't see her grandson run or even walk much. But now it's different. Now Leon is running, walking, and even roughhousing.
"Him and my youngest son, they'll mess around like boys," Lisa said. "Sometimes I have to get after them because they'll be chasing each other around."
People like you make these success stories possible. Fund groundbreaking kids' cancer research today.
Give
*Formerly known as the St. Baldrick's – Stand Up to Cancer Pediatric Cancer Dream Team, this team is now the St. Baldrick's EPICC Team (Empowering Pediatric Immunotherapies for Childhood Cancer).
Read more on the St. Baldrick's blog: