Joey Chamness has grown up from being St. Baldrick's very first Ambassador to become a longtime shavee and the VEO of his college event — helping fundraise for childhood cancer research to the tune of thousands of dollars. Why does he do it? Because this survivor knows firsthand how important it is to find better, safer treatments and cures for kids with cancer.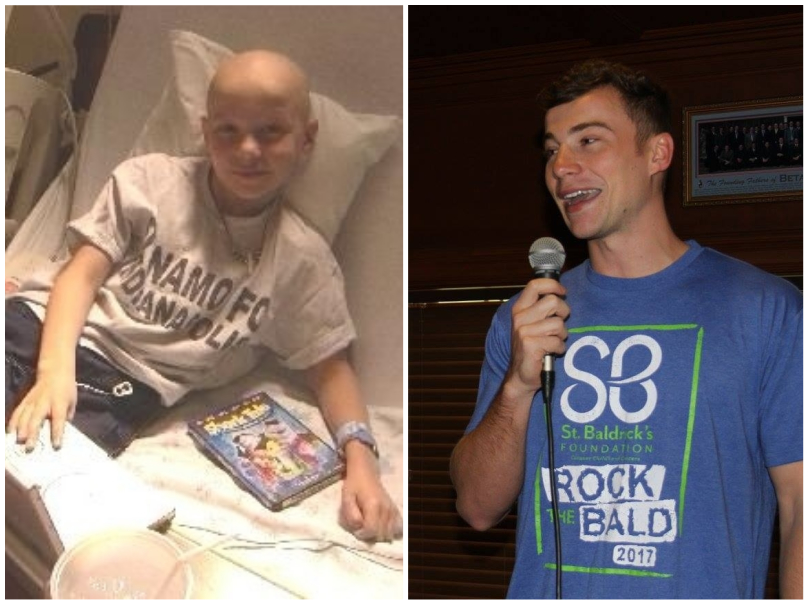 (Left) Joey rests and watches movies during his treatment for osteosarcoma. (Right) Now a survivor, Joey speaks during a St. Baldrick's head-shaving event.
21-year-old Joey Chamness considers himself lucky.
At 8 years old, Joey was diagnosed with a pediatric bone cancer called osteosarcoma, after complaining of pain in his leg after playing soccer. The tumor was growing in his femur and close to his knee, so doctors initially thought they might have to amputate that leg – a scary prospect for an active young boy.
"It was going to have to be an above-the-knee amputation and I was going to get this thing called a rotationplasty, where they take your ankle and attach it to the lower part of your femur, so then your foot is attached to you – turned backwards – and it becomes your new knee," he said. "It's pretty interesting."
Joey soldiered through nearly a year of chemotherapy before his big surgery. Thankfully, the chemo worked. The tumor had shrunk enough that doctors decided they could safely save the leg. During his surgery, several inches of his femur was removed and replaced with a metal rod and cadaver bone, instead of having to be amputated altogether.
"I was very happy to wake up and have a leg," he said. "I can't complain."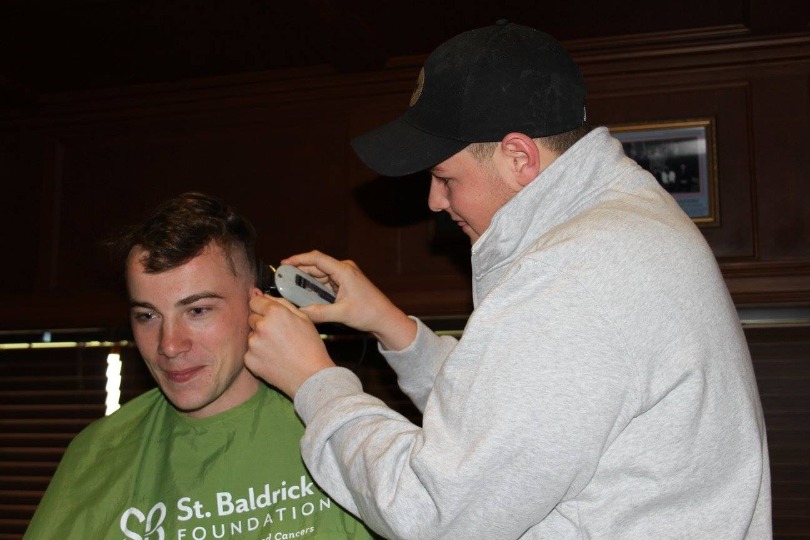 Joey shaves his head for kids' cancer research during his Betas Go Bald event.
That's something Joey says a lot – can't complain. He is now 21 years old, healthy, active and in college. Though it took him a long time to recover from his surgeries (which is frustrating when you have a healthy twin brother), Joey doesn't experience many long-term effects from his cancer treatment. He can run and walk without pain. He even played tennis in high school. And though treatment was tough and he doesn't remember it warmly, Joey feels that other kids had it a lot worse than he did.
"I wasn't one of the people who threw up 24/7 or felt really, really awful – you don't exactly feel good – but I had some roommates who were," he said.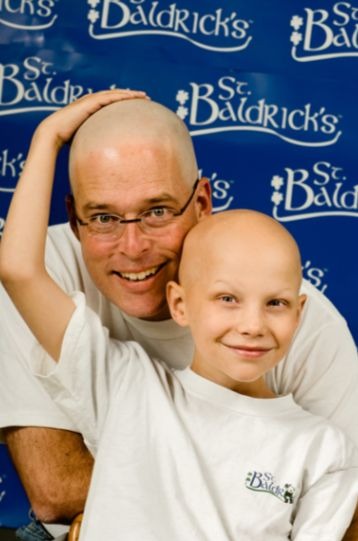 Joey and his dad, Chuck, show off their bald heads after braving the shave for kids' cancer research.
That's why Joey shares his own story and gives back through his involvement in St. Baldrick's – for those kids with cancer who were his friends, for kids just being diagnosed and for all those Honored Kids he's met at St. Baldrick's events over the years.
"We always have an Honored Kid or two come to our event in Indianapolis, so getting to meet them – it's just a constant reminder of how lucky I am and why it's really important to give back so more kids can have the outcome that I've had," he said.
Ever since he was diagnosed, Joey has given back in a big way. He participated in his dad's St. Baldrick's head-shaving event at age 8 – Joey's dad is Chuck Chamness, a longtime St. Baldrick's volunteer and former chairman of the St. Baldrick's board of directors.
"I'm lucky to have such a great example of this by seeing my dad and the amount of time and effort he gives to St. Baldrick's year after year," he said.
Joey was even St. Baldrick's very first Ambassador in 2006, representing kids with cancer everywhere.
"My parents and friends would tell you I don't like to talk about my cancer because I don't want it to define me," he said. "But at the same time, I know the importance of being an ambassador and bringing attention to this disease and the children it affects."
Now, 10 shaves later, Joey is following in his dad's footsteps and running his own event at his college, Indiana University. Called Betas Go Bald, Joey, his fraternity brothers, and fellow shavees raised nearly $12,000 during their head-shave this month.
Help the bald brothers of Beta Theta Pi reach their goal of $20k for kids' cancer research — give today >
"I wanted to bring St. Baldrick's here and try to grow it as well and hopefully establish it as a tradition that will last even after I graduate," Joey said.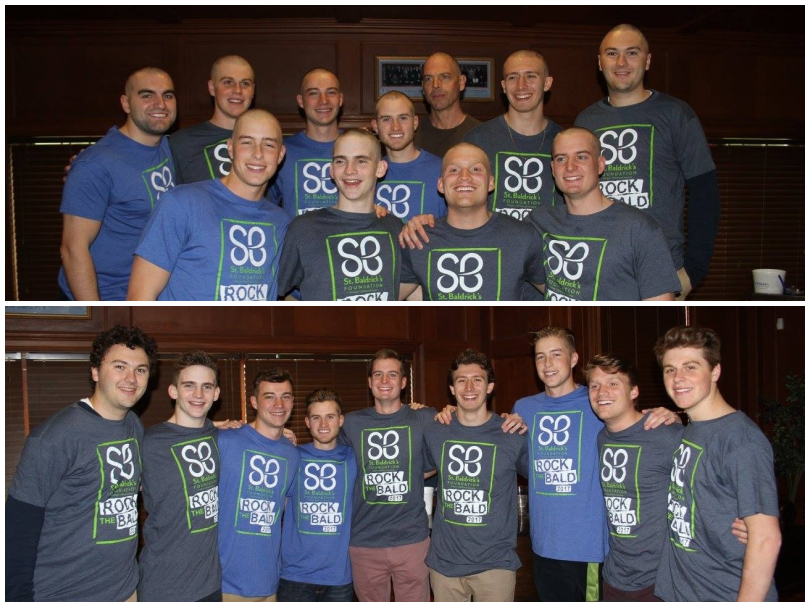 Joey and his fellows shavees before and after their shave in 2017, which was the first year of their college event.
After his time at Indiana University is done, Joey is sure that he'll find another St. Baldrick's event to join. As long as there are kids being diagnosed with cancer every two minutes, he's going to keep giving back.
"Knowing I was once one of those children and the effect it had on my life, even while having such a great outcome, it reminds me of why the work St. Baldrick's does is so important," he said.
Inspired? Get involved and help take childhood back from cancer!
Get Involved
Read more on the St. Baldrick's blog: