Today marks the end of an era for Joe Bartlett and Chuck Chamness as they complete their terms on our board of directors. Read 2012 Ambassador Sarah's heartfelt letter thanking them for all the hard work they've dedicated to kids with cancer.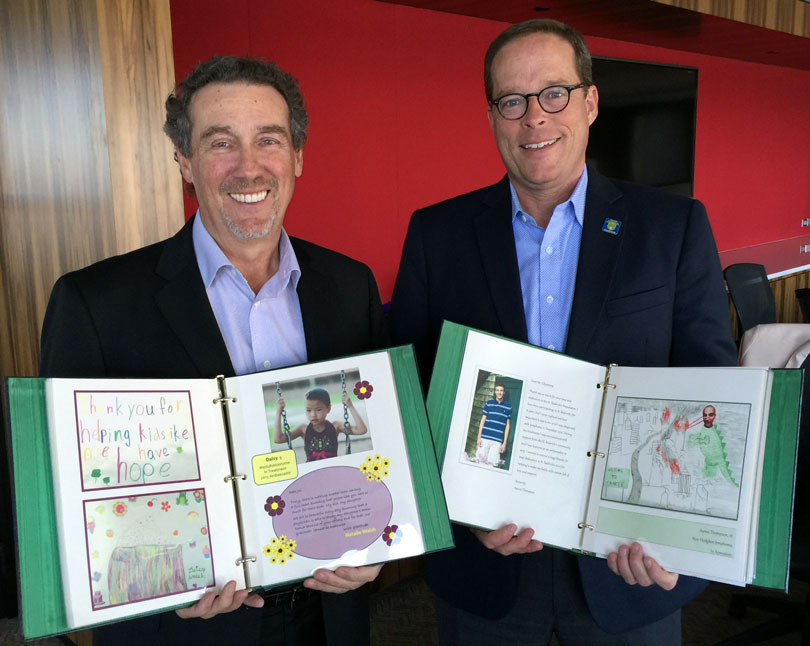 Joe Bartlett (left) and Chuck Chamness hold their goodbye gifts at their final St. Baldrick's board meeting.
Dear Mr. Bartlett and Mr. Chamness,
I want to thank you for all you have done as members of the St. Baldrick's Foundation's board of directors.
Being on the board of directors for a nonprofit is such an important job — one that demands good decision making. I am thankful that you have always kept those who are suffering and have suffered in mind.
One of the many jobs you had was to make decisions about grants. My hospital received an infrastructure grant from the St. Baldrick's Foundation in 2010. Later that year, my biphenotypic leukemia relapsed. It was because of that grant that I was able to take part in a clinical trial for a drug called clofarabine.
Read more of Sarah's childhood cancer story >
That trial got my body through a stem cell transplant whole and undamaged, and for that, I am eternally thankful. Whether you had a hand in that specific grant or not, you had a hand in others that have changed people's lives like mine.
Sarah, now in remission, is engaged to marry her fiancé, Patrick, at the end of this year.
I met a girl named Samantha in the hospital while I was in treatment. She had osteosarcoma, and she became one of my best friends. I stood by her side for every triumph in treatment and every relapse for four years, and I was there the day she took her last breath.
Now, it seems everything I do is for her. I live a little harder, love a little harder, and fight a little harder in all areas of my life.
I wish more than anything that she didn't have to go, but I am thankful to you for working hard to fund the best childhood cancer research for kids like Samantha and me. All the time, energy, and passion you have dedicated to St. Baldrick's has led to better research and treatments for children and young adults with cancer.
The mark you are leaving on the childhood cancer world is everlasting. I hope that as you continue in your careers, you will carry the St. Baldrick's Foundation, and the children and families whose lives you have changed, with you wherever you go.
Thank you!
Sincerely,
Sarah Swaim
YOU have the power to change the lives of kids like Sarah. Learn how you can get involved to fund lifesaving treatments for kids with cancer.
Get Involved

Read more about Sarah on our blog: