When it comes to fighting childhood cancer, Honored Kid Tyler is a triple threat – he's a survivor of kids' cancer, a shavee and a nursing student! Why is he passionate about conquering childhood cancers? Because this three-time cancer fighter doesn't want more kids to go through what he did.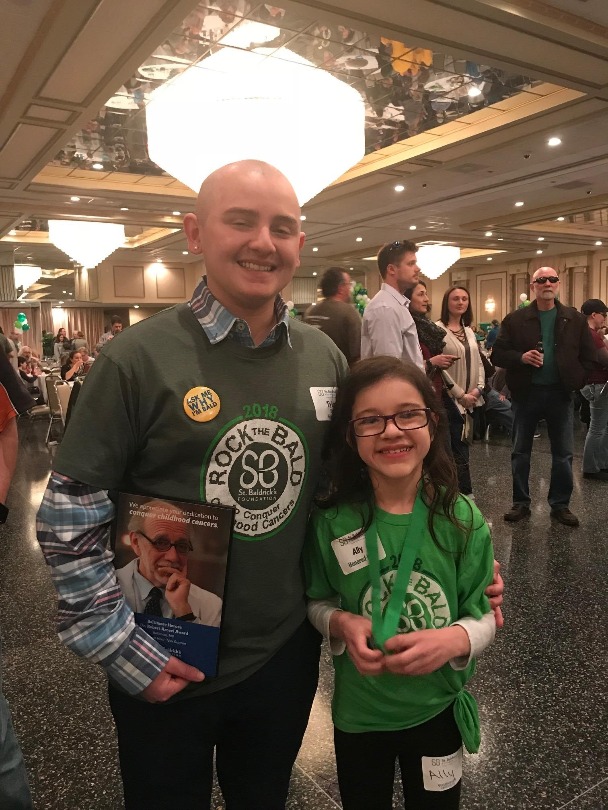 Tyler smiles after his shave with 9-year-old Honored Kid Ally.
While Tyler was in the hospital, he became very good at pretending that he was asleep. He overheard all sorts of things – things that doctors liked to sugarcoat when he was awake. Like the fact that they thought he was going to die.
It happened after his first relapse and before a risky second bone marrow transplant. A doctor arrived at his bedside to have a serious talk with his mom. Tyler lay quiet as the doctor talked, saying that Tyler's family should begin 'making arrangements' – that the teen's chance of survival after a second bone marrow transplant was a slim 10%.
Tyler was still and silent as a statue, but inside he was on fire. Once the doctor had left the room, he bolted upright. After two fights with cancer, the teenager wasn't going to give up that easy. He remembered telling his Mom, 'Mom, don't you dare listen to a word he says. I will do my best to get through this.'
And that's what he did.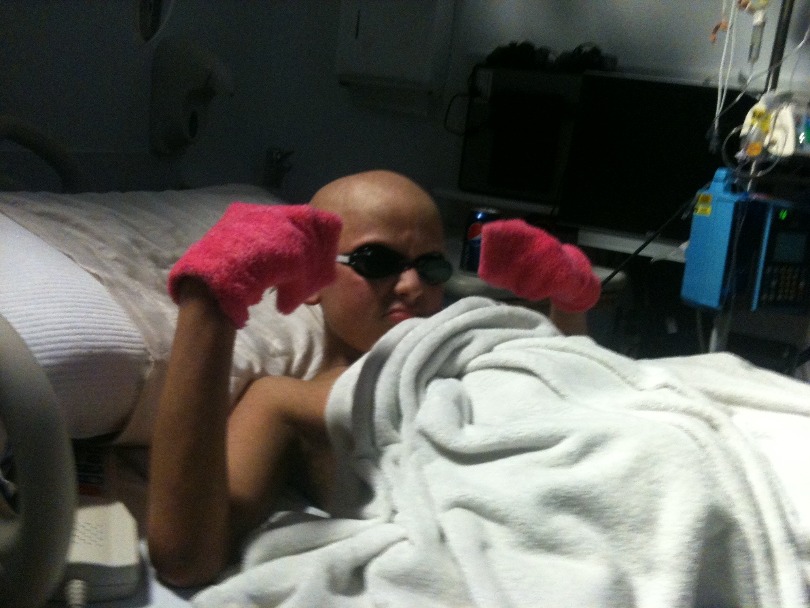 Tyler does his best pose while in the hospital for treatment.
Diagnosed with mixed B cell myeloid leukemia when he was in seventh grade, Tyler fought through three relapses, multiple rounds of chemotherapy, radiation, two bone marrow transplants, Graft vs. Host disease, and two different immunotherapies, including CAR T cell therapy. Cared for by pediatric oncologist and St. Baldrick's Scholar Dr. Daniel Lee, Tyler tried every option he could to stay alive. No matter how tough it got, he would not quit.
"I never looked at it as, 'woe is me,'" Tyler said. "I always saw the little kids and they're anywhere from 18 months old to 3 years old and they're going through the same thing I am. I have nothing to complain about."
Eventually, he achieved his third remission before senior year of high school and then graduated with honors. Today, he's 21 years old, a six-year survivor and is studying to be a nurse. He'd like to work in a pediatric oncology ward and is currently interning on the bone marrow transplant floor at the University of Maryland.
Even years after treatment, Tyler still experiences side effects from the intense therapy he received. Sometimes he has trouble concentrating and remembering facts and figures, so he studies extra hard in nursing school. He has chronic back pain, and his treatment stunted his growth, leaving him a few inches shorter than the average guy. Despite all the negatives, Tyler said he wouldn't trade the experience for anything.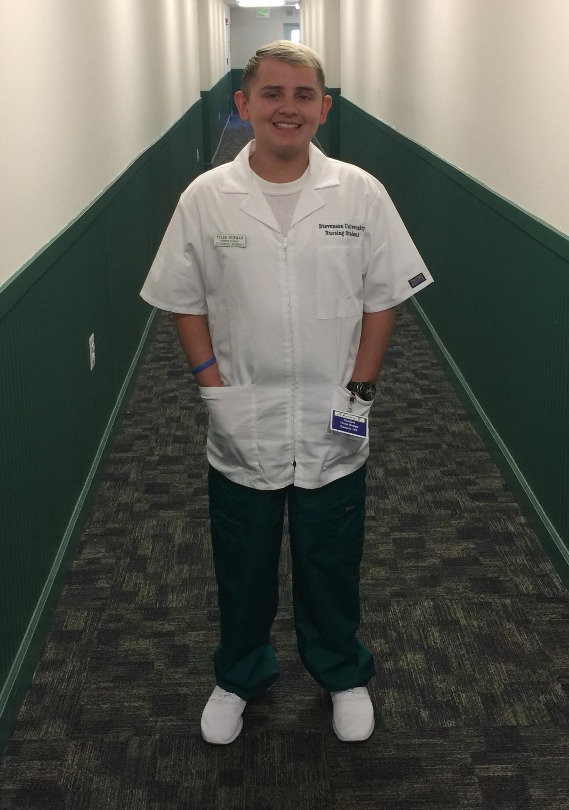 Tyler poses in his nursing uniform. He graduates from a nursing program in May and will then take the licensing test required to become a Registered Nurse.
Childhood cancer has made him who he is and fighting childhood cancer is always going to be a part of his life – it's his mission. That's why Tyler has captained Team TyStrong since 2014 and shaved for the past three years with St. Baldrick's.
Help Tyler boost his fundraising beyond $10k! Give on his bald head today >
"Once I got the courage to shave, I think it was my way of saying, 'I'm not going to let cancer define me. I'm not going to let the way people see me or perceive me, define me,'" he said. "I'm just going to be Tyler Guzman, the kid that's going out there and raising money for cancer research, so I can make an impact in my small little way."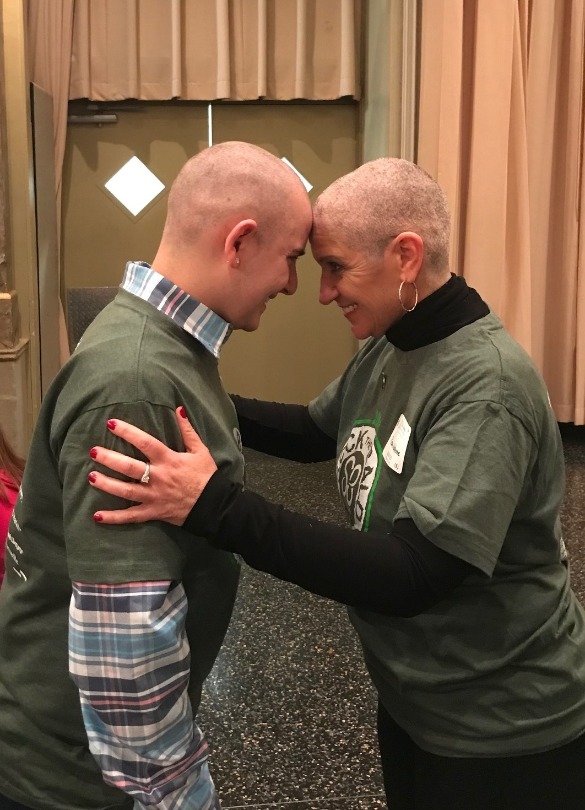 Tyler and his teammate Rosa share a moment during the 10th Annual Baltimore Heroes event.
This past weekend, Tyler raised over $10,000 for childhood cancer research at the 10th Annual Baltimore Heroes Event in Maryland, earning the top fundraiser spot and receiving the event's special "Dr. Bob Arceci Award," which goes to participants who go above and beyond as childhood cancer champions and event participants. Tyler plans on continuing the head-shaving tradition – as long as he has hair, he said. Shaving with St. Baldrick's may seem like a small act, but it has an enormous impact. It saves lives.
"If it wasn't for St. Baldrick's, I wouldn't be here today," he said. "That's 100% true, because of the doctors that receive funding from it, the new trials that start up, the contributions they make towards research – all those factors are involved. If St. Baldrick's isn't there to provide that money and able to support these very intelligent people who are coming up with new and innovative ways of treating cancer, besides standard chemotherapy, then we don't have innovation."
Join Tyler and together we can take childhood back from cancer. Donate to Team TyStrong today!
Give to Team TyStrong
Read more on the St. Baldrick's blog: