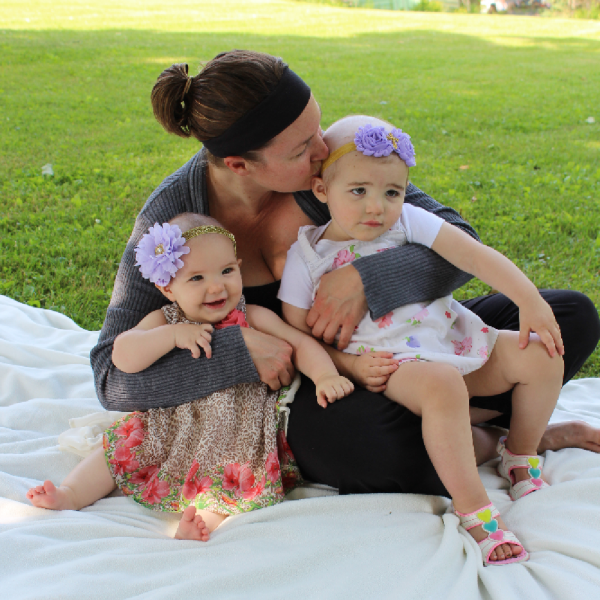 Leanne gives Ava a kiss on her peach-fuzz head, while her baby sister, Addalyn, giggles.
It turns out that being bald is an instant conversation starter. Leanne, who just recently shaved with St. Baldrick's, loves it.
"It's very empowering," she said. "Honestly, it hasn't even been a week yet and I can't tell you how many times I've been asked about my hair. It just opens the door for conversation and I love that, because I love talking about my daughter."
Her daughter's name was Ava  – Ava the brave, bald and beautiful.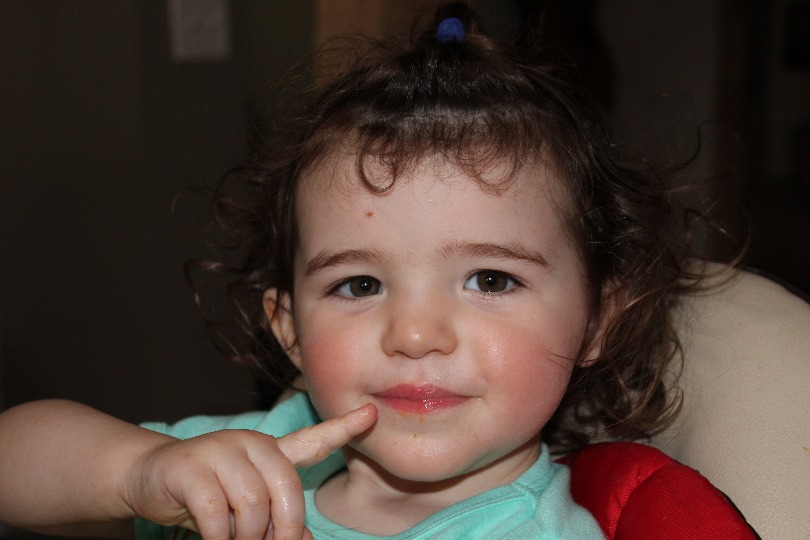 Ava showed an independent streak as soon as she could sit up by herself. "I've never seen anything like it. She just really was her own person," her mom said.
One night in the spring of 2016, Leanne brought her 22-month-old daughter to the hospital suspecting that Ava had virus. Thinking it would be a quick trip, Leanne packed light. She had one diaper, one cup of juice, her purse and phone. She'd gone alone, not wanting to bother her husband so late.
"It was like 11:50 p.m. in the Emergency Room. We were in our own room. It was dark. We had no lights on, and probably about six or seven people came into the room," Leanna remembered.
With Ava snuggled in Leanne's lap, the doctors delivered the difficult news. Ava didn't have a cold or the flu. She had cancer. It was a tumor growing at the base of the little girl's brain.
"It was like the world stopped, literally just stopped," Leanne said. "I didn't hear anything after that. I just held her and cried."
Eight hours later, they had a diagnosis – it was neuroblastoma. The 2-year-old marched through six rounds of chemotherapy, 12 days of radiation, six rounds of immunotherapy and surgery to remove cancer from her adrenal gland.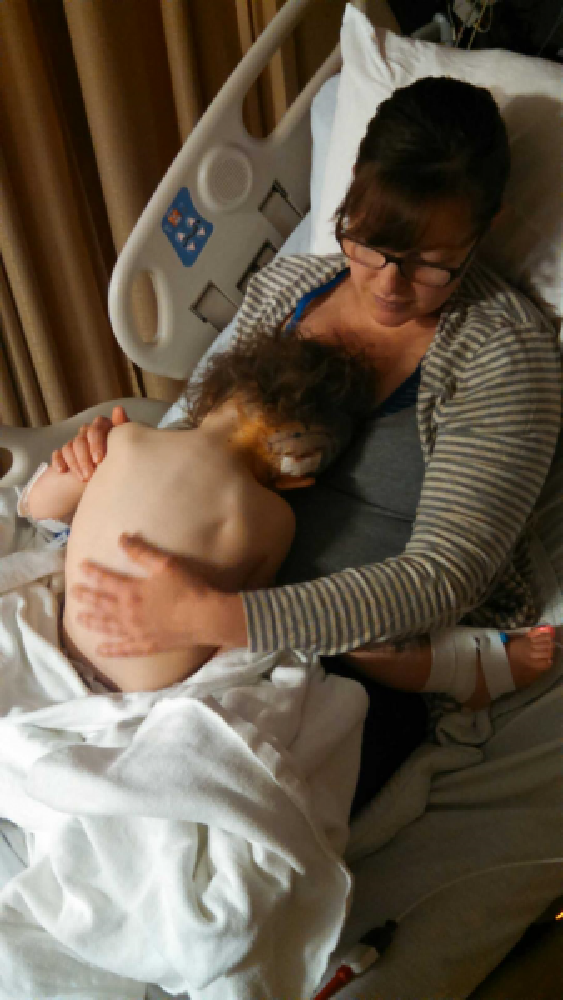 Ava is comforted by her mom during treatment.
Through it all, Ava was amazing, Leanne said.
"She was always a soft, tender soul, very kind, very gentle with everyone," she said. Ava loved music, which made music therapy one of her favorite activities in the hospital. "She just really found the joy in the simple things in life, which I think everyone should do."
The independent little girl learned how to get from the hospital parking garage to the pediatric cancer ward and how to run with her IV pole through the halls. When they could, her parents would take her to the hospital's healing garden, so she could play in the fresh air. Ava enjoyed going to the hospital, because Leanne and her husband made the experience as fun-filled as possible.
"It was our job to help her maintain her life as a child," Leanne said.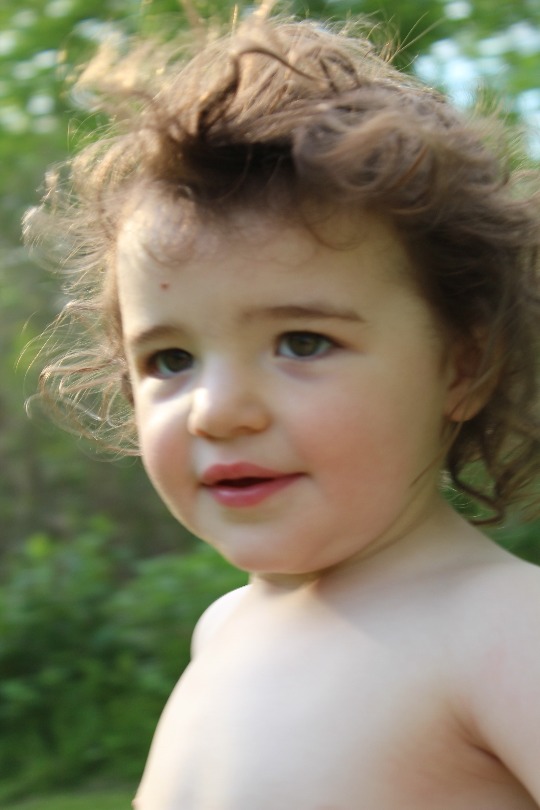 Ava loved listening to her dad play guitar and she adored games that challenged her young mind. "She absolutely loved anything that took critical thinking for a child," Leanne said. "Puzzles were one of her favorite things."
Unfortunately, Ava relapsed. And that's when Leanne talked to her daughter about shaving with St. Baldrick's. She knew that Ava was going to lose her hair again during treatment and Leanne wanted her daughter to know that she wouldn't be alone.
"She was basically non-verbal, but she spoke through her eyes. So, we talked about it. We talked about how having hair doesn't make you beautiful, that you're not less of a person, and that mommy is going to shave her head too, so we can be brave together," Leanne said. "We had that conversation when we started relapse treatment. But we never left the hospital."
Ava and her family were supposed to be in the hospital for less than a week. That short stay turned into 35 days.
"We were only going to be there for five days," Leanne said. "And then we came home without her."
The harsh therapies had destroyed Ava's vital organs. Before Leanne got the chance to shave in her honor, the little girl was gone.
"Ava died from the treatment of cancer," Leanne said. "It wasn't the cancer that killed her, it was liver and kidney failure directly from the drugs."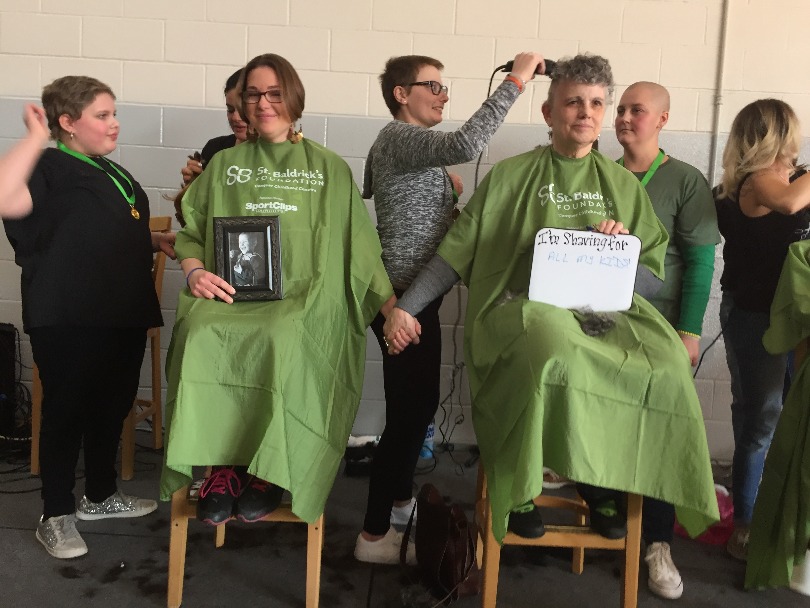 Leanne (left) shaves with Ava's primary oncologist, Dr. Jennifer Pearce, on March 11 at the Westmere Fire Department head-shaving event with her team, Ava's Army.
Six months after Ava's death, Leanne sat down in the barber's chair and went under the clippers — her act of bravery was St. Baldrick's 500,000th shave.
"It was every single emotion you could ever feel, gratitude, love, honor, sadness," Leanne said of her shave. "It was everything."
Holding hands with Ava's oncologist, Leanne shaved her head so this never happens to another child, to another mother, to another family. She shaved and fundraised for better, safer treatments and for cures for kids like Ava.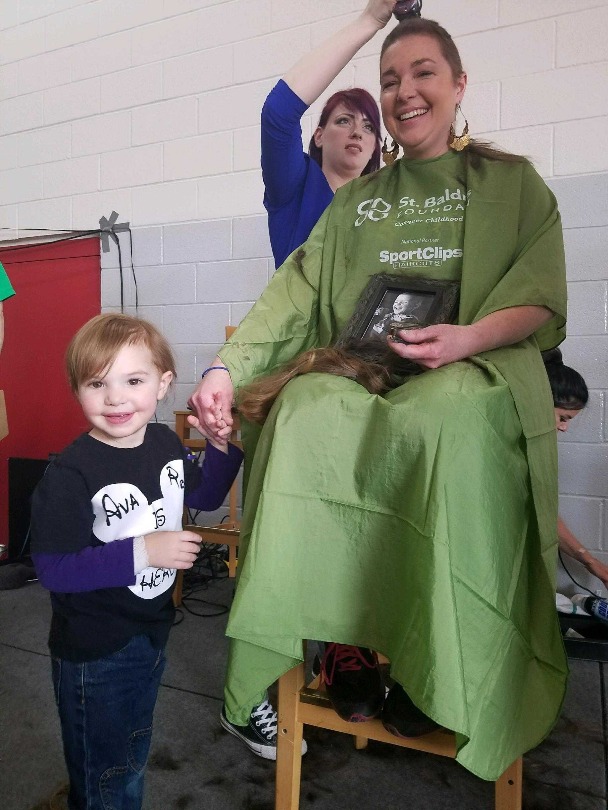 Leanne holds the hand of Ava's baby sister, Addalyn, as she shaves with St. Baldrick's.
"I want people to know that children are diagnosed every two minutes, because I didn't know that. I wish I did, so I could have done more for her. But I can make up for that now, because I know," she said. "The more awareness I can get out there, I think, the better chance these children and families have."
Ava would have been proud of her mom. Her expressive eyes would have spoken volumes.
"I always told her every single day how beautiful she was," Leanne said. "I think she would have said, if she could say words, 'Mommy, you are brave and beautiful just like me.'"
Honor Ava by funding kids' cancer research. Donate to Ava's Army today!
Donate
Read more on the St. Baldrick's blog: