When it came time to talk about surgery for bone cancer, 9-year-old Honored Kid Elise took charge. Read on to learn about Elise's cancer journey, the decision she made, and how she's moving forward with her life.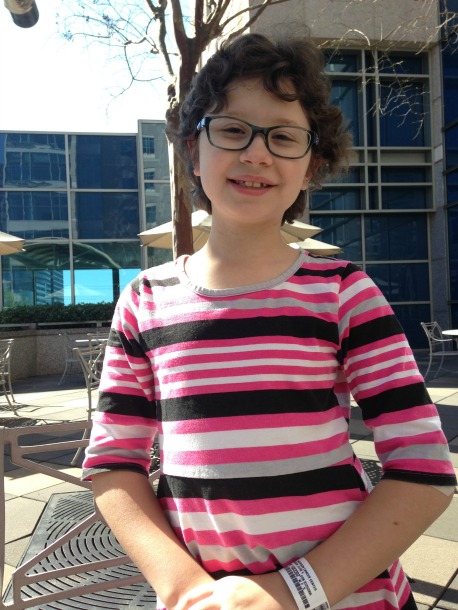 Wise beyond her years, 9-year-old Elise has been a full participant in her treatment decisions.
Nine-year-old Elise has some advice for any kid facing a big, tough decision.
"It's your decision," she said. "It's your life."
Elise knows all about making life-changing decisions. When it came time to choose the best surgery to rid her right leg of bone cancer, it was Elise who spoke up first.
The doctor had just laid out the options: a surgery that would replace the bone and knee with metal and save the leg, an above-the-knee amputation, and a rotationplasty, where part of the leg is removed and the foot is rotated 180 degrees and reattached, with the ankle joint acting as a natural knee.
BLOG: St. Baldrick's Researcher Discovers New Way to Detect Bone Cancer >
To best explain the rotationplasty and what it would look like, the doctor showed Elise and her parents a video featuring a girl who'd had the surgery.
"Before she showed me the video about rotationplasty, I said in my head, 'OK, I'll probably get the above-the-knee amputation,'" Elise said. "Then when she showed me the video, I saw a girl and she looked really happy and healthy and like nothing was wrong, like she doesn't even have a backwards foot. So when the video was over, I said, 'That's what I want.'"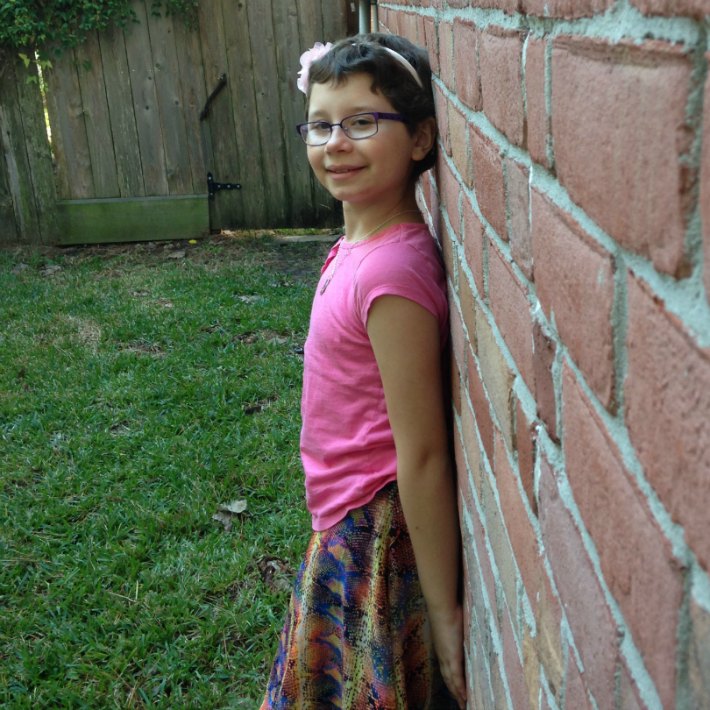 Elise endured tough chemotherapy before her surgery and after to rid her body of the cancer.
At first, Elise's parents were shocked.
"My husband and I looked at each other with a very surprised look on our faces, because when we watched the video, of course what we see is a girl with a backwards foot," Elise's mom, Jennifer, said.
Then Jennifer thought about what that natural joint would allow Elise to do — essentially, the rotationplasty would allow Elise to play any sports she wanted to while wearing a prosthetic leg. With the ankle joint and the foot acting as her knee and allowing more natural use of the prosthetic, Elise could run, jump and kick like any other kid on the field or court.
Now, about a year and a half after the rotationplasty surgery, Elise just ditched her crutches. She has a prosthetic leg and uses a cane. She can't have too much impact on her leg just yet, but soon, she'll be able to play basketball just like before she was diagnosed with childhood cancer.
"I won't be able to just run right off the bat, so I'll probably want to jump or something, play a little bit of basketball while jumping up to shoot the basket," she said.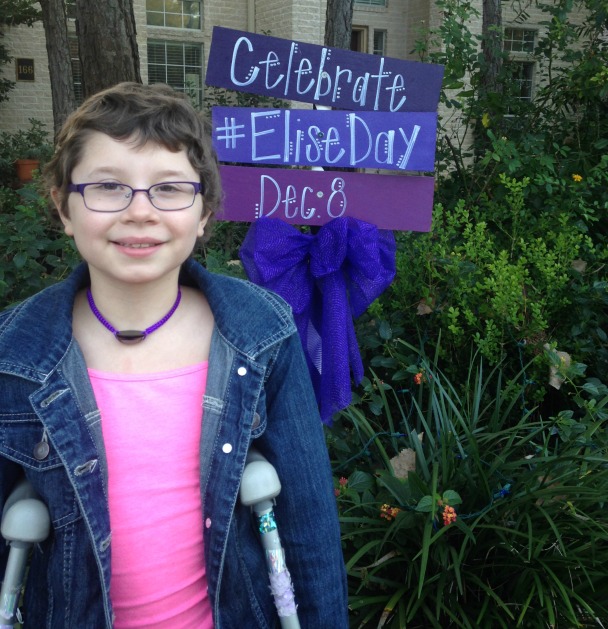 "Elise Day" marks the anniversary of the girl's rotationplasty surgery.
It all started back in the summer of 2014. After a week-long family visit, Elise's knee started hurting. Since the kids had been jumping on a trampoline the entire vacation, Jennifer didn't think too much of it.
But it didn't get better, even after a doctor's visit and a week of rest and ice.
"It was a Monday. I picked her up from school, took her to the orthopedic surgeon, he took an x-ray, then he pulled me out of the room to go look at the x-ray," Jennifer said. "When we got there he said, 'Sit down.' So that's when I knew there was something wrong."
It was osteosarcoma in Elise's right tibia, near her knee.
"As soon as the official diagnosis came in, she was on chemotherapy immediately," Jennifer said. "It is a very, very aggressive cancer."
Jennifer had heard about St. Baldrick's while Elise was going through chemotherapy. The family got involved, attending an event at a pub in their Texas community with Elise, who was an Honored Kid.
Elise thought it was pretty cool, especially when two people attending the event were so inspired by her story that they decided to shave right then and there. They asked her to hold their hands while they went under the clippers.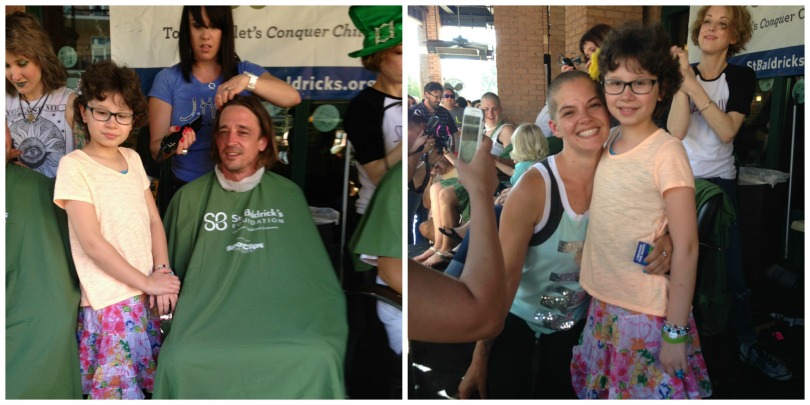 Elise holds the hand of one spontaneous shavee and poses with the other at a St. Baldrick's head-shaving event.
"It seems like research is where the money should go to," Jennifer said. "There are good organizations out there that help families when they're in financial need, help the kids feel better when they're going through this, but for us, what's important and what we're putting our efforts towards is research. That will actually change something for a long time, rather than just in the moment."
After nine months of treatment and the surgery, Elise now shows no evidence of disease.
She works hard in physical therapy to strengthen her right side and improve her balance. The rotationplasty is healing well and she's hoofing around on her prosthetic leg so much that it's showing wear and tear already.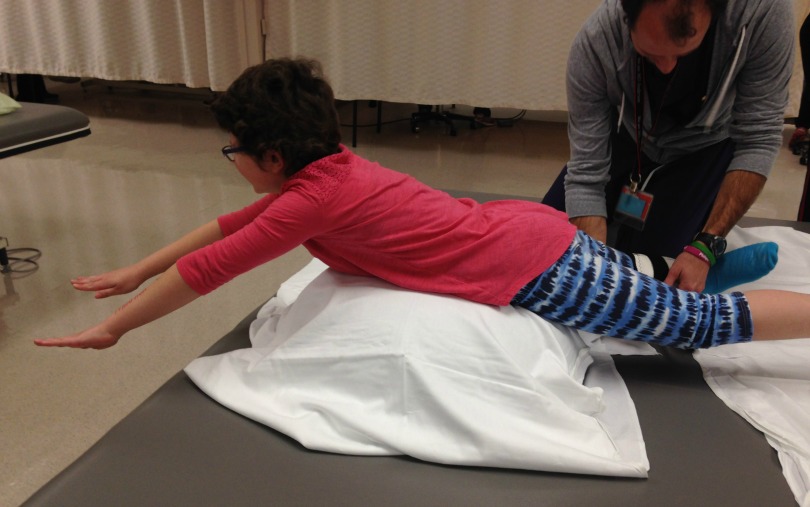 Elise does hip strengthening exercises during physical therapy.
The girl is happy with the choice she made, but she doesn't think too much about it. She looks forward, rather than backward.
"Elise has a wonderful ability to leave the past in the past," her mom said. "It's done. No need to think about it anymore. Let's just see what's coming next."
She even has a motto: "Focus on the future, not the past." Elise said it was that attitude that got her through.
"When I was going through chemo, I knew when it was all over, I would feel much better. And a couple years from then, I'd have my hair back and I'd be able to walk and run and play basketball."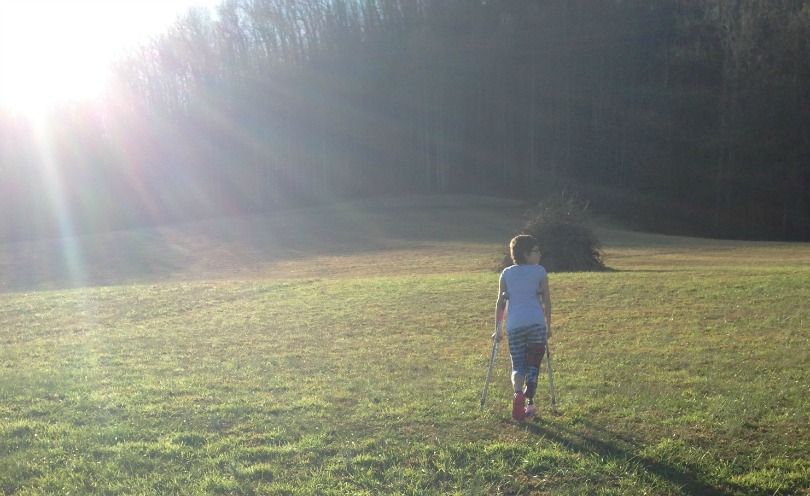 Wearing her new prosthetic leg, a sun-kissed Elise walks into a beautiful scene.
Wise beyond her years, Elise said that she knew, in the end, she'd have her life back.
And she's getting there — one step at a time.
Give kids like Elise a bright future. Fund childhood cancer research today.
Give

Read more on the St. Baldrick's blog: