St. Baldrick's 2010 Ambassador Khalid was just 2 years old when he was diagnosed with childhood cancer. Now, seven years have passed and he's not just surviving — he's thriving.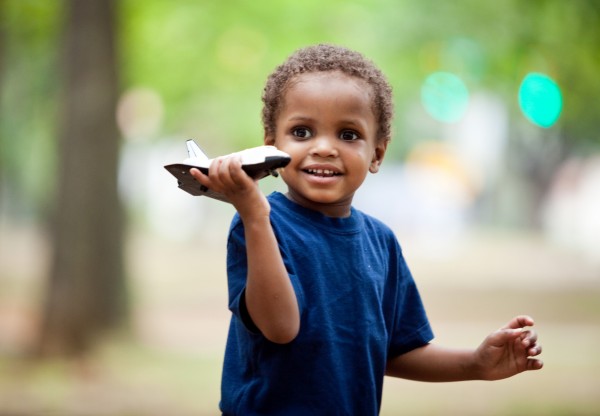 Four-year-old Ambassador Khalid flies a toy space shuttle in this photo from 2010, when he was chosen to be an Ambassador.
It's been five years since Khalid was picked as an Ambassador for St. Baldrick's and a lot has changed.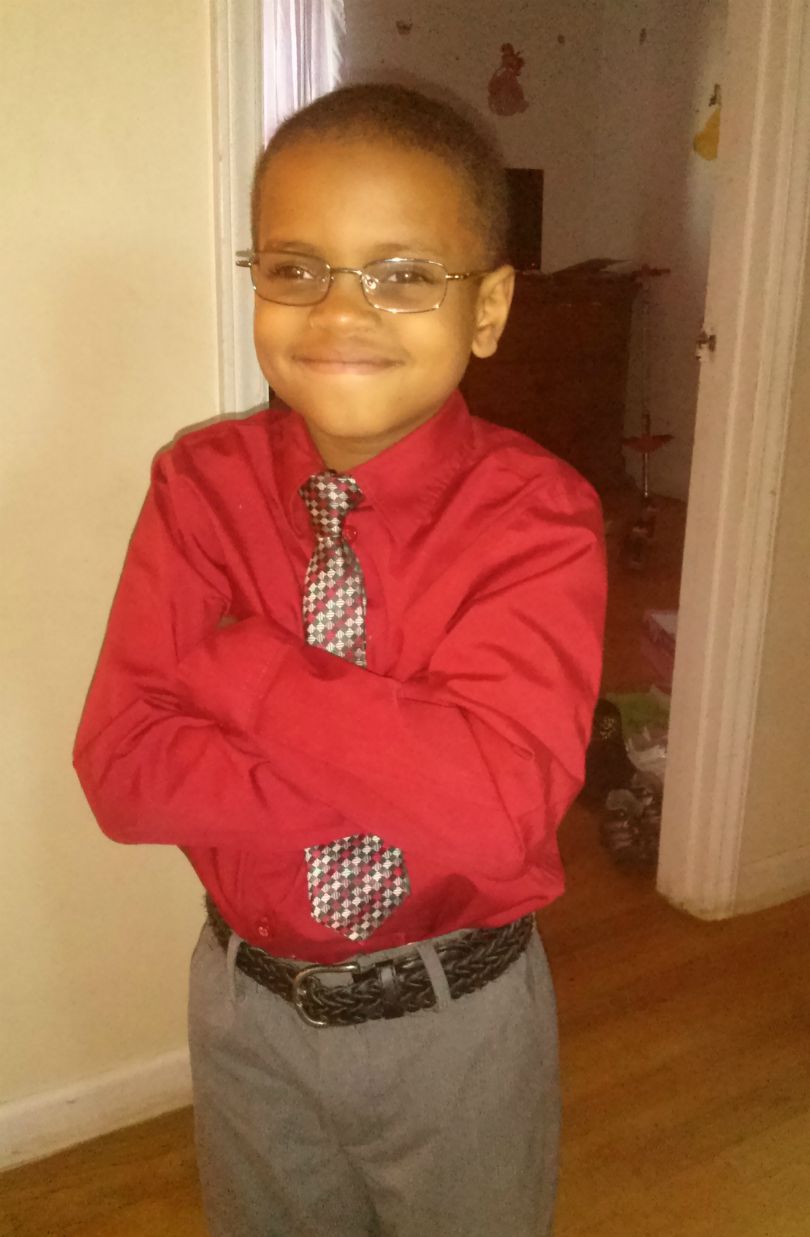 "You can just see the maturity. He goes from being coddled to wanting to be more independent," Danielle said. He's got quite the sarcastic sense of humor, she added.
The 10-year-old is now in fifth grade and his mom, Danielle, has given him more responsibility around the house because he's older — which he likes to remind his siblings. He's a peer mediator at school and is going to be a Boy Scout next year.
He's growing up and for that, Danielle is grateful.
"He's been doing really, really well. You wouldn't know, unless I told you, that he had ever had cancer. Ever," Danielle said.
As a toddler, Khalid was diagnosed with neuroblastoma, one of the most deadly childhood cancers. The little boy with the infectious smile endured chemotherapy, radiation, surgery, a stem cell transplant, and antibody therapy.
Khalid has high-frequency hearing loss because of his chemotherapy, and he's smaller than most boys his age, likely because of his treatment.
Because of the cancer, he can't see out of his right eye, but you wouldn't know it. In fact, Danielle didn't know for almost two years. Even now, his mom sometimes forgets he doesn't have perfect vision. He plays just like any other kid.
"He loves riding his bike downhill," Danielle said. "He likes to almost give his mom a heart attack."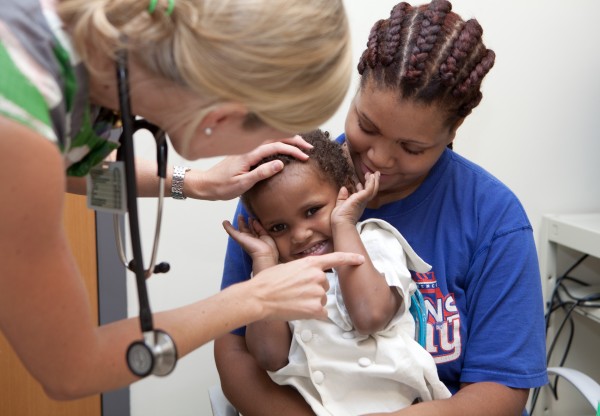 Four-year-old Khalid squirms and smiles in his mother's lap during a doctor visit.
Danielle knows that more long-term effects could show up as school gets more challenging for Khalid, and when he wants to have a family of his own.
That's why she's involved in St. Baldrick's — she wants less harmful treatments for kids with cancer and better ways to catch childhood cancer earlier, when it's more treatable.
"By the time they caught his cancer, he was stage 4," Danielle said. "It had spread through his bone marrow. It was in his pelvis, it was in his back, it was in his eye, it was in his belly."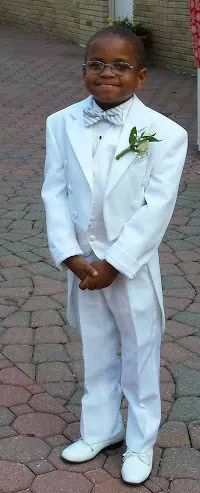 Ten-year-old Khalid looks spiffy in a white tux.
The cancer is always in the back of Danielle's mind, but she and her family treat every day like it's any other day.
"I think it's important to him, as far as just feeling like he's normal. For him, he knows he can't see out of his right eye, but he doesn't think of it that way," she said. "He knows he has scars on his belly and on his chest. He doesn't think about it that way. He'll bring it up sometimes that he had cancer, but he doesn't talk about it."
Khalid doesn't let anything hold him back. He loves school, especially math and seeing his friends. He rides his scooter and enjoys building derby cars with his scout troop. He used to want to be an astronaut and then a nurse, but now he wants to be a spy. That's fine by his mom.
"When he said a spy, I said, 'OK, if that's what you want to do, let's do some research,'" she said.
For Khalid, the sky's the limit, thanks to childhood cancer research.
"Who knows what Khalid is going to do when he's older," Danielle said. "Maybe he'll come up with a cure for some disease. But if there wasn't any research into it [cancer], he would not be here."
Danielle wants her son to give others hope.
"Khalid is a seven-year survivor. What better hope is that?"
Childhood Cancer Awareness Month is almost here, so follow Khalid's example — give kids with cancer hope. Get involved today.
6 Ways You Can Help Kids With Cancer
Read more about neuroblastoma on the St. Baldrick's blog: