In 2011, Holly and Nick's world turned upside down. Their 3-year-old daughter, Roxie, was diagnosed with neuroblastoma. Four years later, Roxie shows no evidence of disease, and the family is devoted to raising money for childhood cancer research and boosting the public's awareness of a little-known disease.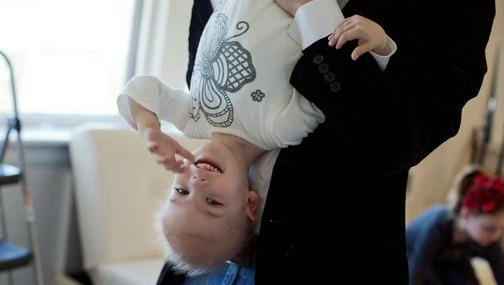 Roxie was diagnosed with neuroblastoma at just 3 years old.
Roxie wanted to help. So, the little girl stood up on her hospital bed, grabbed the blood pressure cuff from its place on the wall and slipped it over her tiny arm. Remembering the sequence of buttons the nurses pressed, she let her little fingers do the walking and presto — the machine began to whir.
Just as the nurses arrived, 3-year-old Roxie had already started taking her own vitals.
"She did a great job of managing it all for a 3-year-old," Holly said. "She managed it very well."
Roxie was learning how to navigate a world that no toddler should have to live in — the world of childhood cancer.
---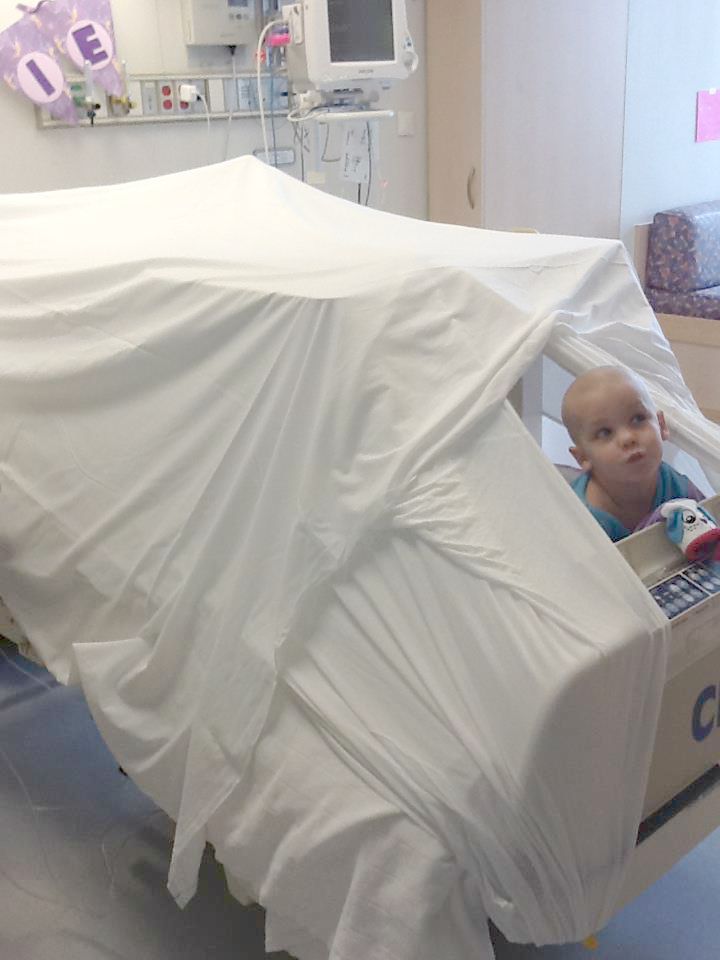 During most of her treatment, Roxie couldn't leave her hospital room, so she and her mom had to get creative about how they passed the time.
In November 2011, about a week after giving birth to her son Walker, Holly brought Roxie along to her baby's first wellness check. They'd brought Roxie to the doctor multiple times before for intense stomach pain, but her distress was attributed to constipation and nothing they'd tried was working.
"At one point, I probably had one bottle of Motrin in the cabinet for three years that we had never gotten through with four kids," Holly said. "And I was on my second just with Roxie, because she was taking it every four to six hours. She was in pain."
Holly lifted her daughter's shirt when the nurse came over, revealing a swollen belly.
"We went over to the emergency room and at that point, the second ER visit, they did an ultrasound," Holly said. "That's when they identified the tumor."
It was high-risk neuroblastoma, one of the deadliest types of childhood cancer. Roxie's chances of survival were about 35%, Holly said.
Roxie walks to the playroom at the hospital during her treatment.
"I struggled as a parent early on with her diagnosis because I knew — I knew — that what was available to us to treat her for a disease I had never heard of was incredibly limited, based on the fact that there hadn't been enough interest or funding in providing better options," Holly said. "I was as responsible as anyone."
Roxie endured five rounds of high-dose chemotherapy, surgery to remove the tumor, and more chemo. Then there was the bone marrow transplant, 17 rounds of radiation and finally, six rounds of immunotherapy.
In the thick of treatment, moments after one of Roxie's scans, Roxie's oncologist walked up to greet Holly. At first, Holly was nervous to see the doctor, but it was the best of news.
Roxie showed no evidence of disease. The relief was immense. Holly immediately thought of her husband, her teammate and partner in all of this. He was traveling for work at the time and she wished he could have been there to hear the news in the moment.
"You are making them sicker than they've ever been before — than they've ever been before, even when they were uncomfortable because they had cancer — to try to save them," Holly said. "That is really hard for a parent, so to know that it's working is just such a huge relief and really provides the hope necessary just to keep going."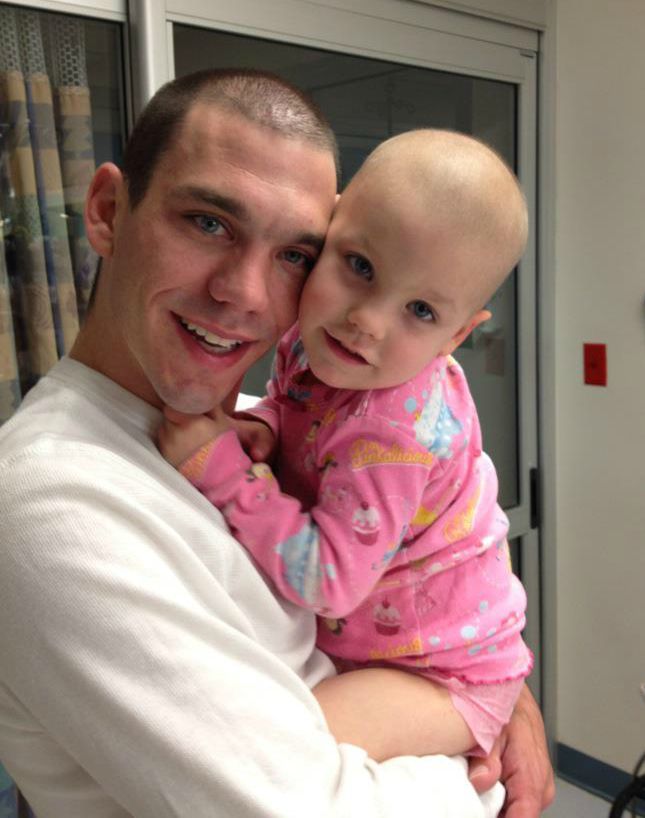 Roxie is held by her father, Nick, at the hospital.
Team Roxie, started by some of Holly's friends, was there from the beginning. The team participated in their first St. Baldrick's event in 2012, a few months after Roxie's diagnosis, and provided immense support for Roxie's family at a crucial time. But as much as Holly loved the support, she knew the team needed to evolve. The issue was bigger than her daughter and bigger than her family.
It was about raising awareness of neuroblastoma and boosting funding for research so all kids with the disease, not just her daughter, could benefit from better treatments and have better outcomes.
"It's not really about us at all," Holly said. "We had enough people involved who cared and who were paying attention that it was time for us to be like, 'OK. This is what we want you paying attention to. As much as we love how deeply invested you are in her journey, this is what we want you to pay attention to.'"
In 2013, Team Roxie officially transitioned to kNOw neuroblastoma. Made up of other families dealing with neuroblastoma, plus Roxie's friends, family and supporters, the St. Baldrick's team has raised almost $70,000 since 2013.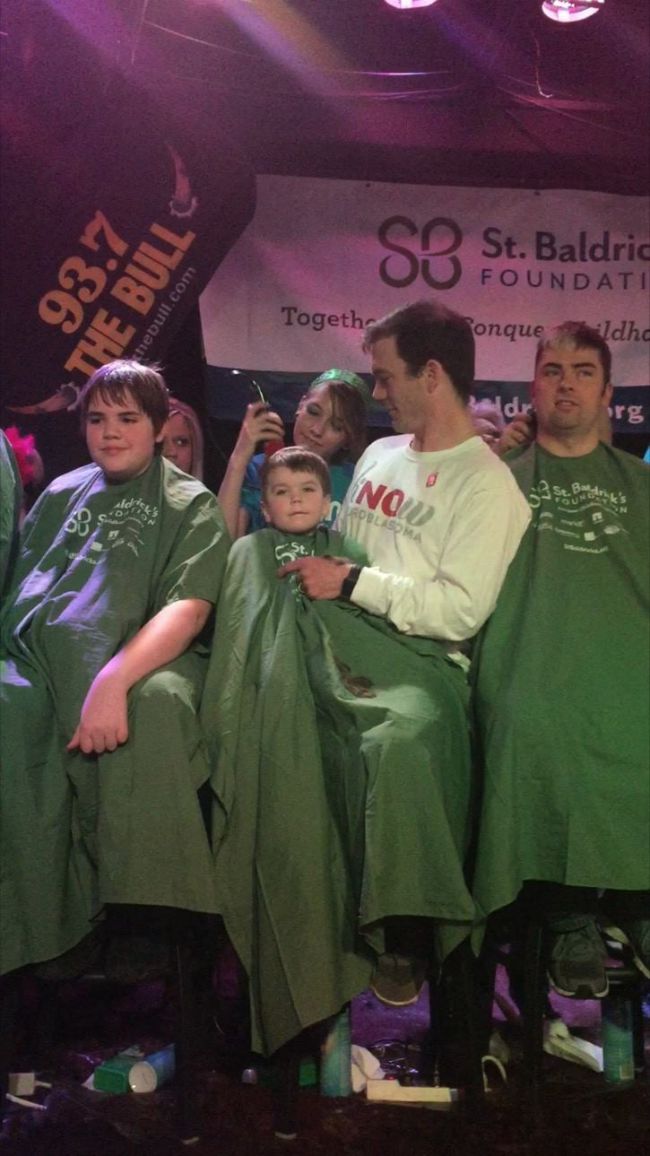 Roxie's little brother, Walker, was just born when the little girl was diagnosed. This year he shaved for St. Baldrick's in honor of his big sister.
Roxie completed frontline treatment in March 2013, but that wasn't the end of the journey. Now the 7-year-old is on a clinical trial to keep her healthy.
The trial, which aims to prevent relapse in kids with neuroblastoma, is partly funded by St. Baldrick's.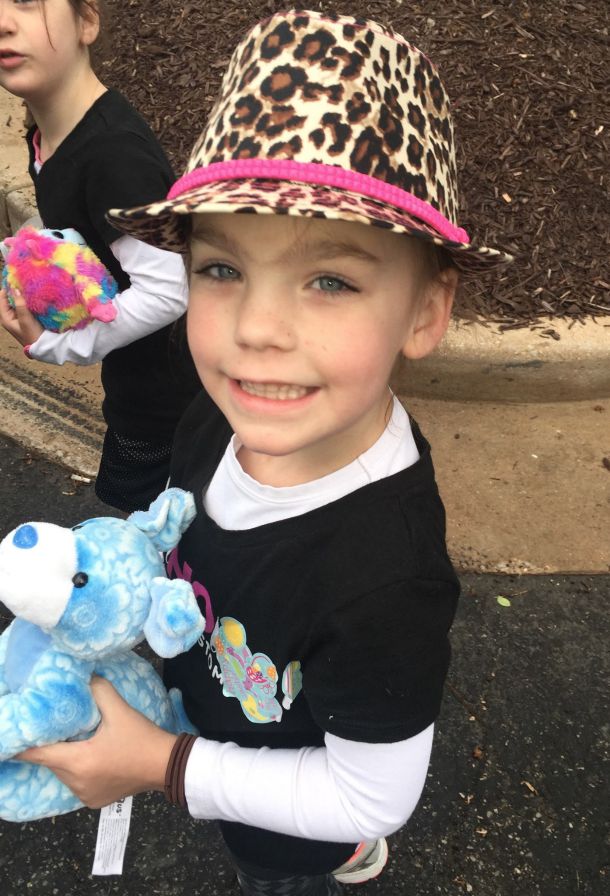 The trial meant to keep Roxie healthy is non-invasive and relatively side effect free. She simply takes two pills in the morning and two at night.
"The path is so unknown, so you do what you believe to be the right decision for your child based on what you know. We finished frontline treatment and we're fortunate enough to have Roxie with us through it and also at the end of it in that no evidence of disease position," Holly said, explaining that there are no guarantees with neuroblastoma — with a 50% chance of relapse, it can come back with a vengeance.
"Our family knew that meant, even at that point, that we were going to flip a coin in the air and have to wait five years to see which side it landed on, whether or not it might come back."
Holly had never heard of neuroblastoma before her daughter was diagnosed and she wishes she got involved in raising awareness a decade ago. Getting involved now, she said, could change the outcome for kids who are diagnosed with the disease in the future.
"If you did understand what it meant for a family to have to live with treating a child with neuroblastoma, you would do something about it," she said. "You would get involved. You wouldn't want to turn away. You'd want to figure out how to make a difference."
Make a difference for kids like Roxie. Give to Roxie's team kNOw neuroblastoma and help fund childhood cancer research.
Give
Read more about neuroblastoma on the St. Baldrick's blog: