Today we remember Superman Sam, who died from acute myeloid leukemia one year ago. A generous donor has agreed to match any new and increased gifts to the 36 Rabbis campaign, so today, honor Sam with a donation to help fight childhood cancer. His mom, Phyllis, shared these words on this day last year.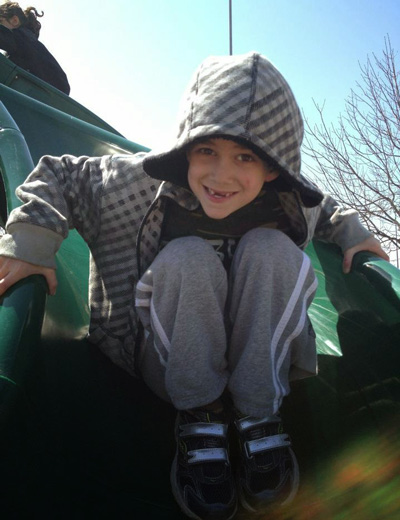 Superman Sam in April 2012, before he was diagnosed with acute myeloid leukemia.
On Friday morning,
Sam
woke up with a headache and nausea. He was vomiting a little, and we weren't quite sure what the dark spots in his vomit were. But I had a terrible feeling.
We were scheduled for a trip to the clinic, and, frankly, we weren't ready to imagine what it would be like without that trip. Giving up that trip, to me, meant we were ready to admit how very close we were to the end. Giving up that trip wasn't really an option. Even Sam wanted to go.
So we made the drive. (It's an hour and 15 minutes.)
About 15 minutes out from the hospital, he started to vomit. It was dark and bloody.
He never really spoke to us again.
The incredible sensitivity and efficiency of the clinic staff was remarkable. I felt as though we were the only patients in the place. Did anyone else get any attention at all yesterday? The care and love were palpable. They knew what this meant.
"Our goal today is to get you home." Dr. M spoke those words and I nearly collapsed inside.
How would we manage this? What were we doing? How could it be?
But they were patient and kind. They were quiet and gentle. They spoke about comfort and care and how to make him feel no pain.
Sammy received platelets, a palliative measure. He received a fluid-reduction medicine to alleviate the pressure on his heart. A little oxygen. A little morphine. Some of our favorite hospital staff members stopped by, knocked quietly, and gave us hugs. They whispered their love to our sleeping boy.
An ambulance ride was arranged to bring us home. He was comfortable and peaceful on the ride. I can only imagine what a car trip would have been like. I am so grateful we were spared that fear and anxiety. I am truly grateful we made the trip on Friday. It allowed our beautiful team to help us give our son the most peaceful final hours we could arrange.
We arrived home in the late afternoon and began as many calm and quiet palliative measures as we could. A morphine drip. An oxygen tank. His most purposeful movement was to pull off the mask as soon as we put it on him. So we turned up the force and set it next to him. "Blow-by," they called it. A little comfort. He was breathing and resting easily.
The house filled up with family and loved ones. Sam slept quietly through it all.
Our kiddush wine was salty with tears.
The hour grew late. The house emptied out.
Around midnight, the last ones left. I took the first shift and sent Michael up to sleep.
I quietly sat down next to him and very, very, very softly sang his bedtime prayers.
Shelter us beneath thy wings …. Guard us from all harmful things.
He was always terribly impatient with me when I would cry during these prayers. So I made sure not to cry.
Shema Yisrael Adonai Eloheinu Adonai Echad …
I whispered in his ear … I love you.
And then I settled down beside him on the couch, my hand on his back. Only a few minutes went by.
His breathing began to change. There were long pauses between the breaths. I caught myself holding my breath and the nurse and I exchanged a momentarily-frightened glance. We turned on the lights; we got Michael from upstairs.
We held our child close.
He took one final breath …
Sam was not alone for a single moment of his life. He died peacefully and calmly and quietly at 12:33 a.m. He was not in fear or in pain. And for that I am eternally grateful.
For the first 10,543 days of my life, I was not Sammy's mother. And then I had 2,959 days of Sam.
Now I face thousands of days without him.
I once lived 10,543 days without him.
But I didn't know what I was missing.
No parent should have to know what life is like without their child. That's why Phyllis and the 36 Rabbis are raising money for childhood cancer research. A generous donor has agreed to match all new and increased gifts to the 36 Rabbis campaign, so today, honor Sam with a donation on Phyllis's page and your gift will go twice as far in the fight to end childhood cancers.
Give in honor of Sam
Read more about Sam and the 36 Rabbis: