For Sam, losing his hair was a big deal at first. I think it was more the idea of the change rather than the actual hair loss. It changed how he looked, and it changed how people looked at him. Throughout his treatment, he was mostly bald, and then as it grew back after treatment, we noticed and celebrated.
And throughout all of last summer, his hair grew back after some of the heavy rounds of chemo during the outpatient portion of his treatment. He actually had quite a bit of hair on his head when we headed into his stem cell transplant, and I think that helped him to feel more "normal" through the summer.
He shaved his own head for transplant, and it was quite an art piece.
At the very beginning of this terrible journey, someone suggested that I shave my head to raise money. Sam was totally opposed to it. I know that everything in his life seemed so topsy-turvy, and having my head look completely different would have been one more terribly weird change.
So I dropped the idea, but I marveled at the photos of the 46 Mommas Shave for the Brave, and I thought that maybe, someday … maybe.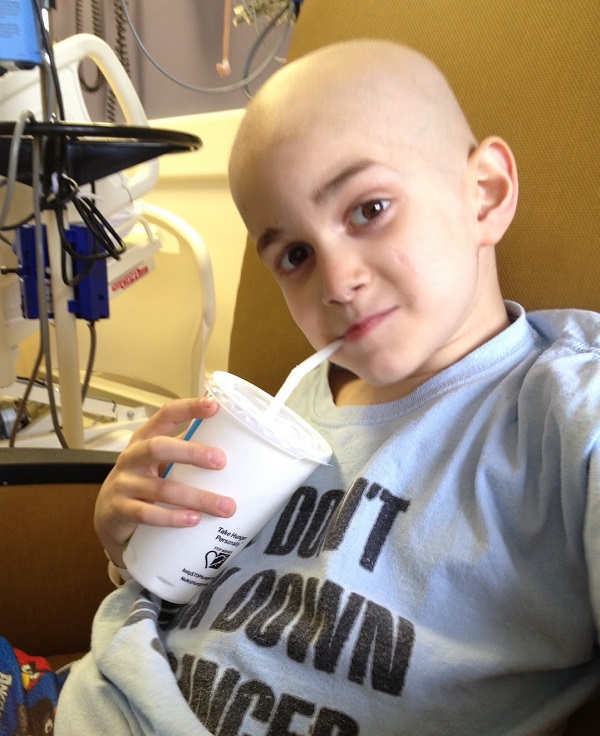 Sam was diagnosed with acute myeloid leukemia at the age of 6. He died not long after his eighth birthday.
When Sammy was in the hospital back in October, I was feeling helpless and frustrated. I posted a little idea to Facebook: "Maybe the time has come to shave my head." It seemed like it would be a
big
statement.
It's come to be something so much bigger. With Sammy's death, it has given me a purpose. It has given a focus to my desire to give this all meaning. I don't want to hear that any of this terrible stuff happened for a reason. But I do believe that I have a responsibility to make something happen because of it (which is far from the same thing).
There are so many ways to help kids with cancer, their families, and their caregivers. We have been the recipients of so much generosity throughout our whole experience. The patient and family support organizations are amazing, and they made so many days so much brighter in the midst of so much gloom. I know that we will continue to support these organizations and their missions, and we want to make the world brighter for these families.
I know there's only one thing that I can do to have a real, lasting impact, and that's to raise money for childhood cancer research.
But if I'm being totally honest here, I know there's only one thing that I can do to have a real, lasting impact, and that's to raise money for childhood cancer research. The only way we are going to end this terror once and for all is with the research that will create better treatments, more effective protocols, and better long-term prospects for all survivors. By funding research, I know that I am putting my heart and soul into my own private goal of a day when no other parent will hear what we heard: "There's no more that we can do for your child."
And so I am shaving my head and raising money, along with my husband and a whole bunch of my friends and colleagues, at the 36 Rabbis Shave for the Brave.
When I walk around out in the world right now I'm feeling a little invisible. Not that people don't see me, but on the outside, I look pretty much the same. Much like Sammy as his hair grew in while he was still in treatment, I don't look like someone who is changed. Shaving my head — which will be 109 days after Sam's death and 658 days after I became a "cancer mom" — will give me a whole new look. My grief will not be invisible.
Photo by Cory Hengen courtesy of Flashes of Hope.

And my visible grief will be so much bigger than just about me or just about Sammy. As of today, we've raised over $382,000. To put it in perspective, a

St. Baldrick's Scholar

receives a three-year minimum grant at $110,000 a year — our fundraising so far has fully funded a three-year St. Baldrick's Scholar! Imagine how much that can change the future and the face of childhood cancer.

Every time someone asks about my head, about my hair, I will tell them about the research that my simple act of shaving was able to fund.

It's for Sam, yes. But this is not just about my Sammy. It's about every kid, every family.

So here we go. Let's fund lifesaving research. Three more weeks and I will be bravely bald. Will you support me along the way?

To donate toward Phyllis's fundraising goal, go to her page and click "DONATE."

Join Phyllis and the thousands of others who are shaving their heads this year to fight kids' cancer. Not ready to go bald? You can still get involved!

BE A SHAVEE      GET INVOLVED

Read more stories on the St. Baldrick's blog:

Hair has always been an important part of our family. My children have strong opinions about their own hair and how it should look.