In 1992, Chris Cox was treated at Oakland Children's Hospital for acute lymphoblastic leukemia. Now, 24 years later, he's back at that same hospital — only this time, he's there as a pediatric resident. See how he's making an impact for kids with cancer now.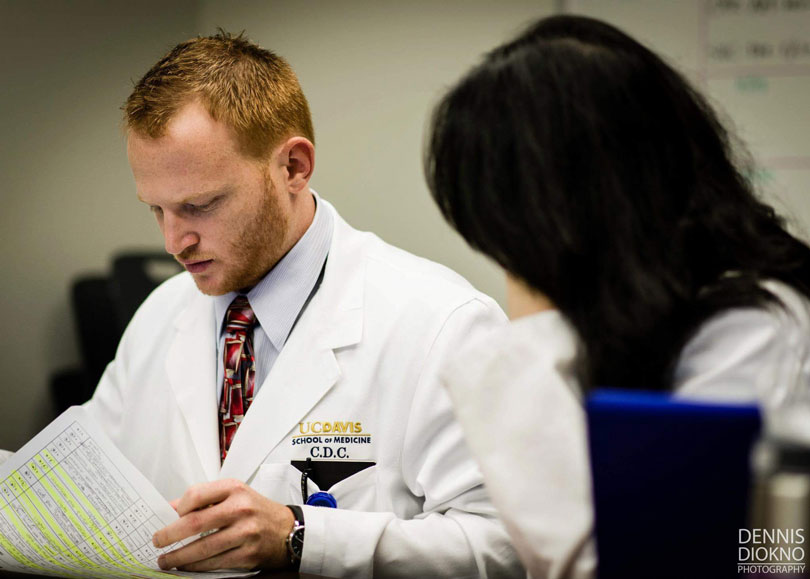 Photo courtesy Dennis Diokno Photography
Chris Cox is in his intern year as a pediatric resident at Oakland Children's Hospital — the first of three years dedicated to learning the ins and outs of being a doctor.
But he's unlike any ordinary resident. He knows how his patients feel because he was one of them.
Chris was diagnosed with acute lymphoblastic leukemia (ALL) when he was 10 years old.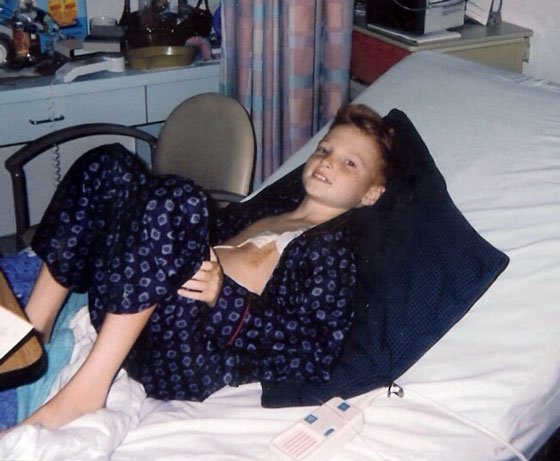 A young Chris was treated at Oakland Children's Hospital.
"I remember what it was like to be sick, to be vomiting, to feel scared, to feel like everything is out of control," Chris said. "It was a long, bumpy ride that felt like it would never end."
Thankfully, it did end. After two years of treatment, Chris was cancer free.
It wasn't always that simple, though.
Learn more about childhood cancer >
Childhood cancer kept Chris from doing things he wanted to do. Sports became difficult to play, and he had to be extremely cautious when playing with other kids so they wouldn't pull on the tubes attached to his chest. It was also tough for Chris to lose his hair from the chemotherapy.
"The hardest part was that I felt like I lost my identity as a young boy. I liked to play sports and I was a redhead," Chris recalled. "And that all meant something to me at the time."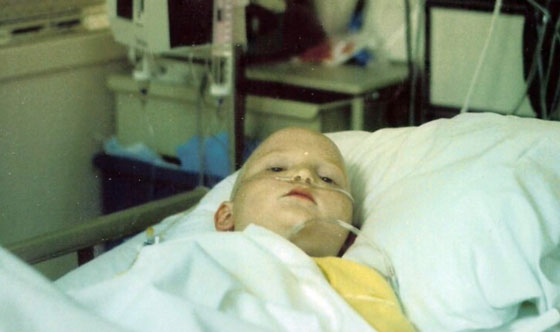 Young Chris went through ALL treatment for two years.
Chris went on to finish high school and college, set on making his childhood cancer experience a blip in his past.
"I wanted to put that chapter behind me," Chris explained.
Years later, when he was 23 and working at a summer camp for kids with cancer, Chris realized what he wanted to dedicate his life to.
Chris knew he wanted to help other kids who are going through what he went through.
"I started to think about what I could do to make that into a career — to be able to bring that hope on a daily basis," Chris said.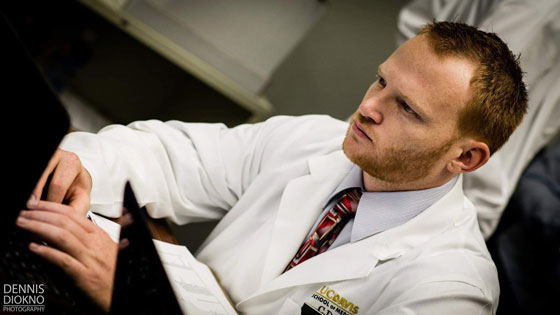 Chris now gets to work with kids with cancer every day.
Photo courtesy Dennis Diokno Photography
Now as a pediatric resident at the Oakland Children's Hospital — the same hospital he was treated at as a kid — Chris' journey has come full circle.
"I got to reconnect with some of the physicians that were around when I was a patient," Chris said. "They were so helpful with connecting me with research projects."
Learn more about the childhood cancer research we fund >
From his new perspective, Chris can see how much has improved in the field since the end of his treatment in 1994.
"That's really inspiring to me," Chris said. "And it's why I want to be involved with St. Baldrick's."
Chris said goodbye to his hair for the first time in over 20 years.
This year, Chris made the tough decision to say goodbye to his fiery red hair once again — this time, as a shavee℠.
"I realized I had to do it," Chris explained. "It's just hair, it grows back, and I was inspired, especially working with the patients."
Now that he is bald again, Chris hopes to make a positive impact in the face of childhood cancer.
"I'm so appreciative of people that donate and all the people that dedicate their lives to helping children," Chris said. "That is something I want to be a part of in my career and my life."
Volunteers like you are what make funding for childhood cancer research possible. Get involved at a head-shaving event near you.
Get Involved
Read more on the St. Baldrick's blog: