It started as a simple class project at Ocean Breeze Elementary School. Now it's become something much more noble. See what happens when young students get together to make a difference for kids with cancer.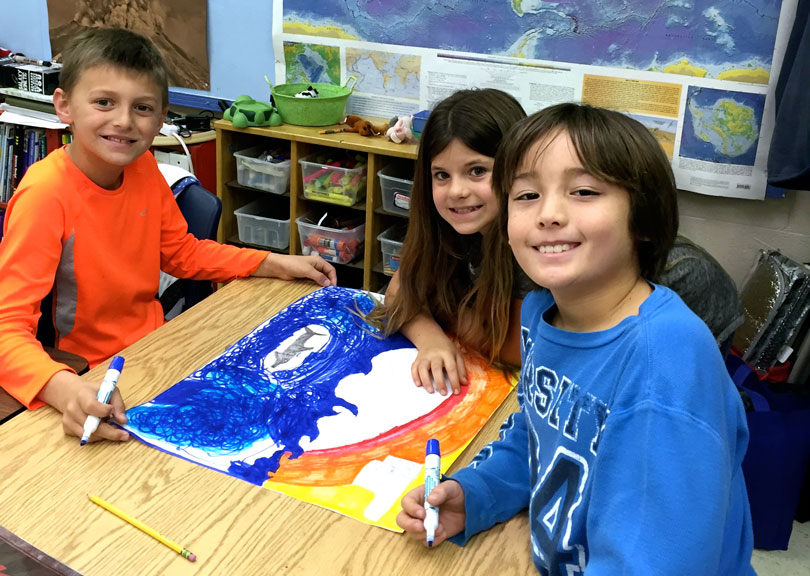 Students practice their marketing skills by making posters for their business.
Holly Mentillo, a school teacher in Satellite Beach, Florida, came up with a class project to teach her students how a business works.
But this project has turned into something much greater: a mission to fund childhood cancer research.
"My goal with this is to teach them how to run a business, to raise community awareness and empathy," Holly explained. "These kids have taken it to heart. They've found a good meaning, and they like working towards a good cause."
Holly's family had been involved with St. Baldrick's for three years, so she decided to join Team Mentillo as a shavee℠ this year. When Holly explained the mission of St. Baldrick's to her students, they were eager to join the effort to fund lifesaving childhood cancer research.
Holly assigned the students — ranging from first through sixth grade — roles of CEO, marketing director, engineers, financers and marketers.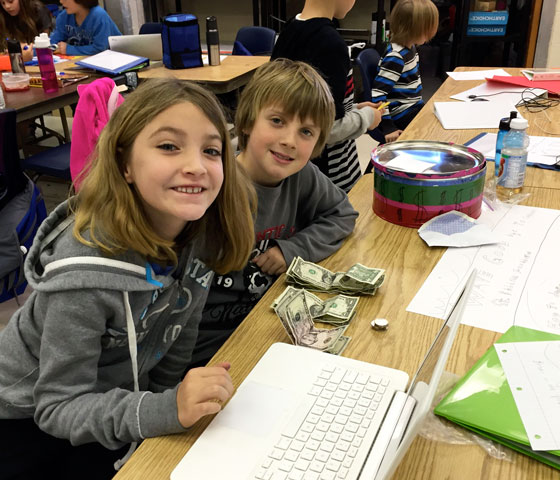 Two third grade students serve as finance officers by counting incoming donations.
By fundraising money, contacting local media and organizing a marketing strategy, the class has made this learning experience one that can make a real impact. It holds more meaning than other projects since some kids have had family members affected by cancer. Some have even been touched by childhood cancer.
"One of our second grade members is a cancer survivor," Holly said. "So it does make it more personal."
Students created and sold many items to raise money for research.
And it definitely helps that they get to see their teacher shave her head in the process.
The students have taken it upon themselves to sell lemonade or even their toys, doing whatever they can raise money. With each dollar raised, these young students are not only learning about the business world — they are doing something significant in the fight against childhood cancer.
Learn how to start your own fundraiser >
"They make me smile every day," Holly said. "A lot of empathy is going out past the classroom."
This is the first time Holly's school has joined the St. Baldrick's mission, but it's already catching on. Two students have even agreed to shave with Holly at the event.
"We're hoping it grows," Holly said. "And maybe for years to come."
Anyone has the power to change the world around them, young kids and adults alike. Join us in our cause to conquer childhood cancer — be a shavee.
Be a Shavee
Read more on the St. Baldrick's blog: