It's been over three years since 2012 Ambassador Sarah has seen herself bald. She's breaking that streak on Saturday to be a shavee℠ for the third time. As a childhood cancer survivor, Sarah writes about what bravery looks like to her and what makes shaving so special this time.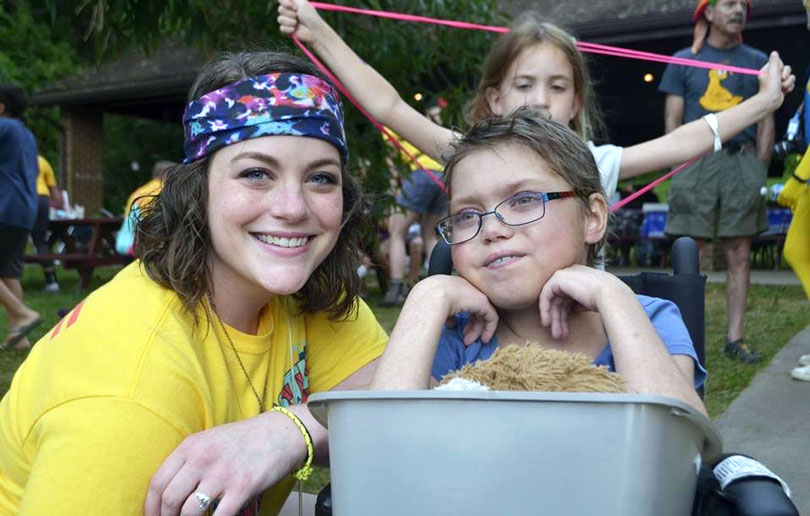 Sarah (left) smiles with Honored Kid Abby at Camp Fantastic in 2015.
I'm often asked if I'm nervous about my upcoming shave.
I can honestly say I'm not at all. After all, this will be my third time shaving my head for the St. Baldrick's Foundation!
The usual response I get is, "You're so brave." But I don't see myself as the brave one.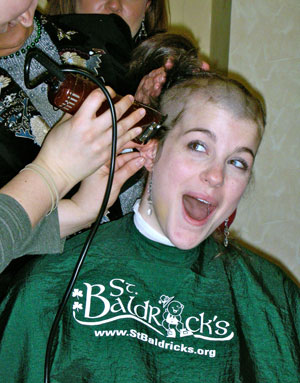 Sarah was a two-time shavee in 2007.
The truth is, I can remember walking into a cold doctor's office with my family in 2003. I heard my doctor say, "You have leukemia."
And almost seven years later during a late effects visit, I heard, "You have relapsed."
Those are the times bravery is shown. Those are the times bravery is required.
Read Sarah's childhood cancer story >
I see children who are required to be brave every day — children that have heard the same words I once did.
One of these brave kids is Abby.
Abby and I met at Camp Fantastic, a camp for kids with cancer. I went there as a camper many years ago and now I go as a counselor.
Abby sat next to me on the bus and ended up throwing up on me. She will probably lose it once she reads this, but it really is the first thing that brought us together!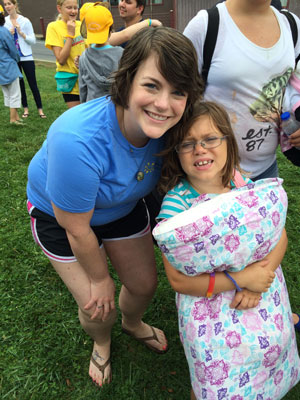 Sarah was Abby's one-on-one counselor last year at Camp Fantastic.
About a month after that incident, I got the news that Abby had relapsed with Ph+ acute lymphoblastic leukemia (ALL).
I was devastated. I was all too familiar with the path they were about to embark on.
After Abby's bone marrow transplant in February, she miraculously — and this truly speaks to her vivacious spirit — made it to camp in August. I was her one-on-one camp counselor, and I couldn't have been more excited!
That was the hardest week I had ever worked at camp. I helped Abby through intense pain, bugged her to no end to know how she was feeling, pushed her in her wheelchair up and down mountains, and made sure her nurses were giving her what she needed. A lot went into making sure she had fun at camp — so she could enjoy being a kid.
Read the latest blog about Abby >
Seeing how people interacted with her and then turned and panicked to me was so eye-opening. It made me realize how people must have felt around me when I was very sick — it was so humbling. Everything had come full circle.
I got home from that week of camp completely exhausted, yet I had never felt more fulfilled in my life. I love that little girl.
Sarah and her friend, Samantha, went bald in 2007 together.
This year, I shave in solidarity with my brave friends, like Abby, fighting for their lives. I shave for my brave friends that have passed on.
I shave to celebrate that I have been cancer free for five and a half years. I am a survivor because of the St. Baldrick's Foundation research that created the first new drug for my form of childhood cancer in 50 years.
Having no choice but to lose your hair to cancer robs you of so much more than hair.
I shave because, this time, I have a choice.
Sarah's set out to raise $15,000 for childhood cancer research so more kids will get the cures they need. Help her reach her goal with a donation on her shavee page.
Donate on Sarah's page

Read more about Sarah: