It's National Cancer Survivors month and Nora, a 30-year survivor, has an important message for you — that being a childhood cancer survivor isn't the end of the fight, not by a long shot. That's why pediatric cancer survivors need you to fund kids' cancer research, because more research not only makes more survivors, it helps those survivors live long and healthy lives.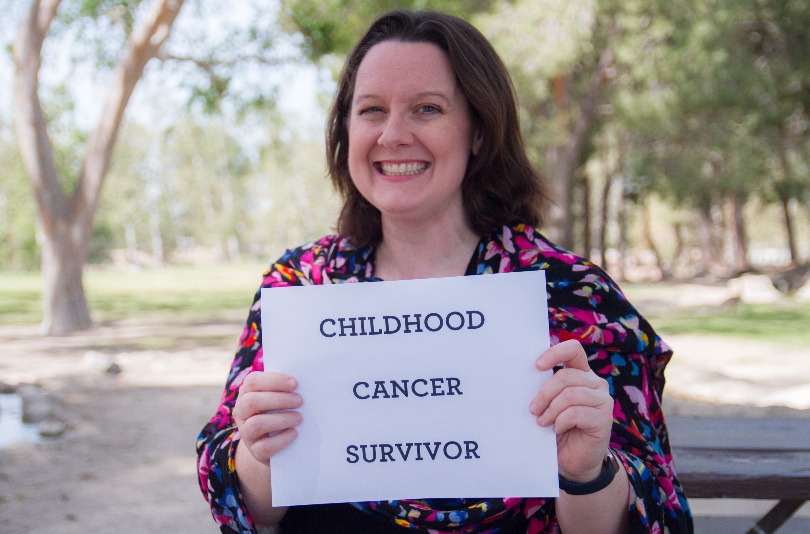 Nora is a 30-year survivor of non-Hodgkin lymphoma. She was diagnosed in March 1988 at the age of 10.
Dear St. Baldrick's Supporter,
On my 10th birthday, I tripped. That's all it was … I tripped and sprained my ankle. I was a healthy preteen, who would take any chance to dance around to George Michael or Rick Astley, but my ankle just wouldn't heal. Months of wrong diagnoses followed until March 14, 1988, when I got the news I had cancer; lymphoma had spread to my bones. I had stage 4 cancer.
In the 80's, you didn't talk about childhood cancer. My world began to shrink the day I got my diagnosis. I couldn't go to school, I stopped being invited to parties, my old friends drifted away and the new friends I made during treatment were dying. Ask any kid with cancer today if this sounds familiar – they'll likely say yes. Unfortunately, things haven't changed much and that's why we need your help.
Nora was diagnosed with childhood cancer at 10 years old. Now she has been cancer free for 30 years.
Like many kids and families experience today, my 22 months of treatment were toxic and horrifying. I remember getting injections of dangerous medications, then waiting for 30 minutes to see if the dose would send me into cardiac arrest. I would just sit calmly with my mom by my side, waiting for the minutes to pass.
One night, after a particularly brutal treatment, I crawled in my mom's lap and told her I wanted to die. I told my mom – who was doing everything she could to get me through treatment and who loved me beyond anything – that I wanted to die.
No child should wish for this. With your continued support of St. Baldrick's, working to find better cures and treatments, you can change this reality for kids fighting cancer today. But research doesn't benefit just the kids with cancer – research benefits the whole family. Better treatments mean that no mother will have to hear their child say, "I want to die."
Thinking about what cancer did to the people I love is one of the reasons I never had kids. Some parents, unfortunately, know this all too well. I can't imagine taking the role my mom did – having to push your child near death, knowing it is their only chance to live. I refuse to take on the responsibility of a child, knowing I might get a secondary cancer because of my treatments and risk leaving my child without a mother.
Childhood cancer continues to impact other parts of my life too. Just recently, I broke my back. This happened because my body was weakened by my cancer and treatments. That's the unfortunate reality for childhood cancer survivors. By the time they're 45 years old, more than 95% will have a chronic health problem and 80% will have a severe or life-threatening condition. And the emotional effects are there as well. When they did the MRI for my back, they found a tumor. Luckily, it turned out to be benign. But in those days of waiting to hear, the memories I had suppressed about those horrible 22 months came rushing back.
Finding less toxic cures and better treatments is why I am part of the St. Baldrick's community. I have raised money by shaving my head and have given my voice when asked. Like you, I have donated money of my own. Together we're going to make it better, because St. Baldrick's funds research to prevent lifelong damage caused by treatments given while young bodies and brains are developing.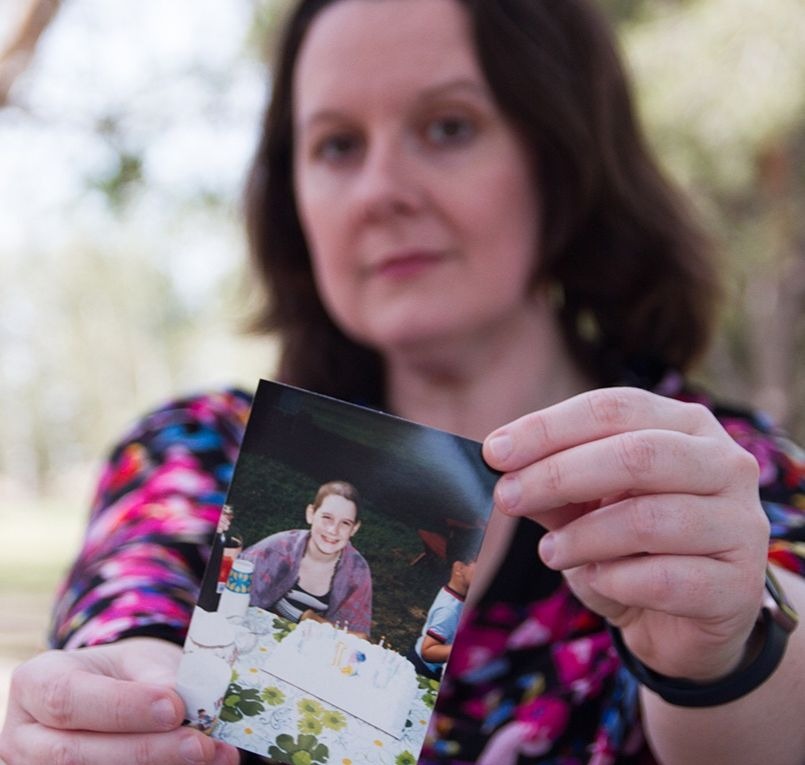 Nora holds a photo of herself, taken in 1988 when she was diagnosed with stage 4 cancer.
Because of people like you who support the best childhood cancer research, I am a 30-year survivor. For that, I will always be very grateful. But it is not enough – I need you to join me in this fight. No mom should have to hold their child as they beg to be allowed to die and no child should have to go through what I did. Cancer should not be allowed to leave lasting marks and create damage 30 years later. WE MUST DO BETTER FOR EVERY CHILD.
We need your help to give these kids better therapies now. I urge you to make a pledge today to every child currently in treatment and for the thousands yet to come. Give $100 in honor of every survivor out there and in memory of every child who wasn't as lucky as I am.
Sincerely,
P.S. For any of you currently in the fight, this is what I wish someone had told me: It is okay to be scared. Look to the people who are there with you – your parents, doctors, family – and all the people who are part of St. Baldrick's working to make this better for you. Know you are not alone.
The effects of cancer are lifelong — but they don't have to be.
Fund the best research today and give childhood cancer survivors the chance to live long, healthy lives.
Donate >
Read more on the St. Baldrick's blog: