Honored Kid Brooke was diagnosed with PH+ acute myeloid leukemia in 2015. She is now a survivor, but that doesn't mean life is easy, 'normal' or back to a fraction of what it was like before cancer. Brooke explains…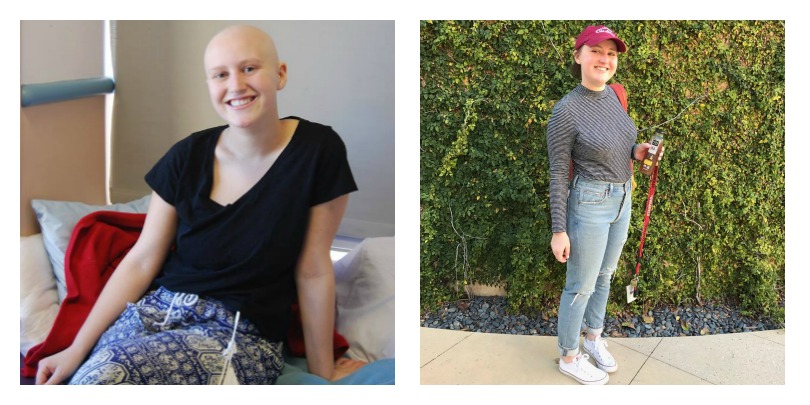 (Left) Brooke during treatment after her 2015 diagnosis. (Right) Brooke poses for a photo during her first day back at school this year.
Cancer survivorship isn't pretty. When I was diagnosed, I imagined that if I survived, my life after cancer would somehow be sweeter. Maybe I would appreciate the little things more or unlock some secret wisdom that would render me happier, more peaceful. This was believable through my first few rounds of chemo.
Then, I had a bone marrow transplant and became so ill that I spent five months inpatient post-transplant. Three of those months I was completely NPO (nothing by mouth) due to grade 4 acute GVHD of the gut, or graft-versus-host disease.
The torture I endured is indescribable. Over a year after my discharge, the effects of my treatment permeate every single moment of every single day.
Here are 5 facts about childhood cancer survivors that you should know >
I am grateful for many things. But I struggle to put them into words, because I feel so defensive about how impossible it seems for people to admit that much of my experience was horrible. I know that it is difficult to admit that a situation is terrible, that we so frequently feel like we must solve a problem, but often a "You're right, this sucks!" more than suffices.
(Though you can throw in a gift card to Madewell, Crate and Barrel, or Sephora and I won't complain.)
Many of the biggest problems in my life still revolve around cancer. They are not as serious as my problems were when my chemotherapy didn't work or when I almost died of GVHD or when I was in the ICU on a ventilator.
But that does not mean they are not real or valid.
So frequently I have friends afraid to tell me their problems because they fear they are not valid in the face of my illness. They absolutely are. In the same way, my struggles with having a puffy face or bald patches in my head or weak muscles or just plain wanting to go on vacation were valid in a dimension separate from my gratitude that I am alive.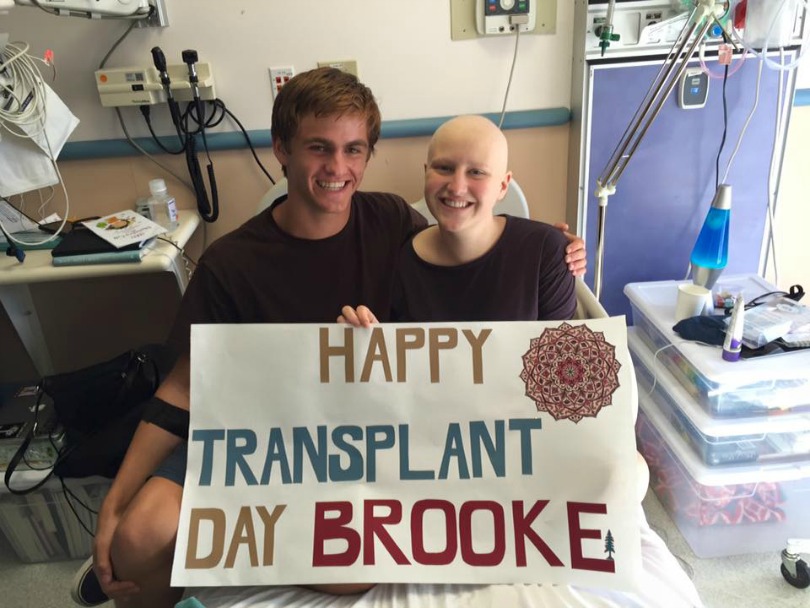 Brooke with her brother and bone marrow donor, Jack, on the first day of her bone marrow transplant.
When I complain to someone that no one could figure out why my hair wasn't growing in and they replied, "Look at the bright side, at least you have hair!" or worse, "At least you are alive!" it makes me feel like they do not see that my humanity is equal to theirs, like they feel that because I had cancer I should simply be grateful to be alive and have no other wishes.
Imagine if you called up your friend, told them you were going through something tough like a break-up or an injury or a bad grade on a test and they said, "At least you're not dead!" Kind of jarring, isn't it?
After seeing a dermatologist to address the large bald patches on my head, I felt so relieved when she said, "This is not normal." Some theories are that it is: Busulfan-induced alopecia — permanent — my dysfunctional immune system attacking my hair follicles — not permanent — or my hair follicles are dead —permanent. I hope for the immune system one.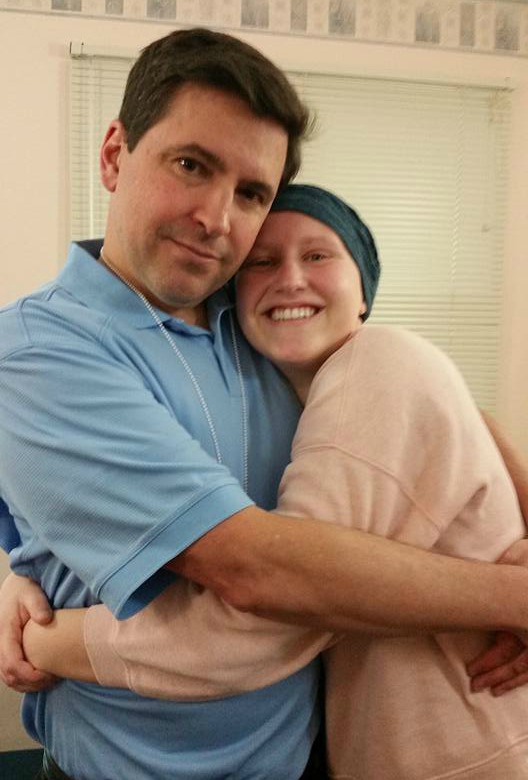 Brooke with her dad, Paul.
My silver linings are that this doctor heard me and validated me without soliciting my gratefulness for my life. My silver linings are spaghetti and meatballs and peppermint bark and warm coffee while it rained outside. They are my scheming to return to school, a beautiful trip to Point Reyes with some important people, watching reality television and feeling completely unashamed.
They are things to look forward to, like my Levinthal Tutorial at Stanford and my research in pediatric immunotherapy.
They exist alongside my grievances.
I get stronger every day. I have returned to school and this summer I am healthy enough to be working across the country at an internship in New York City. These silver linings are not lost on me.
But my hair still hasn't grown in and I will never have my fertility back. I have graft vs. host disease in my eyes, gut, and skin, which means I experience almost constant pain.
Last week, I watched my college class graduate. It's hard to admit how hard a childhood cancer diagnosis has been and will continue to be.
Let's make a deal.
I'll continue to find my silver linings — and you'll allow me to mourn what I've lost.
This post was adapted from Brooke's blog at AMLetc.com.
Childhood cancer survivors like Brooke deserve better treatments and cures, so they can live long, healthy lives. Donate to Brooke's St. Baldrick's fundraiser today.
Donate >
Read more on the St. Baldrick's blog: