Marianne's daughter, Melissa, is a 31-year survivor of pediatric brain cancer — essentially, she's a miracle. But being a survivor doesn't mean that the childhood cancer journey is over. Just the opposite. Here is Marianne with the story of a recent difficult chapter of Melissa's ongoing struggle with the long-term effects of her treatment.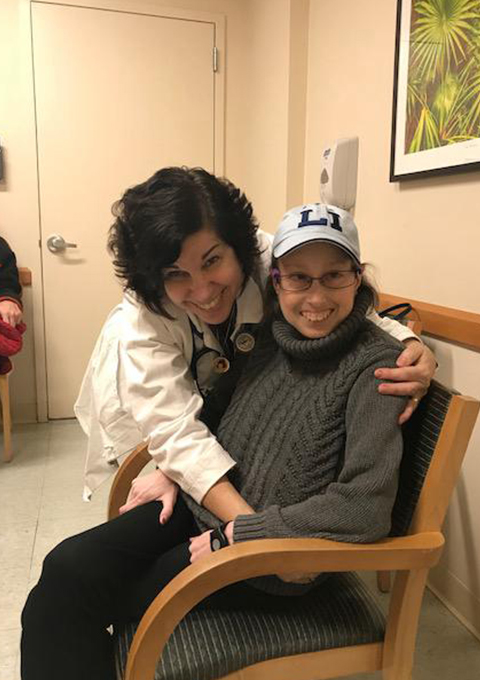 Marianne's daughter, Melissa, with her nurse of 31 years. Melissa was diagnosed with brain cancer as a child and has since struggled with severe long-term effects from the intense treatment she received.
It's been over 31 years and it can still make my heart race with fear. Cancer. Cancer. Cancer.
Melissa, my daughter, has lived independently for over 17 years, despite limitations caused by treatment for pediatric brain cancer. Seventeen years after finishing treatment, she began suffering through many seizures and 8 strokes. She was forced to quit her job with Disney and rely on disability benefits to pay her bills.
Learn more about childhood cancer survivors like Melissa >
But she was still independent. Her tenacity enabled her to live alone in warm, sunny Florida, where she loved to be. She still came home to New York to visit, but she treasured her life in the Sunshine State. She was free, independent, happy – but then everything changed.
A few months ago, she began falling.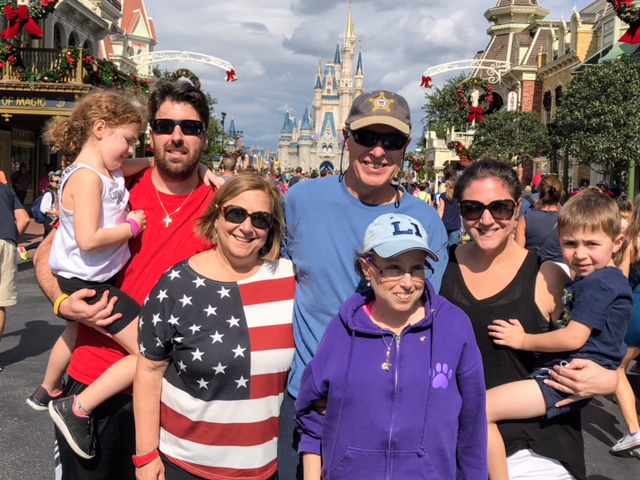 Melissa (center) enjoys a visit to the Magic Kingdom with her family.
The first time, she went outside to walk the dog and he pulled her. She fell on her face and chipped her front tooth. The second time, she lost her balance and tumbled backward down five steps while we were visiting her. In November, when she was home in New York with us, she went to stand up from sitting on the sofa. It was like watching a video in slow motion. She lost her balance and went down as if someone had pushed her.
We thought we had time. We didn't see how fast her decline was creeping up on her. In that
instant, as I helplessly watched her fall, I knew that my daughter's life had changed forever. I realized that if she was falling when I was with her, she must be falling when I am not there and that she was most likely hiding that information from us out of fear of losing her independence. I knew that she had to move home with us immediately. She could never return to Florida alone.
Slowly but surely, her life is slipping away, like sand through her hands.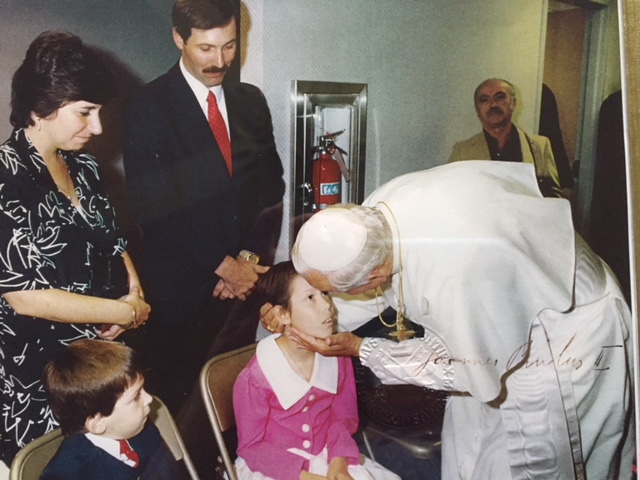 Melissa meets Pope John Paul II in September 1987.
Gone were the days when she could stay in her own home. Gone were the days when she didn't have her mom watching her like a hawk to the point of total annoyance. Her new reality is that she will live with us forever. I will always be watching. She will not have privacy. Even if she is in her own room, she will be like a small child whose mom is worried about her safety. When she gets up to walk with her walker, I will be watching. When she gets up to use the bathroom, I will be watching. When she is asleep in bed, I will be listening.
She has lost her dignity as a grown woman of 40 years. She is now a perpetual child and I am her caregiver. I dispense her 22 pills a day because I cannot trust that she will remember.
I am so sad. I don't remember if I have ever been this sad before. Scared? Yes. But not this sad. Melissa seems to be disappearing before my eyes. She's losing weight. She vomits frequently. She was recently hospitalized for dehydration, kidney failure, and other health issues. Never, not in a million years did we see this coming. We expected that her life would be difficult, being one of the first survivors with her type of cancer. But we didn't expect this.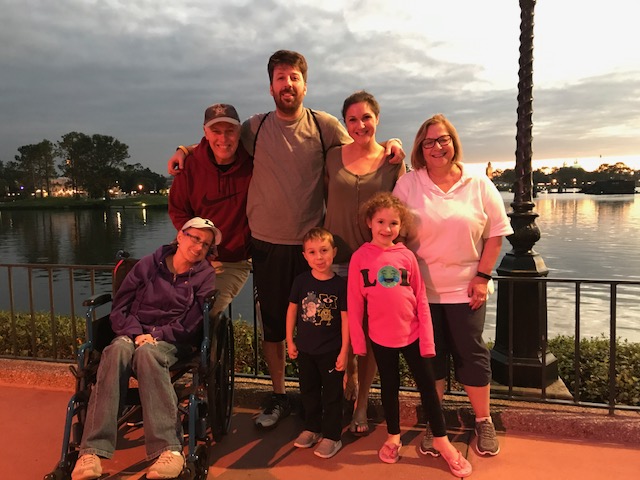 Melissa and her family enjoy a beautiful evening together. Melissa is a 31-year survivor of pediatric brain cancer.
I am heartbroken for her. She has watched her family and friends from childhood grow up, date, get married and have children. Now, at the age of almost 40, she is leaving the home she's known for nearly two decades and moving into a small part of her parents' house, so we can take care of her. When I look at her, I am overwhelmed with sadness for her. I try to imagine what it would be like to have someone take over my life like that. She is now a geriatric patient at the age of 40. This should not be the reality for any childhood cancer survivor.
One of the hardest things for me to accept is that people think that if you are a survivor, you are fine. That's not true in the brain cancer community. Surviving means that you survived your cancer, but that you are sentenced to a lifetime of late effects. I am grateful that she did survive, yet I am still so sad watching my survivor struggle every day of her life. Melissa was cured, but now we are spending the rest of her life trying to cure the cure. That's not right. We need to do better for my Melissa and survivors like her.
We just have to do better.
Struggling to 'cure the cure' should not be the reality for survivors like Melissa.
Together, we can help them survive AND thrive – fund research today.
Donate >
Read more on the St. Baldrick's blog: