Tuesday and her twin sister, Piper, were born on time and healthy. The whole Whitt family was, as mom Jessica put it, happy and healthy, with rarely a cold. But in 2008, childhood cancer would change everything.
Tuesday Whitt was almost 2 years old when she was diagnosed with neuroblastoma.
When identical twins Tuesday and Piper were a year and a half old, Jessica noticed something odd. The girls didn't look so alike anymore. While Piper looked plump, pink and healthy, Tuesday didn't. The usually precocious little girl just wasn't herself.
"She was just clingy, and she wasn't a clingy kid," Jessica said, explaining that doctors thought she was anemic. "She was an independent, funny, happy little girl. She wanted to be held a lot more and didn't want to eat much. Other than that, no real clue — certainly no clue that she had cancer."
After multiple visits to the doctor's office, they were sent to the emergency room and then to Children's Hospital Colorado with the diagnosis of a blood disorder.
"She was on life support within a matter of days of checking in," said Tuesday's dad, Charley.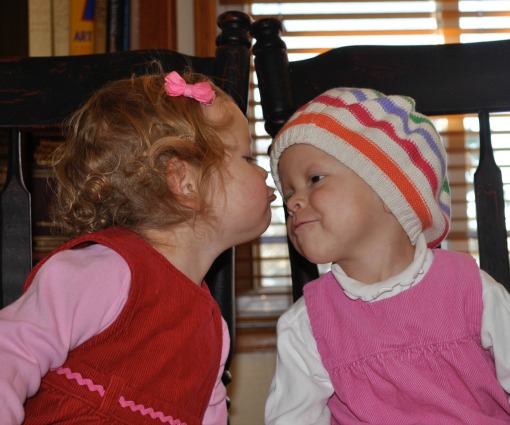 Tuesday and her twin, Piper, share a kiss.
It was stage IV high-risk neuroblastoma. The tumor had aggressively grown to the size of a cantaloupe in the toddler's 25-pound body.
"I didn't even know kids could get cancer, honestly — other than leukemia, but that was so far off our radar," Jessica said. "The girls were born full-term, healthy twins, with no C-section. Nobody got sick ever. We were a healthy family. It was not something that we would ever have considered."
Tuesday's treatment
Tuesday initially responded well to chemotherapy and radiation. The next step was a bone marrow transplant. But four days before the transplant, around Christmas, the 2-year-old relapsed.
They desperately tried different chemotherapies and searched for a clinical trial that could help their daughter, but nothing was working. They were told to put her on hospice care.
Jessica remembers the doctors saying they had about six months. "I said, 'Could it be less? Could it be three months?' Maybe. 'Could it be a month?' Maybe. 'Could it be less than a month?' They said, 'Maybe,'" she recalled. "I saw how quickly she was deteriorating in front of our eyes and she died the next day."
The day she died, Tuesday asked to go see the horses at the park, which was walking distance from their house.
"It was devastating for all of us," Jessica said.
The road trip
Soon after losing Tuesday, the Whitt family piled into an RV and left the familiar behind.
"That was our family's attempt to go out and figure out what our new normal was — but also to get away from everything that we had just been around," Charley said.
The Whitt siblings feed geese at a campground in Savannah, Georgia, during their road trip.
They did a massive loop all around the United States. A small container of Tuesday's ashes sat on the passenger side, by Jessica's feet.
"It was kind of like Tuesday was another co-pilot on the trip," Charley said.
During their first week on the road, the family visited the Oregon coast. They parked their rig about 50 feet from the ocean, in a spot sheltered by big, old trees. That became their favorite stop on the whole trip.
After about six months, when they reached New Orleans, the Whitts turned around for home.
The Whitt family during a St. Baldrick's event in 2011. Photo courtesy of Autumn Burke.
Team Tuesday
About a year after Tuesday's death, Charley and Tuesday's brother Spencer signed up to shave for St. Baldrick's.
More than a dozen people joined them and Team Tuesday was born.
"It's just gone bananas since then," Jessica said. "Every year, we think, 'Oh gosh, we'll never raise as much money as we made the year before and we'll never get as many shavees.' And then every year we get twice as much."
Now, the team is nearly 100 strong. Some of the kids shaving in the event have been going under the clippers every year for more than half their lives. Piper, Tuesday's twin, has been shaving in honor of her sister since 2015.
"The coolest thing for us is to see the kids feel empowered and not scared. It's a scary topic, but they see that they're making a difference and they see that these are kids just like them," Jessica said. "So, we may someday have oncologists and nurses and doctors in this pack of little shavees because they were so moved and impacted by it."
All in all, Team Tuesday has raised a mind-blowing $441,000 since 2010 and they're still going strong.
"It's so fantastic that we can stand up year after year and say, 'This is what we've raised, this is what we're doing and look where your money has gone," Charley said.
Read about the St. Baldrick's-funded research that led to a new drug for kids with neuroblastoma >
Jessica holds Tuesday's twin, Piper, before her first shave. Photo courtesy of Autumn Burke.
The event has been both tough for the family and cathartic. Jessica and Charley are so proud of Tuesday's siblings, Axel, Spencer and Piper. They've all persevered and gotten stronger.
"It's humbling," Jessica said. "You don't think it's possible, but it's possible. And having a cathartic event like this — I think it's definitely contributed to our semi well-being as a family. It's given us all something to come together for good."
Cheer on Team Tuesday by donating on their page and funding childhood cancer research!
Give
Read more on the St. Baldrick's blog: