Childhood cancer doesn't just affect the child who's diagnosed, it affects the entire family. May's Advocate of the Month — the Lautieri Family — is fighting back. Read on for more about the family's cancer journey with Honored Kid Grayson and why they continue to speak up and give back.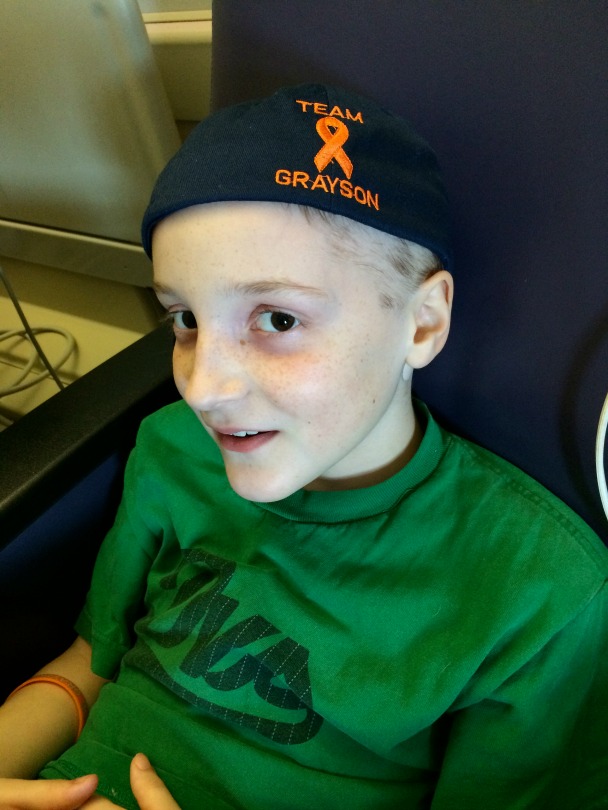 Grayson wears a hat emblazoned with his team name.
When Honored Kid Grayson Lautieri finished treatment in April, he was done with chemo, but he and his family weren't done fighting against childhood cancer.
Just a month later, the family from Rhode Island was in Washington, D.C. at the Alliance for Childhood Cancer Action Days, meeting legislators and advocating for kids' cancer research. Grayson and his mom even got to meet one of the biggest champions for childhood cancer, Senator Jack Reed, and talk about their experience with him.
But not only that, the year that Grayson was diagnosed with childhood cancer, the family joined a St. Baldrick's fundraiser.
The event pits local fire departments —Grayson's dad, Nick is a firefighter — against each other. During its first year, the event raised nearly $35,000.
Grayson smiles with his bald dad and fellow firefighters after their 2015 St. Baldrick's head-shaving event.
Two years later, it's still going strong, with all sides pining and scheming for the coveted trophy.
(Since the opposing department won it last year, Courtney joked that they were going to steal it back one of these nights — though she may not have actually been joking.)
Want to help Grayson's dad get the trophy? Donate to his team — the Portsmouth Firefighters Local 1949 >
"In my situation, I can't walk away from this now that we've been in it and just say, 'OK, I'm done. We've done two years of treatment and now we're going to do our monthly checks and just go on with our lives,'" said Grayson's mom, Courtney. "For me, this is something that's touched me so deeply and now it's time to say, 'What more can we do?' And Grayson feels the same way."
Grayson was diagnosed with acute lymphoblastic leukemia when he was 9 years old. At first, he was sore in chest after a long day playing in the snow. Then, after a hip-hop dance practice, he complained his legs were hurting him. Then there was the fever that lasted a week.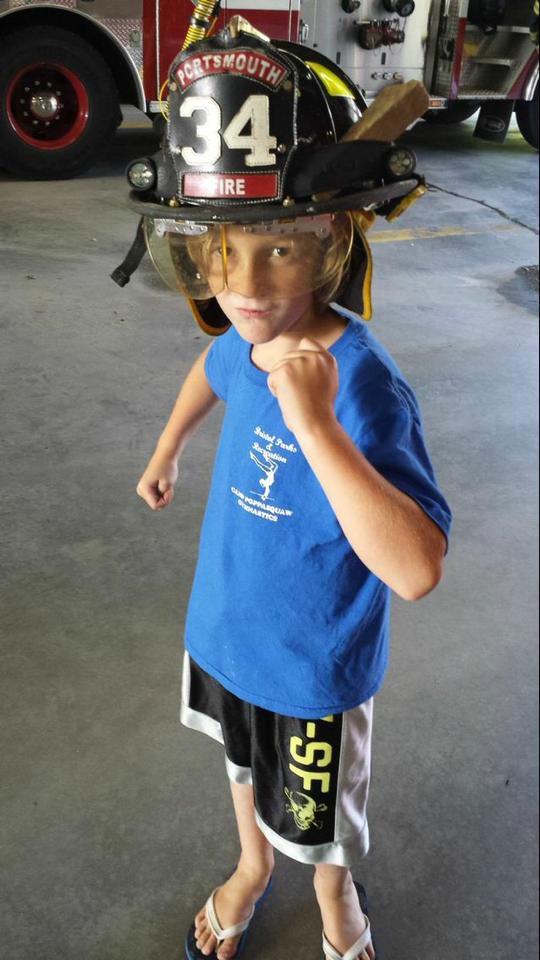 Grayson is ready to fight fire and cancer during a visit to the firehouse.
Finally, before yet another appointment with the pediatrician, Courtney noticed unusually placed bruises and a rash of tiny, pinpoint dots on the sides of Grayson's nose, called petechiae.
That's when Courtney got nervous.
"Within 10 or 15 minutes, the pediatrician came back and told Grayson, 'Why don't you go out and hang in the playroom and do your thing? Get 20 stickers and 15 pencils, I'm going to talk to your mom for a minute,'" Courtney recalled. "I knew as soon as she did that and sat down that there was something wrong. And I knew from looking at the blood work, I knew that it was very serious."
Within just a couple days, Grayson had a port placed in his chest and was put on chemotherapy. His treatment last two long years.
"He truly has grown so much from this and how much he cares about other kids. He doesn't want to see another kid diagnosed with cancer and just wants this to end," Courtney said of her 11-year-old son.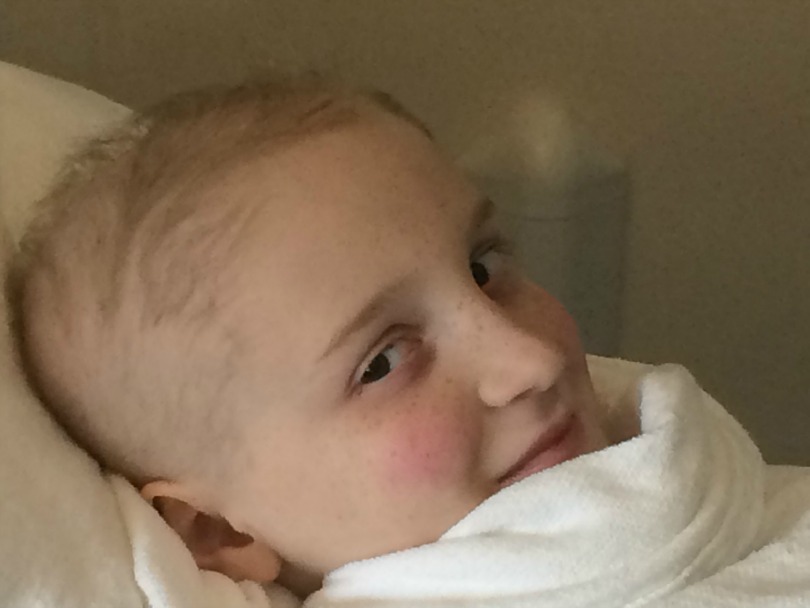 Grayson smiles at the camera during a hospital stay.
That's why his family is involved in St. Baldrick's. That's why they speak up. That's why they advocate. And that's why they'll continue going to the Alliance for Childhood Cancer Action Days with St. Baldrick's and continue stoking the flames of competition between the fire and police departments of Rhode Island.
It's all for kids like Grayson.
"If there's anything that we and Grayson can do and if it's in our capacity to do it, we'll do it," Courtney said. "As long as we can do it, as long as we can do anything to help with advocating for childhood cancer, we'll do it. And that's absolutely from the heart."
You can do something too. Join Grayson and his family in fighting for lifesaving kids' cancer research.
Get Involved
Become an Advocate
Read more on the St. Baldrick's blog: