The March Advocate of the month is Kelly Forebaugh, a hero for kids with cancer who wears many hats — she's the Director of Hero Funds and Memorials at St. Baldrick's, mom to a cancer survivor, a staunch advocate for children's cancer research, a shavee and a regular at Childhood Cancer Action Days on Capitol Hill. What inspires her to do all this? Read on to find out.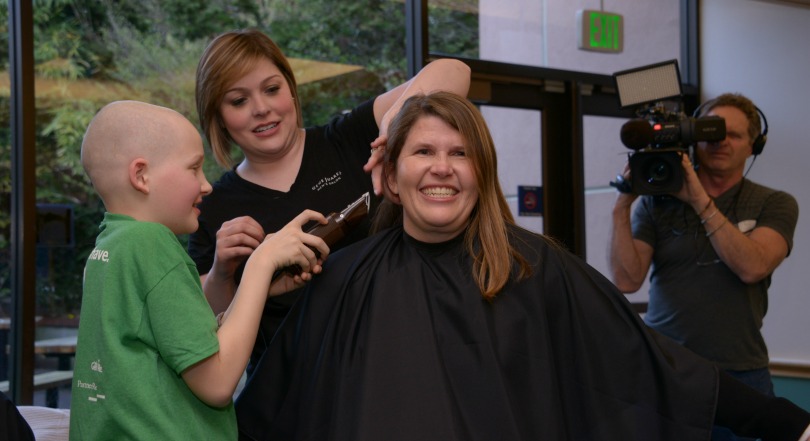 Kelly gets her head shaved by her son, Jackson, during their family's 2016 St. Baldrick's head-shaving event.
In 2005, Kelly Forebaugh's son Jackson was diagnosed with a rare and aggressive childhood cancer in his kidneys, called a rhabdoid tumor of the kidney. He was just 15 months old.
"With his type of cancer, the expectation was that he was going to relapse," Kelly explained. "But the relapse never happened."
Jackson is now 12 years old, cancer free and dealing with the long-term effects of the eight rounds of chemo, 11 rounds of radiation and the surgeries he soldiered through as a toddler. He gets frequent checkups for his heart, which was weakened during chemo, and will have to get most of his teeth reconstructed, since they didn't grow in right.
Learn about the 2 biggest challenges childhood cancer survivors face >
But he's here. He's a big-hearted, easy-going kid who loves Dungeons and Dragons and cheering on Seattle sports teams, especially the Seahawks and the Sounders. He'll be trying out Ultimate Frisbee with his middle school team and is gearing up for flag football season. Plus, there's basketball and soccer too.
Jackson shows his strength during a checkup.
As if he doesn't have enough things to occupy his time, the 12-year-old is also an actor with an affinity for the spotlight. And that's why Kelly is an advocate for childhood cancer research — because their family was lucky. And because luck shouldn't have anything to do with it, she said.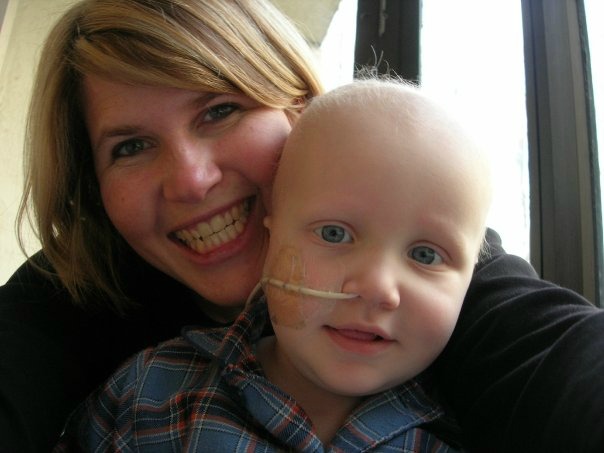 Jackson and Kelly take a selfie during his treatment.
"In all of the work that I do around childhood cancer awareness and raising funds, everything in my mind is focused on paying it forward," Kelly said. "We are very lucky that Jackson is here and I want more families to be able to have that — to have their child survive. That is what has driven all of the work that I'm doing and advocacy is part of that."
Since 2009, Kelly has been frequently traveling from her home in Washington state to rally legislators in Washington, DC. She remembers being so overwhelmed that she burst into tears during that first trip to Capitol Hill, but she persevered. She saw the launch of the St. Baldrick's advocacy program in 2011 and the passage of the Creating Hope Act, which created incentives for pharmaceutical companies to develop drugs for kids with cancer.
It took a lot of work from St. Baldrick's and other organizations to get the Creating Hope Act passed — Kelly had lobbied for it in Washington, DC every chance she got — but the payoff was huge.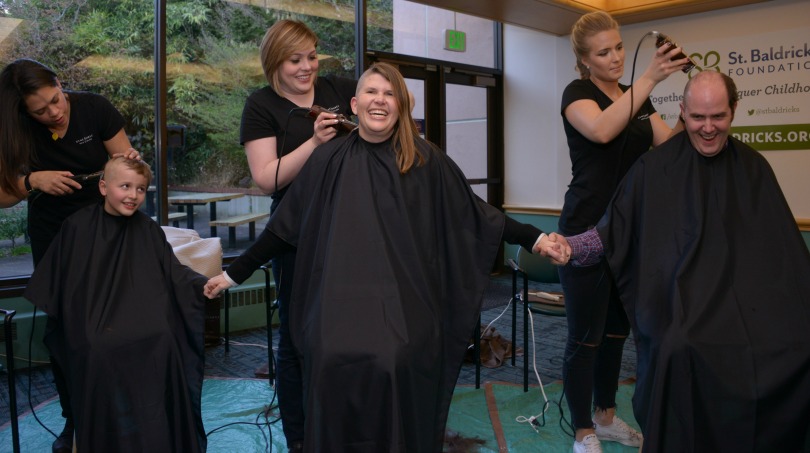 Kelly youngest son, Oliver, and her husband, Gregg, join her under the clippers during their 2016 shave.
The act led to the approval of a new drug for neuroblastoma called Unituxin, a drug that was developed from research funded by St. Baldrick's.
"I got to see that it actually impacted a pediatric cancer drug — a drug that St. Baldrick's had taken an active role in, from funding the researcher to funding the COG trials, to going in and having the advocacy program," Kelly said.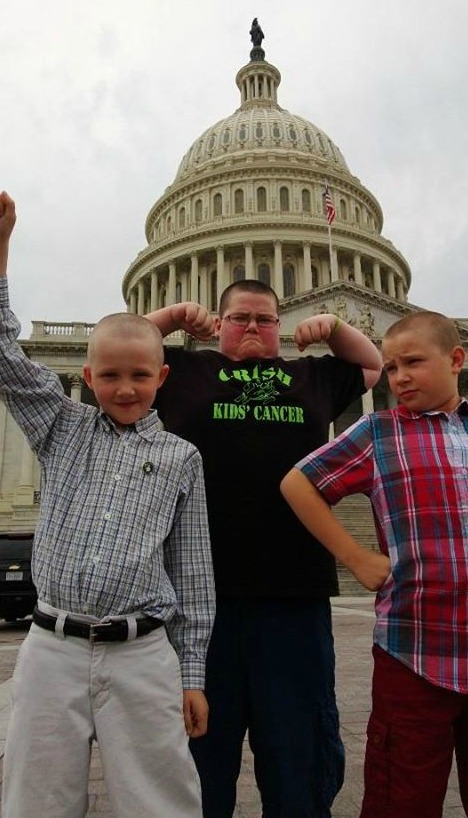 Jackson strikes a strong pose with his buddies during Childhood Cancer Action Days in 2013.
It was a proud moment for Kelly. But she isn't done.
Now she has her sights set on passing the STAR Act, the most comprehensive childhood cancer bill ever introduced.
"Now we have this whole generation of children who have survived their cancer diagnosis and are survivors but they've got special needs that are related to that," Kelly said. "So with the STAR Act, there's a big component of survivorship that's part of that. I've always been sharing Jackson's story, but it ties into the STAR Act really well now."
BLOG: Why I Support the STAR Act >
Kelly is happy to be a voice for kids with cancer on Capitol Hill. In fact, using her voice has been something that's kept her going through the toughest of times.
But she knows that not much is going to change if she's the only one. That's why she takes every opportunity to share her story and to encourage others to speak up for kids with cancer. "Ultimately, the more voices we have, the stronger we will be," she said.
Speak up and join Kelly in fighting for lifesaving kids' cancer research. Together we can take childhood back from cancer.
Get Involved
Become an Advocate
Read more on the St. Baldrick's blog: