Do you care about children's cancer? Do you want all kids to live long, healthy lives? Do you want more funding for more lifesaving research, so kids with cancer can get back to being kids? (Is that a big YES we heard?) Ta da — you're an advocate!
Yep, it's that simple. And now it's time to get down to business, advocate. At this critical moment, when federal research funding is being threatened, it's time to ACT. It's time to speak up for kids with cancer by supporting the STAR Act, the most comprehensive childhood cancer bill to hit the Hill.
And guess what? You don't have to stalk the halls of Congress or shake hands and kiss babies — you can speak up for kids' cancer wherever you are. 
Here are 5 easy ways to be an advocate from home:
1)   Pick up the phone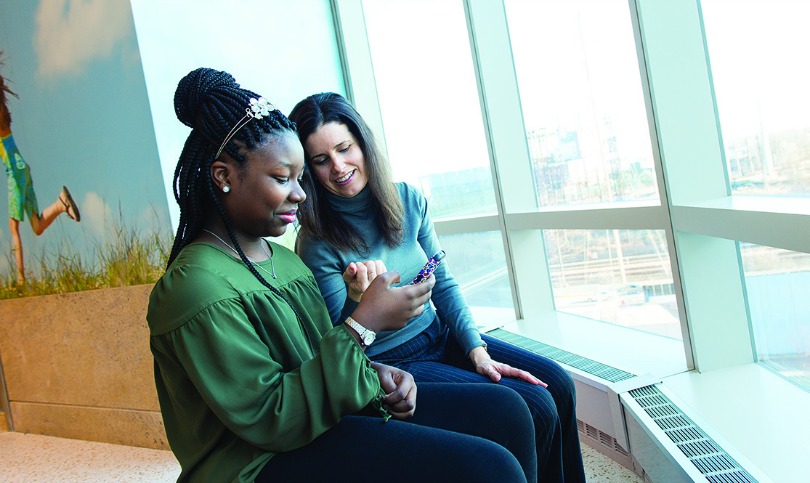 St. Baldrick's researcher Dr. Lisa Schwartz and a patient look at her cell phone and explore an app that's meant to help kids' cancer survivors stay healthy.
You're probably on your phone already, right? Take a few minutes and make a big impact by lending your voice to the cause. Call your member of Congress and ask them to co-sponsor the STAR Act and protect medical research funding for kids with cancer.
Need your legislators' contact info? Here's a handy map >

It's that easy — but we're going to make it even easier. Here's a script to make that call a piece of cake:
Hi. My name is _______ and I live in (where you live in the district/state). I am calling your office today to call on Senator or Rep _______ to support childhood cancer research and make childhood cancer a national priority.

I care about kids with cancer because . . . (Share your personal story or reason why you are involved in supporting kids with cancer.)

Advocates will be on the Hill on Tuesday, May 2nd in support of childhood cancer. Please ask Senator/Representative _______ to cosponsor the Childhood Cancer STAR Act and to support increased funding for medical research at the NIH.

I will be following up with your office to learn about your position on issues that are important to kids with cancer.

Thank you.
2)   Make it a party
Invite five of your friends (or more!) to join you in calling your members of Congress. Make the calls during your playgroup when the kids are distracted, in your college dorm at a study session or throw an advocacy party and flood the phone lines while having fun — who doesn't like a party for good?
3)   Get social
Support the Childhood Cancer STAR Act by sharing the images and messages available on the #StepUp for Childhood Cancer website on your social media accounts.
How? Here are a few ideas:
On Facebook and Twitter, change your profile pic to this image to show your support for the cause!
Use the hashtags #StepUp for #STARAct when speaking up for kids' cancer research on Twitter and Facebook.
Did you shave your head with St. Baldrick's? Click over to #SoundOff and tweet your bald selfie to your legislators with the hashtag #Bald4KidsCancer. Use those 140 characters to tell them to support the Star Act and advocate for more funding for kids' cancer research!
Like to count your steps? Share a photo of you "stepping up" for kids' cancer research and use the hashtag #StepUpSelfie
4)   A picture is worth 1,000 words
Put a face to kids' cancer. Share a photo with your member of Congress, because pictures can tell a powerful story.
If you're a parent, snap a photo of your kid(s) and tell your legislators to make kids' cancer a national priority by sharing it on social media. Take a photo of your child's class, because a classroom of kids a day is diagnosed with cancer — that's 36 kids every day and their families getting news no one wants to hear.
And if you're rocking the bald for kids' cancer research, definitely don't forget to share your #BaldSelfie!
5)   Introduce yourself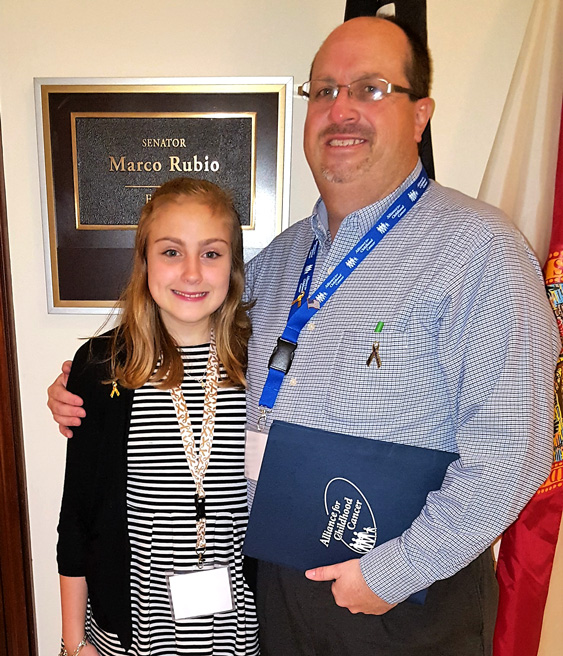 Sydney, a childhood cancer survivor, visited Senator Marco Rubio's office with her dad during Childhood Cancer Action Days in 2016.
There's nothing quite like a face-to-face meeting to inspire change. Go to your district office and say hello. We promise they don't bite!
Establish a relationship with your local office. Tell them why you care about childhood cancer. Whether you shaved, know a child with cancer or just downright care, sharing your passion for the cause makes an impact. Then, last but not least, request a meeting with your member of Congress and ask them to support the STAR Act
Are they already a co-sponsor? Check this map to find out. If they are, tell them thank you from ALL of us!
Want to learn more  on how to Speak Up for kids' cancer? We're here to help! Drop a note to: advocacy@stbaldricks.org
Speak Up for kids' cancer — join our advocacy network today and you'll receive alerts when your help is needed most.
Join Speak Up
Read more about advocacy on the St. Baldrick's blog: