When Brian flies around the world for UPS, a little piece of Ambassador Brooks comes along on the trip – his favorite toy, Hot Wheels cars. "I think about him every day now," Brian said of Brooks. Learn about how this pilot and his wife, Natalie, were inspired by Brooks and took to the skies (and the barber's chair) to fundraise for childhood cancer research in Brooks' honor.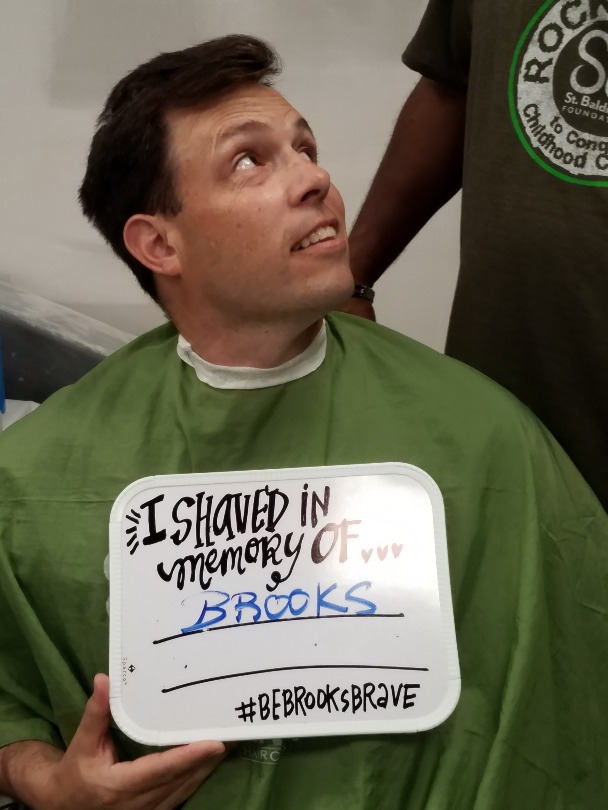 Brian shaved at the Be Brooks Brave and Shave head-shaving event in Indiana to honor Ambassador Brooks, a local 6-year-old boy who died of brain and spine cancer in 2016. "Unfortunately, we never had the opportunity to meet Brooks, but his story is definitely in our hearts, that's for sure," said Brian's wife, Natalie.
When Brian's wife, Natalie, first read about Ambassador Brooks on Facebook, she couldn't get the story out of her head and her heart. He was so young, innocent and healthy looking, but he had pediatric brain cancer. With his dark hair and dark eyes, Brooks reminded Natalie of her own son. 
"It could be anyone," she said. "What was so scary to me is that it's not like someone who has smoked a pack of cigarettes a day for their whole lives. He was a child."
Natalie wanted to do more. That's when she read about what Brooks' mom, Tracey, was doing to spread his story – she was hiding his favorite toy, Hot Wheels cars, across the country. Tracey packaged the toys with a copy of a painting that Brooks had made, a summary of his story, a few statistics on kids' cancer and a link to the Be Brooks Brave Hero Fund.
"I thought, well, this is something that we can do to help because my husband travels," Natalie said about her husband Brian, who is a pilot for UPS and often flies internationally.
When Ambassador Brooks was just 5 years old, he was diagnosed with two stage 4, inoperable anaplastic astrocytomas in his brain. A big fan of Hot Wheels and salami sandwiches, Brooks radiated joy and faced his cancer with bravery. Brooks died in May 2016. Remember Brooks by helping kids with cancer — donate to lifesaving childhood cancer research today.
At first, Brian didn't understand why Natalie was following Brooks' story so closely, especially when it was breaking her heart.
"I said, 'Why are you doing this to yourself?'," Brian recalled. "Then he passed and she asked me to do this Hot Wheels thing. I guess I faced the music that this happens to people. It could happen to me. I just internalized it and thought, 'Well, if this happened to me, I'd appreciate it if my fellow citizens did something like this.'"
"Brooks faced adversity with a "faith over fear" attitude and was brave beyond his years," said Brooks' mom, Tracey. Read more about how Tracey spreads joy and hope in memory of her son >
And that's where it all began.
Brian, Natalie and the kids have left 'Brooksy' cars (as the kids call them) everywhere from Philadelphia to Indianapolis to Miller Park in Milwaukee, where their oldest son, Henry, is proudly standing next to one of the Hot Wheels they left for a lucky baseball fan. Wherever they travel, the kids will ask to bring a few Hot Wheels along. "It seems like whenever we do something family-oriented, we always include Brooks and we take a car," Natalie said.
First, Brian dropped Hot Wheels at a park in Incheon, near Seoul, South Korea. Then he hid some in a cathedral in Cologne, Germany. A colleague took a few cars and hid them around London, England. Then Brian left about a dozen in a box in Louisville, Kentucky, at an office where the pilots and crews gather to complete paperwork and mingle during their nightly travels.
Brian included a sign with a photo of Brooks' family and a summary of his story, plus a note encouraging pilots to bring them along on their trips within the United States. (Brian figures that more donations are likely to come from domestic sources, rather than international ones.)
Earlier this month, Brian took his efforts to the next level. He decided to shave at the Be Brooks Brave and Shave St. Baldrick's head-shaving event, held on May 19, days before the two-year anniversary of Brooks' death.
"To this day, sometimes I sit there and I look at my own kids and just imagine if that happened to them," Brian said. "That's why I'm doing it."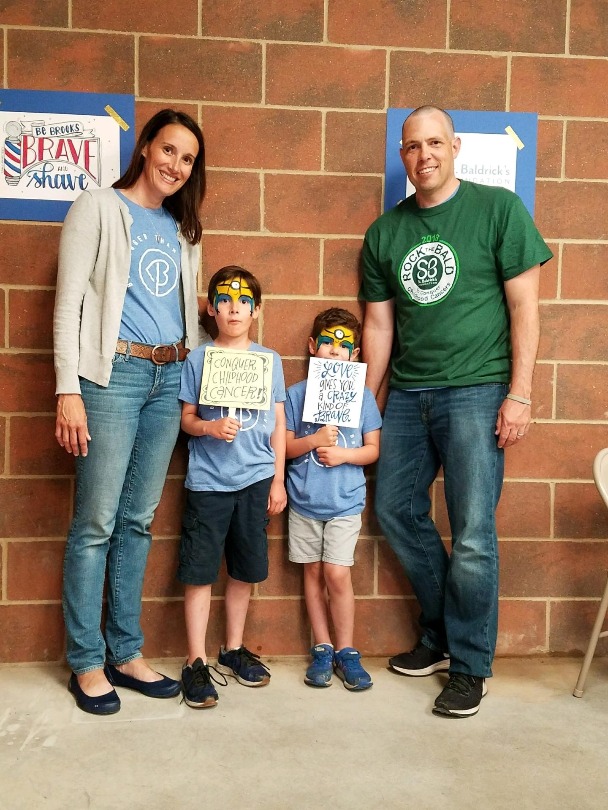 Brian, Natalie and their boys smile proudly (and baldly) after Brian's shave with St. Baldrick's.
Reaching out to his colleagues in the airline industry, friends and relatives, Brian raised $1,000 in just a week. All in all, he blew past his goal to raise nearly $6,000 for kids' cancer research, all in honor of Brooks – so kids with cancer like him can get the better treatments and cures they need to survive and thrive.
"I know that no child did anything to bring cancer onto themselves," Brian said. "And I know that they deserve more than what they are getting."
Help find childhood cancer cures today. Donate to the Be Brooks Brave St. Baldrick's Hero Fund and fund lifesaving kids' cancer research.
Donate >
Read more on the St. Baldrick's blog: