Tracey Blackmore lost her son Brooks to brain cancer last year. In this guest blog, she describes how she both grieves for her little boy and gives back in his honor.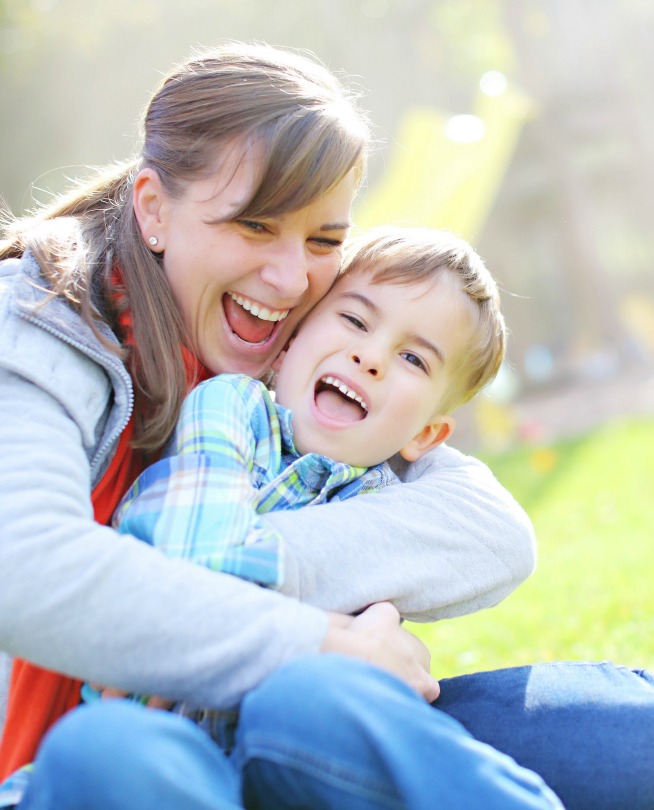 Tracey and Brooks laugh together.
There are so many different ways to deal with the grief of losing a child.  There is no "right" way, but I knew what MY way had to be.  I knew I had to wake up everyday and choose happiness in my son's honor.
Brooks Blackmore was only 5 years old when he was diagnosed with two stage 4 brain tumors on June 13, 2015.  We were told that they were inoperable, there was no cure and radiation was the only hope to prolong his life.
He battled so hard and did everything he was asked to do, but in March 2016, another tumor was found in his cervical spine. It was resistant to radiation. Brooks gained his angel wings almost one year ago on May 21, 2016 at the innocent age of 6.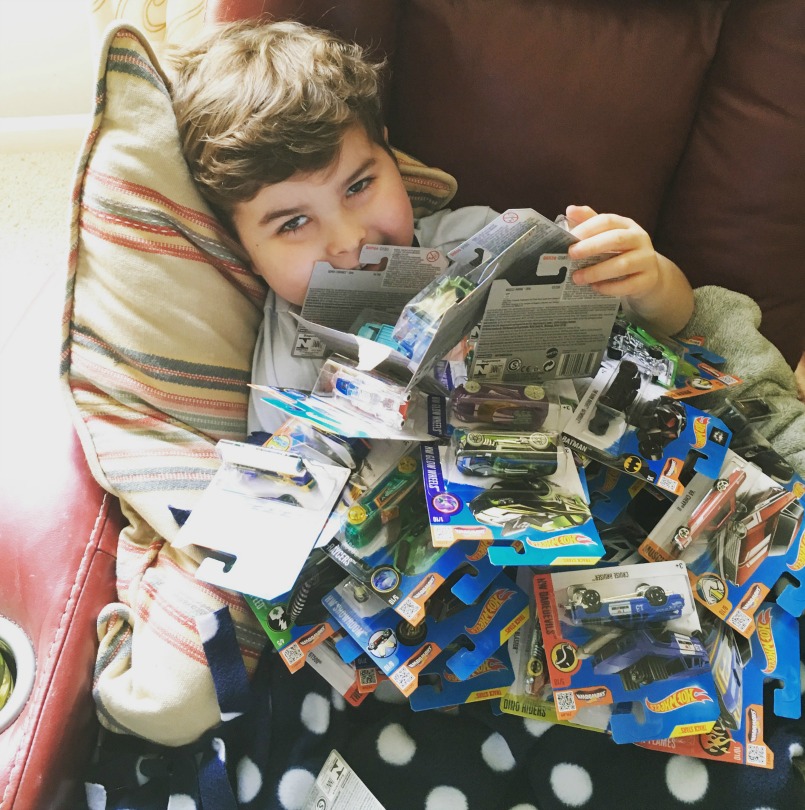 Brooks smiles under an avalanche of his favorite toy — Hot Wheels.
Brooks faced adversity with a "faith over fear" attitude and was brave beyond his years. Now I follow his example as I try to make this world a better place in his honor.
I needed to do more about finding a cure for pediatric brain tumors, so no other family would experience our heartache.  I wanted to create a lasting legacy for Brooks.  I wanted his life to mean something and I wanted a way to continue to show him how much I loved him.
How would I do something like that?
Hide his favorite toy around town for other kids to find, of course!  I decided to package a Hot Wheels car, along with a copy of the painting he made when battling his brain tumors. I labeled it with a sticker that said, "Finders keepers."  On the back of the painting was Brooks' story, childhood cancer statistics, and a link to the Be Brooks Brave Hero Fund with St. Baldrick's.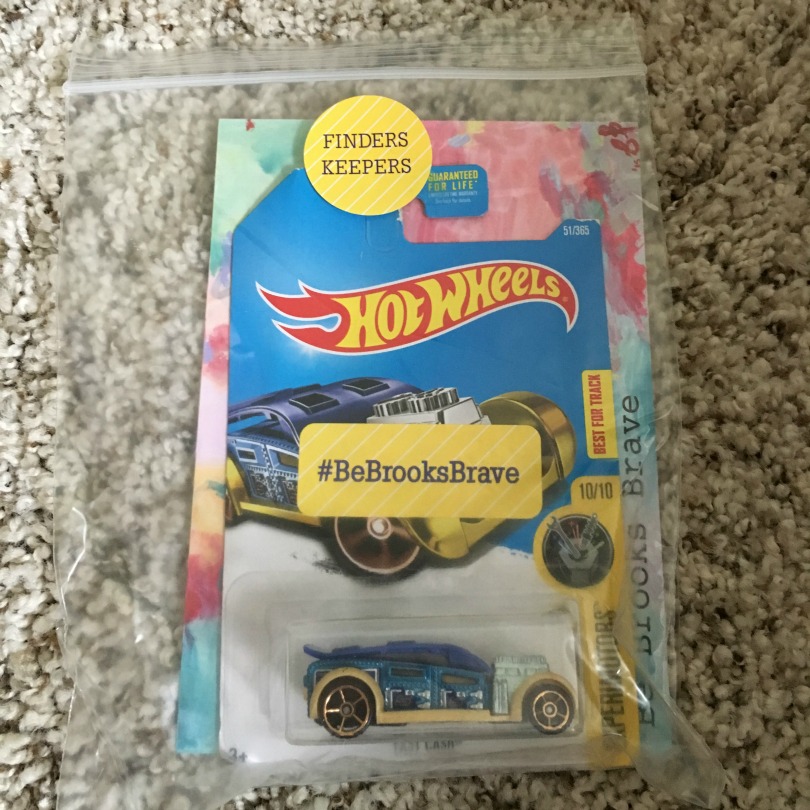 The Brooks Hot Wheels bags have been found by happy kids all across the country.
We have sent out more than 2,000 of Brooks' Hot Wheels bags around the world to people inspired to spread kindness in their hometown! My hope is that Brooks' story can reach as many states and countries as possible to help spread awareness about childhood cancer and to raise money for a cure.  However, throughout this journey, I have found my greatest joy has been spreading happiness to other children.
Inspired? Honor Brooks and his mom by funding lifesaving research through his Hero Fund >
I've gotten responses from New Mexico and Arizona and California, to name just a few different places. They have been so amazing and heartfelt. They also seem to come at times when I need them the most and help lift me up at my lowest.
"Today while at the play area at Periwinkle Shops my son found your Hot Wheels car that you left. At first we were going to just leave it because I thought someone dropped it but when I looked closer I noticed it said Finders Keepers…I cannot fathom the heartbreak you and your family have to endure. I am a mother of 4…It's my worst nightmare that something might happen to one of my children & it's something that I worry about often. Your message on the back of Brooks' beautiful painting is so powerful and truly hit home. It is so important to stay present and cherish every moment because your whole world can change in a blink of an eye." – Laura K.
---
"I couldn't help but think: here we are, in a sea of people whose worst moment today is waiting in a 45-minute line IN beautiful weather AT flippen' Disney World having to entertain impatient, yet healthy children —meanwhile the Blackmore's are somewhere, perhaps in sight, approaching their son's birthday without him. Perspective again hit hard, I couldn't shake it. I thought of the Blackmores throughout the day and wished I could just hug mom, cry with her, or hear more stories about Brooks. Strangers yes, but yet somehow now connected… " – Huckabee family
Who would have thought that my son's favorite childhood toy would end up helping piece together my broken heart and at the same time help make the world a better place?
I have learned that there is so much good that can come from bad if you just open your heart. There is always a reason to be happy and there is always hope — you just need to remember to be bigger than brave…Be Brooks Brave.
Give kids with brain cancer and their families hope. Fund childhood cancer research today.
Give
Read more on the St. Baldrick's blog: