Events and Fundraisers
---
When Brian flies around the world for UPS, a little piece of Ambassador Brooks comes along on the trip – his favorite toy, Hot Wheels cars. "I think about him every day now," Brian said of Brooks. Learn about how this pilot and his wife, Natalie, were inspired by Brooks and took to the skies (and the barber's chair) to fundraise for childhood cancer research in Brooks' honor.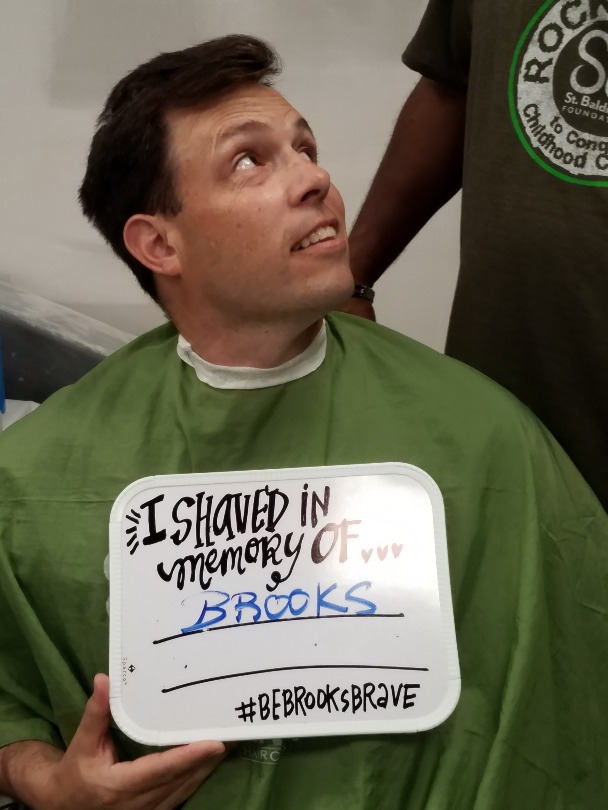 Brian shaved at the Be Brooks Brave and Shave head-shaving event in Indiana to honor Ambassador Brooks, a local 6-year-old boy who died of brain and spine cancer in 2016. "Unfortunately, we never had the opportunity to meet Brooks, but his story is definitely in our hearts, that's for sure," said Brian's wife, Natalie.
When Brian's wife, Natalie, first read about Ambassador Brooks on Facebook, she couldn't get the story out of her head and her heart. He was so young, innocent and healthy looking, but he had pediatric brain cancer. With his dark hair and dark eyes, Brooks reminded Natalie of her own son. 
---
Families
---
Brooks was only 5 years old, but he had a passion for life! He loved dance parties, Hot Wheels cars, monster trucks, Legos and video games.
His favorite holidays were Christmas and the Fourth of July, and his favorite sports were baseball and soccer. Brooks knew every pizza joint in town and loved salami sandwiches.  He enjoyed taking walks to look for rocks or shells on the beach.
---
&nbsp