Brooks was diagnosed with inoperable brain tumors when he was 5 years old. In May 2016, he passed away at home, surrounded by his family. "He did not like me to be sad," said his mom, Tracey. "He had a caring and loving heart. He wanted everyone to be happy."
After Ambassador Brooks got sick, he started painting – a hobby the 5-year-old had never considered before. His art was abstract and vibrant, bursting with life and joy. When he painted, it was as if he dipped his brush into his soul. A little bit of Brooks and his love was in every painting.
It was this art that St. Baldrick's donor Mary Clency glimpsed when she was getting out of her car at the local craft store – a woman was carrying two bags emblazoned with these colorful paintings. Immediately, Mary knew exactly who it was. The woman was Brooks' mom, Tracey Blackmore, someone Mary had held in her heart for years, but had never met.
Brooks had brought them together.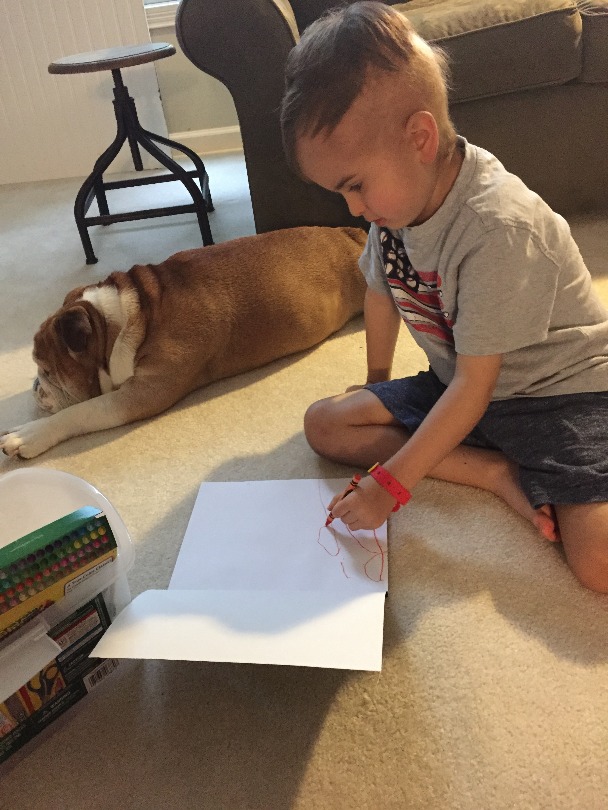 Brooks started drawing and painting after his diagnosis. The boy hid hearts throughout one of his first paintings; Tracey discovered them after he passed away.
A Connection

When Mary read about Brooks and his journey with childhood cancer, she felt a connection. She had lost her mom to cancer and had worked as a child life specialist on a pediatric ward in a hospital. The families even lived in the same area.
"Hearing her story, I was captured by that," she said of following Brooks' progress through Tracey's writing. "This could be anybody's story."
Mary knew she had to do something. So, she reached out to Tracey with a message of support. She said she was praying for them, would give Tracey a hug if they met, and pledged a donation from her family to St. Baldrick's in honor of Brooks and her mom.
The timing was impeccable.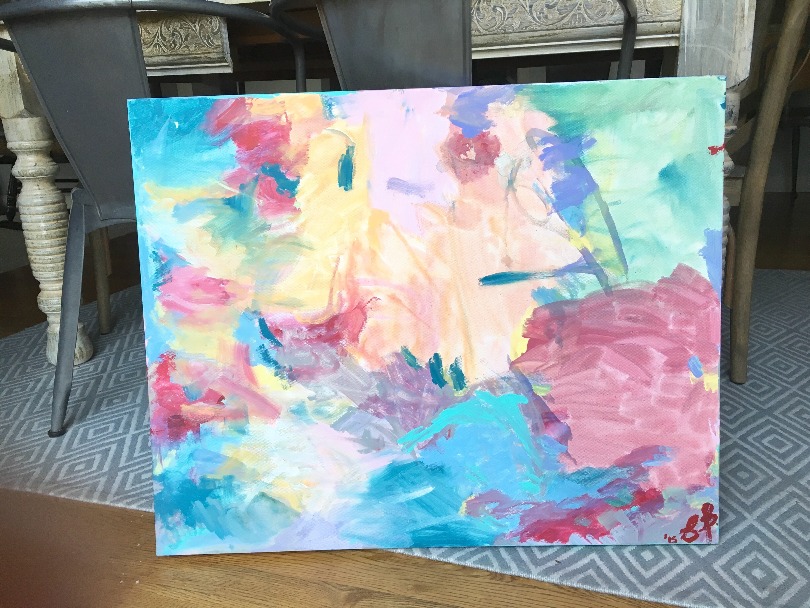 Tracey had her son's artwork printed onto shoes in an inventive fundraiser for St. Baldrick's.
Incredibly, the donation was exactly what Tracey needed to start a St. Baldrick's Hero Fund in honor of Brooks. Tracey saw it as a sign that Mary's mom and her son were working together to make sure everything was going smoothly for the families they left behind.
"I know he's proud. I can feel it. I get signs from him all the time," she said of Brooks.
The little signs appear to Tracey randomly, like pecks on the cheek from above. There are the stinkbugs in the house when there shouldn't be stinkbugs – Tracey affectionately referred to Brooks as her "little stinker." And sometimes she hears his favorite songs on the car radio or over the speakers in the grocery store.
Brooks and Tracey laugh together. "He was so funny and silly, full of personality. Everything was a joke. He brought so much laughter and joy into our lives," she said.
Then there was the day Tracey decided to run an errand and grabbed the reusable bags decorated with Brooks' artwork on her way out the door. It was the same day that Mary took a break from her busy schedule to walk the aisles of a craft store she rarely visited.
"Nothing could have forced me out the door that day," Mary said. "But it was like someone was saying, 'Go run an errand. This is your morning alone.'"
Tracey didn't expect to meet Mary and Mary didn't expect to give that hug that she'd promised – much less in the parking lot of their local Hobby Lobby.
A surprise meeting
Mary was getting out of her car when she noticed the Brooks-themed license plate. Then there were the bags with the beautiful artwork.
Could it be?
Mary walked over and greeted the woman carrying the bags into Hobby Lobby, complimenting her on the artwork.
"It's in honor of my son, Brooks," Tracey remembered responding. Mary smiled and said, 'I know,' and introduced herself.
"I got chills. We were both crying and hugging each other," Tracey said.
The two women talked for a long time. Mary got to deliver her hug and Tracey expressed her gratitude for Mary's generosity. Then they parted ways to do their shopping and continue with their days. But the impact was lasting.
"I ducked into an aisle and lost it," Mary said, recalling that she took out her phone and called her husband. "'You know who did that,'" she told him, referring to her mom. "I think she has done little things to say, 'I'm fine. You're fine.'"
Brooks gives his signature thumbs up.
In her heart, Tracey knows Brooks is watching over her and helping her make the world a better place for kids with cancer. She knows that this connection with Mary wasn't a coincidence.
"That was her mom, and my son, and God making it happen," she said.
Inspired? Give to the Be Brooks Brave Fund and fund lifesaving childhood cancer research.
Donate
Read more on the St. Baldrick's blog: