Last month, Taylor Wiebers took the stage for the Miss America competition, prepared to tell the judges about her passion for St. Baldrick's. But Miss Iowa doesn't just walk the walk — four years earlier, Taylor had shaved off her long, blond curls and raised $3,000 for childhood cancer research. Taylor opens up about her inspiration for shaving, the lessons she's learned, and what she's doing now that the pageant's over. (Hint: It still involves kids with cancer.)
My story starts in December of 2010 when a local St. Baldrick's committee member asked me to volunteer at the first annual shave event in Dewitt, Iowa. Without hesitation I knew in my heart what I should do. I told her I would like to shave my head.
Learn about St. Baldrick's head-shaving events >
She, like many others, thought I was crazy. Not many 16-year-old girls are willing to part ways with their hair, but I knew it would be something that would change my life for the better.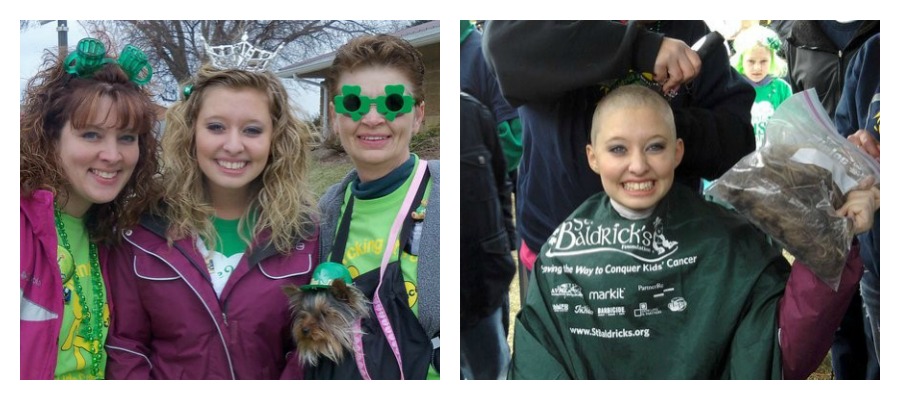 Taylor on the day of her shave in March 2011.
Not long before I shaved my head I met a boy named
Josh
. He was 7 years old and had recently been diagnosed with
acute lymphoblastic leukemia
. Between losing his hair, not being able to go to school, and feeling pretty crappy, he wasn't living the childhood he deserved.
I learned about Josh and his family through an elementary school in my hometown and hoped I could help them. I didn't have a lot to give other than my time. I just prayed that was enough.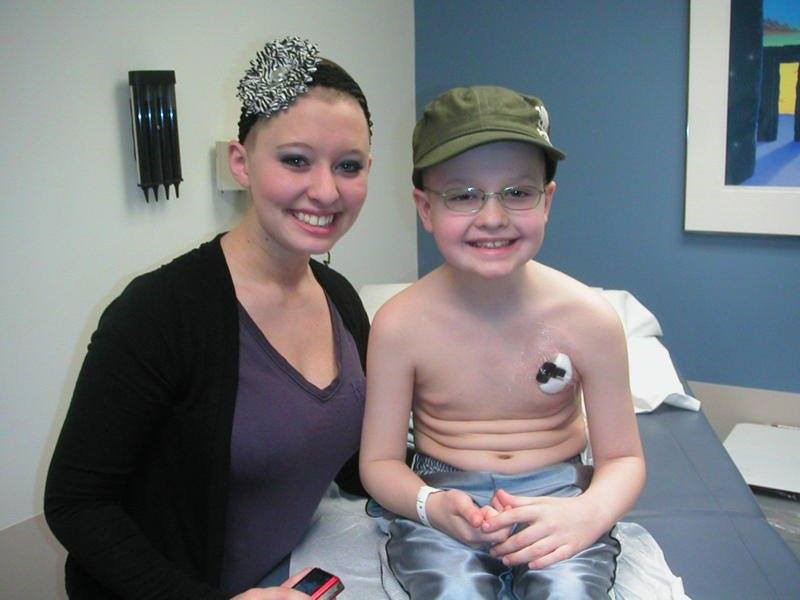 Taylor accompanies Josh on a doctor's visit.
As my shave approached, Josh and I planned to bare our bald heads together to his second grade class. We called it the "Big Bald Reveal." I hoped this would help Josh realize that his hair loss didn't define him, his friends still loved him, and that he could be himself even though he felt so different.
I have to be honest: On the day of the reveal, I think I was more nervous than Josh. I was scared of how the kids would really react. Would they accept us? Or would they laugh or poke fun at us?
Well, the big day came, and it couldn't have gone better. The class loved our bald heads and accepted Josh with open arms. That was the moment that Josh and I officially became "The Bald Buddies"!
That was also the moment when I knew that shaving my head was the best decision I could have ever made.
All that excitement was four years ago, but the friendship between Josh and me has only gotten stronger. Through the ups and downs of his three-year treatment, I've seen what a family and child have to go through while fighting pediatric cancer. I've also had the pleasure of seeing how the St. Baldrick's Foundation helps this process become easier and more efficient through advancements in research.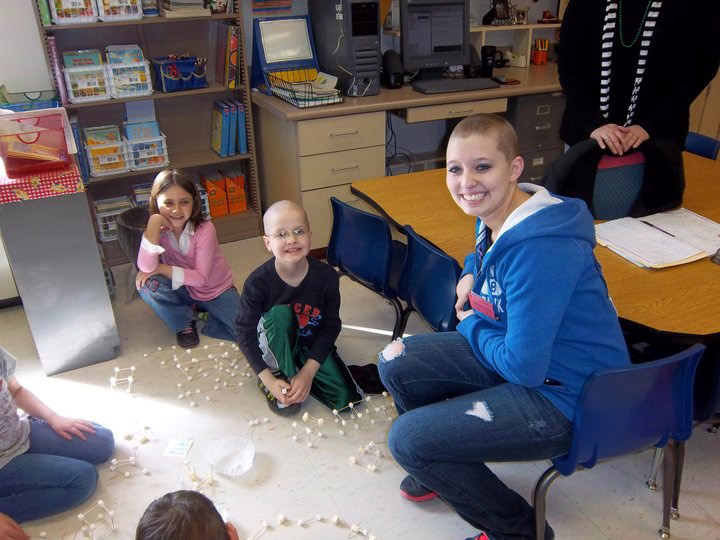 Taylor sits with Josh and his classmates as they work on a project.
When I was crowned Miss Iowa on June 13, it was easy to choose a platform I was passionate about. My involvement with the St. Baldrick's Foundation has truly been a blessing and I couldn't imagine a better foundation to educate my community about.
As Miss Iowa, I have the honor of spreading awareness of the St. Baldrick's Foundation all over the state of Iowa. Encouraging people to brave the shave, Speak Up for Kids' Cancer, and donate to St. Baldrick's is my favorite pastime! I hope after my year as Miss Iowa is complete, the St. Baldrick's Foundation will be a household name in every Iowa home.
I know that with the help of this foundation and many more like them, we will find a cure!
Each day brings us closer to cures for kids with cancer. Learn more about childhood cancer in this short animated video and see how you can help.
Watch the video

Read more on the St. Baldrick's blog: