Every year in honor of her son David's birthday, Susan rides the 40-mile New York City Five Boro Bike Tour. This year, with their feet on the pedals, the wind at their backs (and sometimes their fronts), and 32,000 people riding alongside them, Susan and her friends raised over $4,000 for the David's Warriors Hero Fund. Susan explains what the ride means to her.
Susan and her cycling friends in front of the Robert F. Kennedy Bridge.
In 2009 as our son, David, was battling neuroblastoma, one of his incredible Cub Scout leaders rode the New York City Five Boro Bike Tour in David's honor. It's a 40-mile ride touching each borough in the city, complete with amazing street music, skyline views that take your breath away, and an opportunity to feel the beat of the city in a way that is just spectacular.
David loved bike riding, and having a friend like Art who was willing to navigate the logistics of a ride like this was pretty incredible. David designed an amazing t-shirt for Art to wear and the two had cell phone chats throughout the ride, with David cheering on Art and Art sharing the sights as he rode.
In 2011, the year David died, there was a great group of neighbors who fundraised for St. Baldrick's and rode the tour again. Art asked me to join them but I just didn't think I could do it. The tour is always the first Sunday in May, usually right around David's birthday, and my grief was overwhelming me.
As the second birthday since David died approached, I didn't think my heart could stand it. My friends weren't sure what to do, but Art, in his ever-persistent way, invited me to ride with him.
This time, I said yes.
The ride just blew me away. David absolutely adored New York City and there were so many special landmarks that had my eyes welling up, but I pressed onward and it felt good to breathe so deeply again and to be alive. Alive enough to feel my thighs burning as I pedaled up the Verrazano Bridge, alive enough to enjoy the breeze off the East River, alive enough to be proud of the Freedom Tower rising up on the site of the 9/11 tragedy, alive enough to enjoy a brass band in Harlem.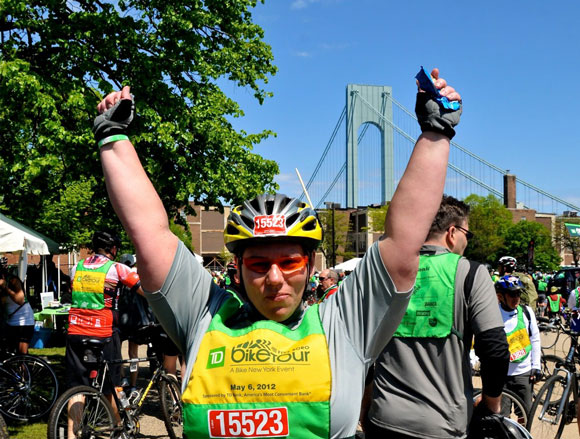 Susan at the end of her first Five Boro Bike Tour in 2012.
The bracelets David created early in his fight say "Embrace Life" because that is what he wanted on them. It really was his life philosophy. On that ride, I realized I was failing miserably at embracing life and was angry and bitter and dark about the unfairness of David dying.
Read more about how David taught his family to embrace life >
On that ride I knew I had a choice — to curl up in a bitter ball of resentment and anger, or to live how David showed us.
The course hasn't always stayed clear, but I have chosen to embrace life with joy and hope in honor of David and for my daughter, Daisy.
The tour is a good life metaphor. There's a lot of waiting, detours, falling (sometimes), stopping and grinding through. But there are also rest stops, laughter, music, friendship and kindness among 32,000 humans who simply want to get on their bikes and ride.
I am filled with gratitude for so many of my friends who are the breeze behind my back when I need a push, and especially for my riding friends who have joined me to fundraise for David's Warriors.
Susan and her friends are still raising money! Donate to the Ride 4 David fundraiser >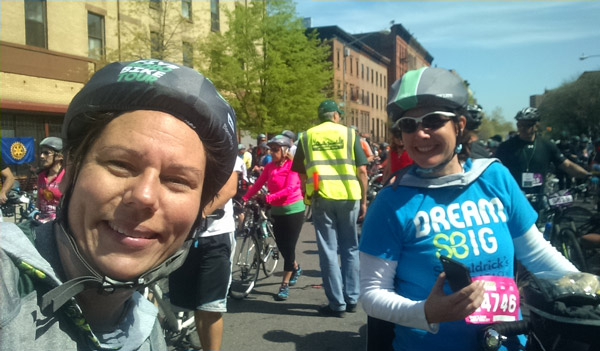 Susan with her friend and colleague, Jane, at the start of this year's ride.
Any time you push yourself out of your comfort zone — and for me, athletic endeavors are always outside of my comfort zone — there is a sense of accomplishment at the end, a euphoria in a job well done. This year's ride was no different.
I made that final bridge climb and thought about David and the beauty he brought to my life and inspired in so many others.
I thought about how grateful I was to have him for 10 years, even though I wanted him for a lifetime.
I thought about the tenacity of my friends and family who have stood with me in countless ways during times when I wasn't easy to be with.
I thought about the gift that was in front of me — the essence of embracing life.
And as I came through the finish line, I threw my fist in the air and said, "Happy birthday, baby!" and I know he heard me.
Bicycle, tricycle, motorcycle — fundraise YOUR way for kids' cancer research. Just Do What You Want!
Do What You Want
Read more from Susan about David: