Three Cayman Islands moms ran a half marathon to raise money for children's cancer research in honor of Hannah, a 6-year-old girl battling medulloblastoma. Start your own fundraiser to help kids with cancer!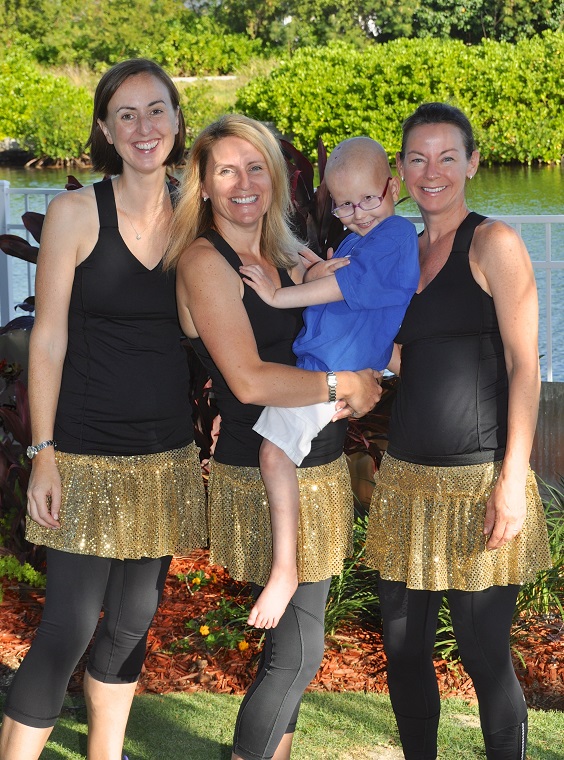 Hannah inspired three moms to run a half marathon and raise money for kids' cancer research.
There are two things you should know about me: I'm not a morning person and I'm not a runner.
As the mother of two young children who are not the world's greatest sleepers, it feels deeply counter-intuitive to struggle from my duvet during the hours of darkness when I'm not being beckoned from my sleep by a small, distressed voice.
And running — well, it's hard work, isn't it? Particularly when it's 80 degrees at 5 a.m. and the humidity makes it feel closer to 95.
So, it would take something pretty big to will me from my king-size slumber and run.
It was. I met a child with cancer.
Before Hannah, my life was conducted in a contented childhood cancer-free bubble. Cancer was something that happened to other people's children. I would feel fleeting distress at images or news of children suffering somewhere else, and then I would change the channel, delete the email, drop my small change in the collection jar, and move on.
But that was life before Hannah.
Hannah will turn 7 in September and has been bravely battling
medulloblastoma
, a type of brain cancer, since she was 4. Before Hannah was diagnosed with pediatric cancer, Claire Thomas, Kim Short, and I were blissfully unaware that
more children are lost to cancer than any other disease
— in fact, more than many other childhood diseases combined. Before they turn 20, about 1 in 285 children will have cancer, and
every three minutes another child is diagnosed
.
All three of us are mothers, each blessed with amazing and thankfully healthy young children. We are terrified by these statistics and shocked that so many parents and children are rendered powerless by the lack of funding for childhood cancer research.  Once you know these startling facts, it is hard to look at your own children and do nothing. And so our fundraising journey with St. Baldrick's began.
February 23, 2014. It's 5 a.m. on a Sunday morning and we're getting ready for another long run in the dark. But this time, our start line is the Disney Princess Half Marathon in a sea of 27,000 tutus — the culmination of six months of early morning runs.  We hug seconds before the start, fireworks detonate (really!), and Claire utters, "This is for you, Hannah." We wipe away the tears and we're off!
The run was long — 13.1 miles, to be precise. But it was incredibly uplifting, particularly when others reacted to our St. Baldrick's shirts with nods and smiles, and when we passed a group of runners sporting childhood cancer shirts of their own. We met them again at the finish — another cancer mom and her friends, running in honor of her 3-year-old daughter who is currently battling a
soft tissue sarcoma
.
In the three minutes it might have taken you to read this, a child has been diagnosed with cancer …
Seeing the efforts of others pulling in the same direction reminds you of what you are a part of and what your miles really mean.
There's also a certain irony about running along the streets of the happiest place on Earth for one of the saddest reasons, but it was a very inspiring experience because Hannah and her parents were always in our thoughts. And conversely, we knew they and countless others were supporting us.
Every day we think about Hannah's family's journey, their hopes and their darkest fears, and we think about the community in the Cayman Islands and beyond that has united and pledged their support to St. Baldrick's to help fight childhood cancer in honor of this amazing little girl.
Children can't fight cancer alone. In the three minutes it might have taken you to read this, a child has been diagnosed with cancer and another family is faced with the very real and awful possibility of losing their child.
And so, though I'm not truly a runner, and none of us are cancer parents, we will keep running and we will keep campaigning for Hannah and children like her because she deserves a future.
Quite simply, kids like Hannah are worth fighting for.
It's not too late to make a donation to the Running for Gold fundraiser! Go to their page and click "Donate."
Start a Do What You Want fundraiser and fight for kids with cancer.
DO WHAT YOU WANT
Get more fundraiser ideas on the St. Baldrick's blog: