Join us in finding cures for childhood cancers.     Get Involved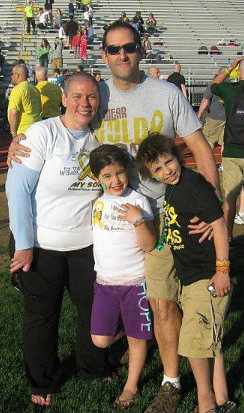 Susan, Tom, Daisy and David in 2010
My husband Tom and I, we don't mind paying taxes — it really is a privilege to live in the United States. But who knew that our taxes this year would be just one more way we felt raked over the coals after losing David to childhood cancer?
This year, after making it through the second anniversary of David's passing from neuroblastoma, Tom sat down to fill out our tax forms while I sat at my desk doing work I love. He passed by my door, and I showed him how organized I've been with charitable gift receipts this year. When David died, we started giving away a lot more. Tom said that was good because we needed all the deductions we could find.
That surprised me. "Why do we need all the deductions we can find?" I asked. I make less money now than I did when David was alive, so I thought that would actually help in the world of our taxes. Tom's eyes got teary as he looked at me and said,
"Well, we don't have David to claim anymore."
I lost it. Head on my desk, tears falling down my cheeks, I wondered what happened to the life we used to live — the one where I used to be able to get mad so easily, when my Italian temper could catch fire at any minute. Now I just cry.
I cry all the time because I hate being in this spot. I hate that kids get cancer. I hate that kids are dying every day. I hate that my kid is dead. I am sad and mad, and I don't even have a proper place to direct these feelings.
I would pay any price, I would give anything, to claim my two deductions.
Today, I'm crying over a government that will never understand why filing taxes is now an emotional roller coaster: Not because I don't want to pay, not because I think they take too much, simply because I miss David. I miss our life. I miss laughing over our two "deductions." I cry because we used to have two, and now we have one.
Then I think of the thousands of dollars spent on daycare and all of the time we weren't together because we were working for the American Dream. And I wish I could roll back the clock and hold my babies in my lap and think about nothing but the two of them growing up happy and healthy.
Instead I stay here, wipe my tears, and get back to work. It's those moments out of the blue that kick you in the gut and leave you gasping on the floor that I hate so much about grief.
So if you want to complain about your taxes, don't do it to me. I would pay any price, I would give anything, to claim my two deductions.
Kids with cancer need cures. Get involved or donate to support childhood cancer research.
Get Involved
Donate
Read more about David's childhood cancer story on our blog:
Missing a Warrior: David's Childhood Cancer Story
A Letter to David on His 13th Birthday
A Letter to David: 'You Would Have Loved This'
Types of Childhood Cancer: Neuroblastoma