After her 14th shave for St. Baldrick's last year, Susan thought she was done. Today, hers was the first head shaved live on the Today Show as St. Baldrick's barber David Alexander broke the Guinness World Record for most heads shaved in one hour. She wrote this letter to her son, David, who passed away from neuroblastoma at age 10 and who continues to inspire her to fight to cure childhood cancer. (Join her in the fight!)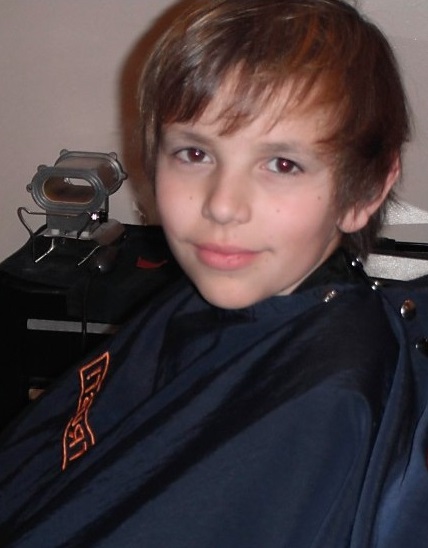 David while he was battling neuroblastoma, a type of childhood cancer.
Dear David,
Hello, my sweet boy. By now you would be almost done with eighth grade and we would be getting ready for high school. Instead, your eternal reef is green and fully supporting the ocean habitats you so loved. And I have made a decision. Well, a change in a decision I made last year in a hotel ballroom in San Antonio with 45 other women.
Last June, I said I was done shaving my head. I no longer needed my grief to be such an external expression. Over the three years of missing you I had absorbed it enough to let my hair grow. That was a huge day and a huge announcement, especially after your dying wish to me: "Keep shaving your head and raising money to fund cures for kids."
I also wanted to be present for Daisy. As your little sister, she never asked me not to shave, but at the age of 11, I thought she deserved a mom who looked like everyone else. My bald head causes a stir in the school — "David's mom is here!" But I am Daisy's mom, too. So for her I kept my hair.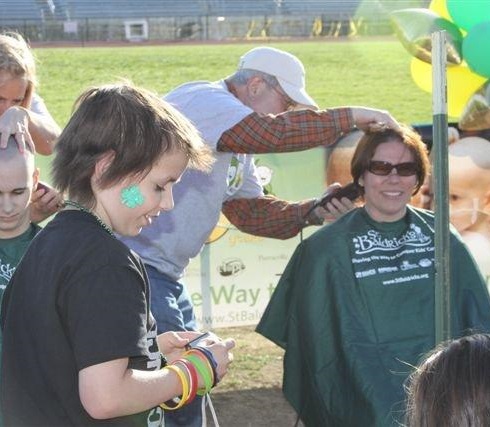 David, foreground, and Susan during her first shave for St. Baldrick's.
But how can I honor you, my dear? I don't have you to parent anymore. I only have
your legacy
and your memory to maintain, and it makes me so very sad. Every single day I am so desperately sad without you here. I'm lost not having two kids to parent. I miss you. I feel helpless. I am drifting and need to find my way back to the joy you gave me by living with such fearlessness.
So here we are. I am so awed and humbled by the thousands of volunteers that carry the torch for your memory, and also for the hope they bring to many families still battling the beast. The St. Baldrick's Foundation has changed our lives in the most amazing ways. I remember how empowered we both felt that day in Emmaus when you took the microphone and then asked me to shave my head. Five years and 14 shaves later, your legacy is changing the face of childhood cancer research. David's Warriors has raised over $225,000! But it isn't enough.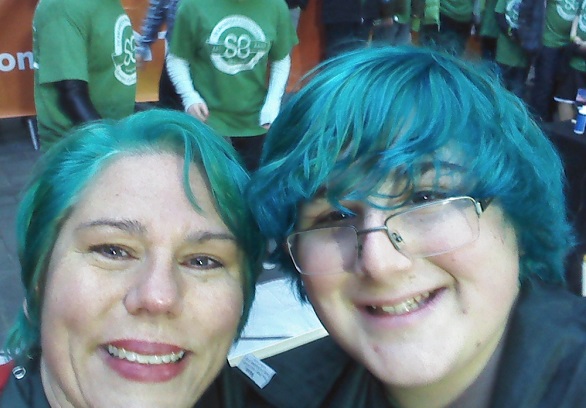 Susan with David's good friend Elliot Guido before they shaved their heads and helped break the Guinness World Record for most heads shaved in one hour by one barber.
So, today, I shaved my head. D-man, the right opportunity presented itself and I just couldn't turn it down.
You would have LOVED THIS! The Today Show invited the St. Baldrick's Foundation to break the world record of heads shaved in an hour. Yup, the TODAY Show! You and I watched it most mornings in the hospital. You were a huge fan of Al Roker and Matt Lauer and you loved to comment on the high heels the ladies wore! Now Daisy and I start our mornings the same way. And a national TV show! Your t-shirt that was emblazoned with "They'll make a movie about me some day!" wasn't so wrong. An opportunity to promote the good that St. Baldrick's does is a great reason to be part of national TV.

Left: David's motto on a sign at the Today Show's filming of the world record shave. Right: Susan with Matt Lauer, Today Show host.
So for all the right reasons, I went under the clippers one more time. To honor your memory, to promote your legacy, but most importantly, to ensure the children who have yet to even hear "You have cancer" will have the fighting chance that you wanted. Better research, more advanced science, to ensure all of the kids who must hear they have cancer will also hear that there is a cure and their lives will continue.
Grief changes your path in ways that are hard to imagine.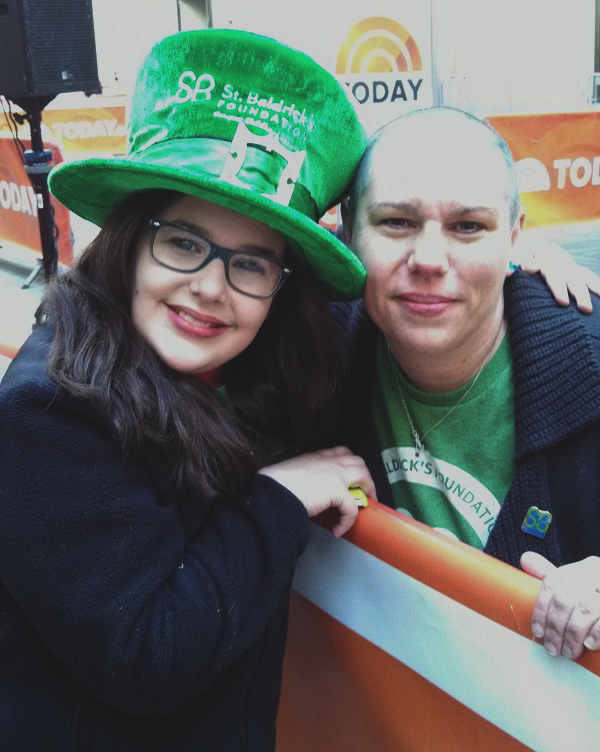 Susan with David's younger sister, Daisy. Get Daisy's hat here.
David, your death has defined me. I was lucky that you told me to "Embrace life!" I was lucky that you gave me a to-do list as you were dying. I was lucky to have found
a foundation that empowers volunteers to make a difference
. I was lucky to have friends and family willing to
shave their heads and raise money
to
fund research
. I hope my luck continues and our family's wish for less toxic and more complete cures comes true.
I love you, David, all the way up to the sky and right back into your heart, and all the way to the bottom of the sea and right back into your heart, and all the way around the great big universe and right back into your heart. I desperately miss you, but I hear your laughter in my heart and know that you are keeping an eye on us.
Here's to shave number 15!
With so much love forever,
Mom
To make a donation on Susan's record-setting head, go to her participant page and click "DONATE."
Help David's family's wish for less toxic and better cures come true. Get involved in the fight against kids' cancer.
GET INVOLVED
Read more from Susan about her son, David: